Akhnaten, English National Opera review - still a mesmerising spectacle |

reviews, news & interviews
Akhnaten, English National Opera review - still a mesmerising spectacle
Akhnaten, English National Opera review - still a mesmerising spectacle
ENO's most successful contemporary opera ever makes a triumphant return
Tuesday, 12 February 2019
Glass half-full: countertenor Anthony Roth-Costanzo as Akhnaten
You start off fighting it. Those arpeggios, the insistent reduction, simplification, repetition, the amplification of the smallest gesture into an epic. Then something happens. Somewhere among the slow-phase patterns pulsing on ear and eye, you surrender to Glass-time and the hypnosis is complete.
Akhnaten is opera as therapy, as cocoon, as mindfulness exercise, clean as Marie Kondo's living room and every bit as consoling. When you reduce your musical possessions to the barest minimum (hell, even the violins get jettisoned in this deliciously grainy score, along with the surtitles) you throw all focus on those that remain. Do they spark joy? In Phelim McDermott's sell-out 2016 production, revived here for the first time, they do. Up to a point.
Everything is ritualised and reduced in a staging with more than a hint of Robert Wilson about it. Layers of movement are gradually built up – visual ostinatos that overlap and intersect with intricate interest and precision. This third panel in Glass's triptych of "Portrait" operas has no more interest in narrative than its companions, and this soft-focus meditation on all things Egyptian is well served by a production that fuses music and movement into a gorgeous ceremonial spectacle.
Perhaps all this abstraction is a statement about faith? Akhnaten's conversion to monotheism finds expression in the balls, spheres, globes and orbs that gradually come to dominate the stage, edging out the many Gods who enter like a living frieze at the start, and climaxing in a giant sun that gradually flushes red in one of the most striking images in an evening full of memorable stage pictures. A love-scene between Akhnaten and Nefertiti sees the couple slowly weaving themselves up into a single fleshy skein while singing music that always finds its way back to promiscuous unison; a battle rages around the still figure of Akhnaten, juggling clubs flying overhead like arrows; the newly-crowned Pharoah, a human pupa, is stripped naked before being meticulously dressed in his embroidered chrysalis of a robe.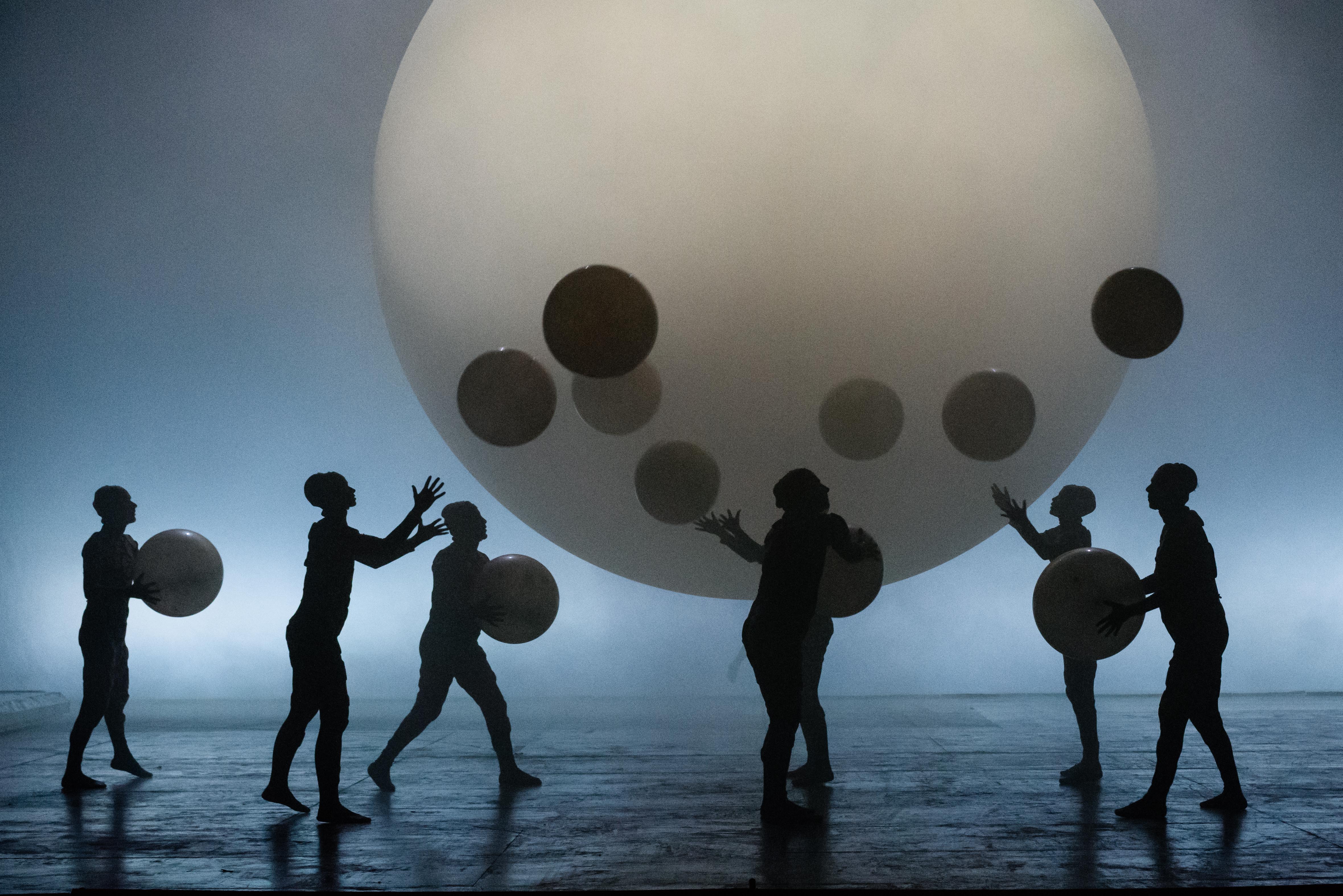 It's heady stuff, and technically supreme. The skills ensemble from Gandini Juggling are magicians with their hands and bodies, but no more perhaps than ENO's orchestra, who bend and undulate their way through Glass's Escher-like arpeggios with no less precision under conductor Karen Kamensek. ENO's chorus add their might to choruses that flood the ear with sudden richness after the lean beauty of the solo passages. But there's no getting away from the sense of circus. Every marvel, every gasp or doubt breaks the larger spell of the opera, dragging it closer to Cirque du Soleil spectacle.
American countertenor Anthony Roth Costanzo (pictured right), impossibly androgynous, returns in the title role. The voice has grown in power since 2016, projecting with merciless intensity over the orchestra, and still with an uncomfortable tick of settling south of a note before rolling up to pitch. But singing quietly, with no pressure on the voice, he's mesmerising, and his "Hymn to the Sun" is beautifully handled. Soprano Rebecca Bottone also returns as his mother Queen Tye, with mezzo Katie Stevenson a welcome addition as a Nefertiti. Keel Watson adds craggy warmth to the bottom of the ensemble as Aye, a foil to Colin Judson's ringing High Priest.
Spoken interventions still feel gauche and unnecessary, and an extended dramatic coda jumping forward to the present day is unnecessary. But there's no denying the strange magic of both piece and production. Philip Glass's pharaoh may have no clothes, but he has never needed them less.