The Magic Flute, Welsh National Opera review - charming to hear, charmless to look at |

reviews, news & interviews
The Magic Flute, Welsh National Opera review - charming to hear, charmless to look at
The Magic Flute, Welsh National Opera review - charming to hear, charmless to look at
Mozart's pantomime about Nature and Reason stuck in a box
Saturday, 16 February 2019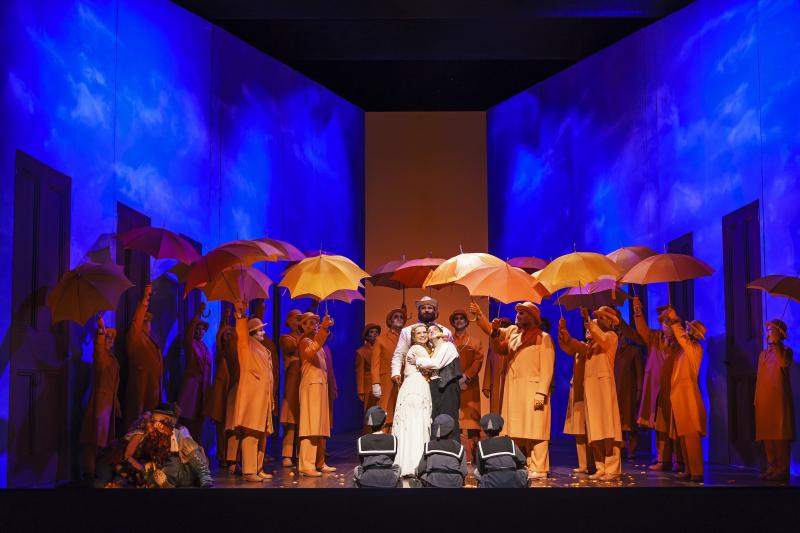 Sarastro's temple triumphant: orange for Reason?
I last saw this Magic Flute, directed by Dominic Cooke, when it was new, some 14 years ago, and I remember it mainly, I'm afraid, for its lack of visual charm.
Nothing much has changed: the relentless box sets (designer Julian Crouch), not a leaf or a blade of grass to be seen; the ridiculous, glaring orange suitings, bowler hats and umbrellas for Sarastro's men (Orangemen, naturally); the dullness alleviated only by some witty animal costumes (Kevin Pollard), and the three charming boys – one of them actually a girl – in sailor suits, riding an aerial bike made out of a fish.
Of course, the Flute is an embarrassment to your modern director, with its hate-speech about weak, devious womanhood by an authoritarian and not unduly scrupulous male (though in the end Pamina leads the way into the ordeals). But surely it's possible to imagine one's own way out of this problem, treat the piece as a pantomime, and bring some verdancy to the settings: after all, the left-hand door is labelled Nature. What is it about the outdoors that seems to terrify opera directors? Papageno, with his bird-cage and feathered coat, belongs exclusively under an open sky, and the Queen of the Night under stars.
Anyway, we have what we're given, and musically in this revival that amounts to a good deal. There are as yet untidy edges to Damian Iorio's conducting, shaky ensemble here and there, and some rough dynamic contrasts. But the performance, if short on orchestral refinement, has energy and vitality, moves well on the stage, and is for the most part strongly cast. As before it's sung in Jeremy Sams's rather free but clever and musicianly English translation and with plentiful dialogue: all good fun, including broad Welsh accents for Monostatos's henchmen, and the inevitable north-country for Clare Hampton's Papagena, but not much other topical or local badinage, such as would surely have been a feature of performances by Schikaneder's company in 1791.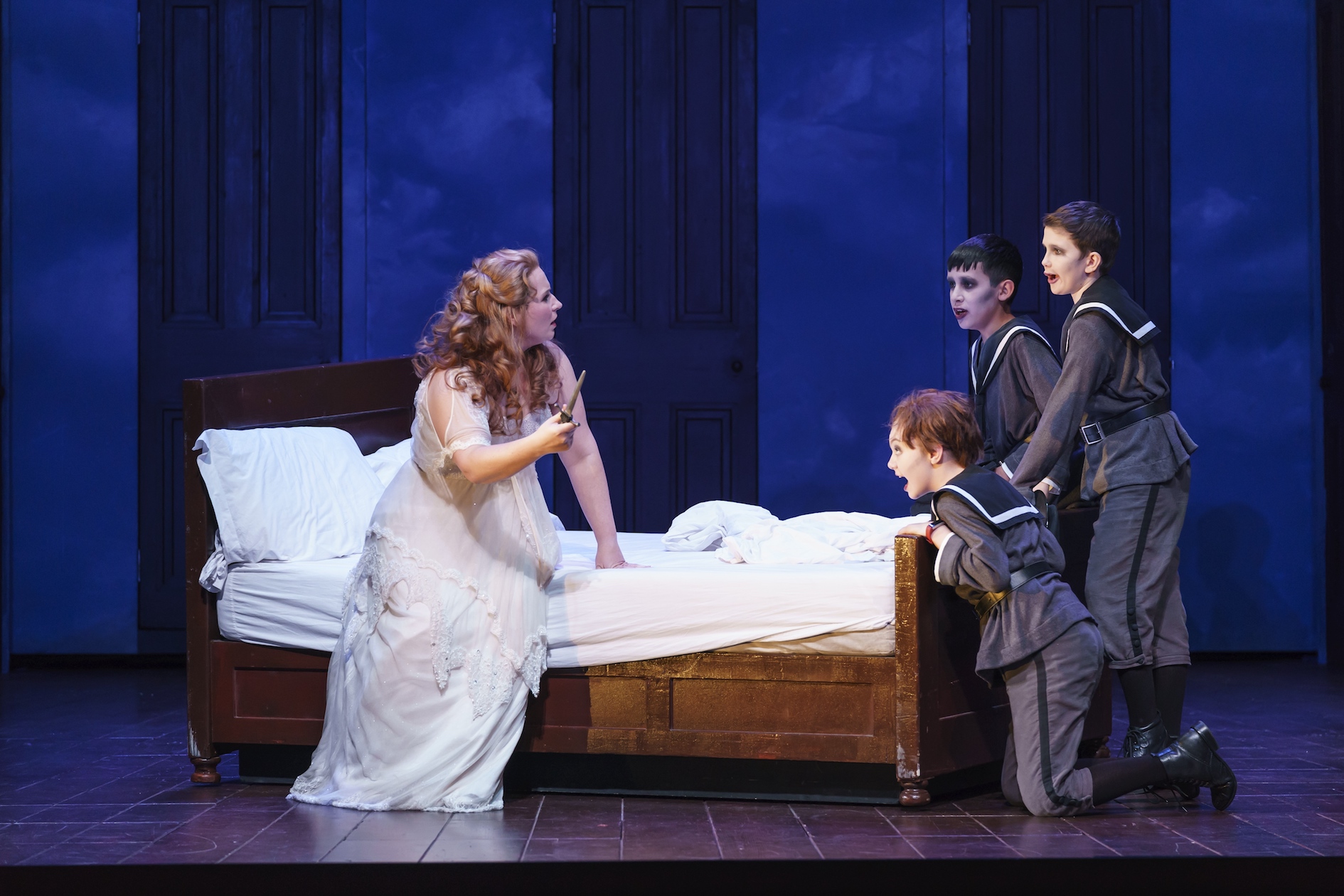 The vocal range of The Magic Flute, both in terms of register and in sheer colour, is astonishing, from the depths of Sarastro's "O Isis und Osiris" to the heights of the Queen's "Der Hölle Rache", by way of the unashamed and rather effective crooning of Papageno as offered now and then by the excellent Mark Stone, much more at home in this big house than as Longborough's Germont père last summer, and certainly more amusing. James Platt's Sarastro is the one disappointment. He has the range, but his phrasing plods in keeping with the stolid image of the white-suited consul in a hot climate that Cooke dumps on him.
Elsewhere, though, there are many lovely things. Ben Johnson is a stylish Tamino, a shade colourless in presence, but nicely focused in voice. Anita Watson (pictured above with the three boys) is the freshest, most natural Pamina imaginable, delightfully uninhibited in her scenes with Papageno, clear-voiced and deeply touching in "Ach, ich fühl's", in perfect contrast to the brilliance of the Polish soprano Anna Siminska as her mother (and when, in this trans-everything age will we get an honestly virtuous Queen of the Night and a candidly evil Sarastro? Plausible enough with a few tweaks to the libretto). A decent-living Monostatos would, it's true, be hard to envisage, though a white, non-Moorish one, as here, is both politically correct and artistically okay. Howard Kirk bounces around with toytown villainy, but sings his aria with fine precision, much helped by superb flute-playing.
Though the ensemble work is occasionally below WNO's usual standard, the strength is there: a sprightly trio of ladies, immaculately trimmed as chambermaids, and the three "boys", irresistible as ever with their serene music and ambivalent loyalties. The men of the chorus may not relish having to sing with their heads guillotined by the floorboards, but I suppose it's where the voice comes out, not where it comes from, that matters.