Joshua Redman Still Dreaming, Barbican review - world-class quartet |

reviews, news & interviews
Joshua Redman Still Dreaming, Barbican review - world-class quartet
Joshua Redman Still Dreaming, Barbican review - world-class quartet
Spell-binding and joyous playing
Wednesday, 20 February 2019
Dreaming on: Joshua Redman
Joshua Redman's Still Dreaming Quartet is a project surrounded by an abundance of facts, context and backstories. Jazz folk really like that stuff. If fans can't get enough of all the interconnections and the minutiae, the truth is that a concert stands or falls by what actually happens in the moment, whether it actually works or doesn't.
And in this
Barbican
set, the first of a short European tour, Redman, cornetist Ron Miles, bassist Scott Colley and Brian Blade at the drums really did deliver. These are four players whose immediacy of response, virtuosity, ability to raise the temperature, and commitment to the project are spell-binding. Yes, quality will out.
The absence of a harmony instrument gives the players space and harmonic freedom, puts the emphasis on melody, makes the textures light. There are so many things to marvel at. Brian Blade is one of the very great jazz drummers our time. His sense of dynamic, his ability to be everywhere in the texture and yet never to overpower it is jaw-dropping. The way he seizes a cue and sets a new tempo or mood is like a lesson in doing it right every time he does it, particularly in the aptly-named "Unanimity" where the proceedings are brought forcefully back on track. What goes through this reviewer's head is that the next four or five drummers he hears might be good, but are unlikely to be consistently at this level, probably won't have a touch that is quite as miraculous.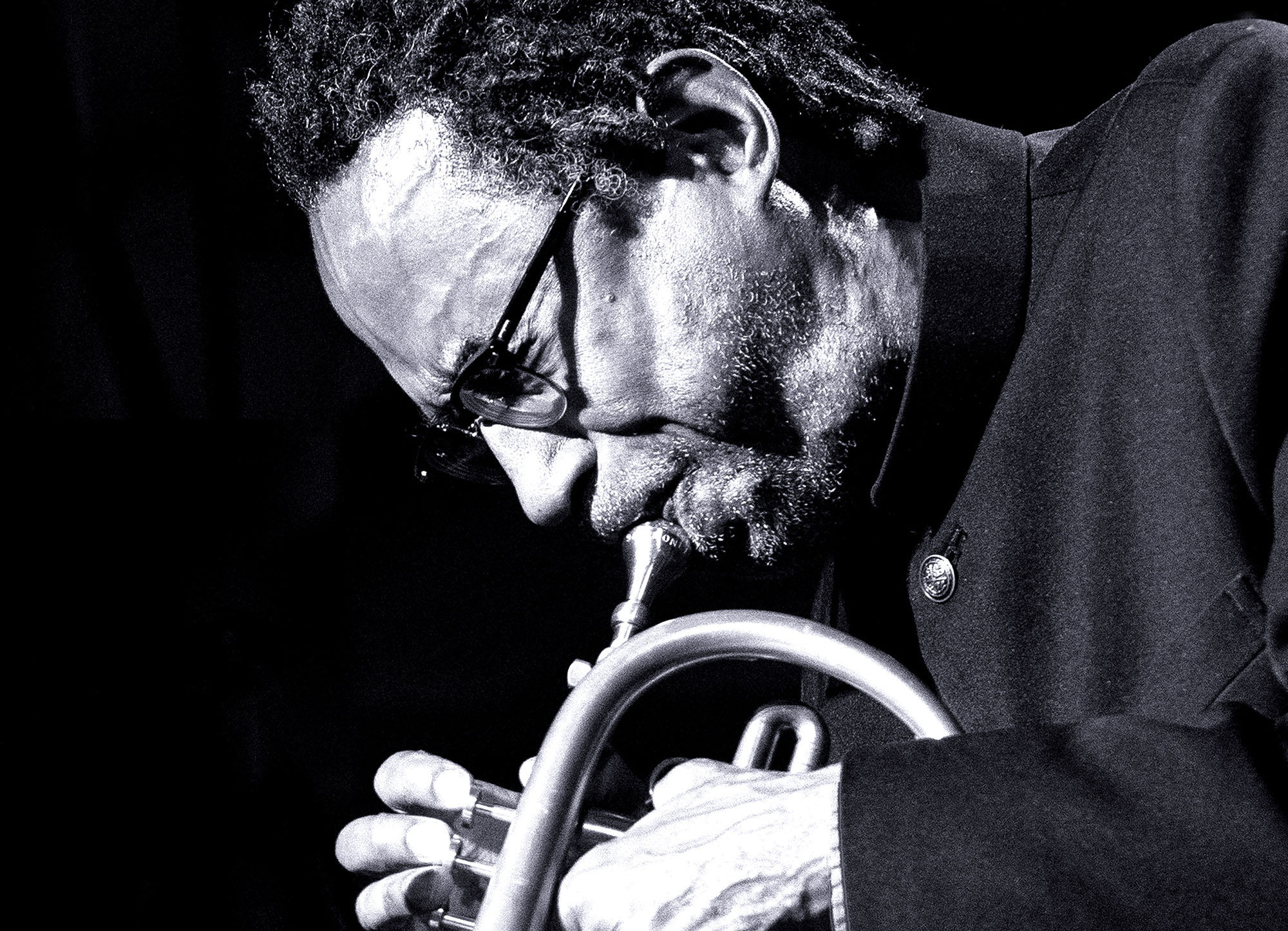 Bassist Scott Colley is another player capable of wizardry. On his own composition, "Haze and Aspirations", a gentle jazz waltz, his variety was astonishing. He can imitate the trademark muffled thrum of the late Charlie Haden, but also sustains and makes his tone sing out melodically, he has countless ways to shift the balance of a 3/4 bar.
The two horns, Joshua Redman and cornetist Ron Miles (pictured above by John Watson), play all kinds of games of imitation and argument and interweaving and interrupting. "Darting" is a word that gets used to describe these strong yet somehow evanescent melodic lines. With their variety and their velocity, the attention and the interest never sagged. There is simplicity and there is complexity, and above all there is the joy which Redman and Miles seek out and find in this Ornette-inspired venture.
The back story of the band does go back a long way, and is very personal, particularly to Redman. A key idea was expressed by the saxophonist in an interview about this project. Choosing his words carefully (he did once study law), he said that he feels he has "got to a place where I can engage with my father's music and still be myself - within it".
Redman's father, the saxophonist Dewey Redman, didn't just play in Ornette Coleman's bands. The two had first got to know each other as teenagers in the same marching band at high school in Fort Worth, Texas in the mid-1940s. And Dewey Redman was one of the Coleman alumni who set up the quartet Old and New Dreams, alongside cornetist Don Cherry, bassist Charlie Haden and drummer Ed Blackwell.
The Old and New Dreams quartet kept the Ornette Coleman flame burning in the late 70s and 80s; now, more than thirty years later, and with all four members of the original band having passed on, Joshua Redman's Still Dreaming band inhabits and extends the language and the concept of that band. Redman has explained that it is not just he who has a reason to identify with his predecessor, a father whom he got to know properly, at last, in the early stages of his musical career: "Each of us has a special relationship to the corresponding member of Old and New Dreams."
Admirers of Redman in London have seen him testing out several different contexts in the past few years: in duos with Brad Mehldau and Christian McBride, even in one with Norwegian violinist Ola Kvernberg. I remember being particularly blown away by a two-bass two-drummer quintet. Through judgment, energy, musicianship, personality, choosing the people well, Joshua Redman has a way of making even the most improbable configurations work. The Still Dreaming group is special, and not just because, to misquote Krushchev, it actually does work in theory as well as just in practice. Redman was dropping (slightly equivocal, lawyerly and teasing as ever) hints of another Still Dreaming album. It is to be hoped that they are well-founded.
Joshua Redman's next UK appearance is in Cheltenham in May in a trio with bassist Reuben Rogers and drummer Gregory Hutchinson