Hussain, Symphony Orchestra of India, Dalal, Symphony Hall, Birmingham review - new sounds from a new band |

reviews, news & interviews
Hussain, Symphony Orchestra of India, Dalal, Symphony Hall, Birmingham review - new sounds from a new band
Hussain, Symphony Orchestra of India, Dalal, Symphony Hall, Birmingham review - new sounds from a new band
Vigorous, fresh playing from India's only professional symphony orchestra
Wednesday, 20 February 2019
Tabla player and composer Zakir Hussain with the SOI and Zane Dalal
For its first ever performance in this country, the Symphony Orchestra of India - formed in only 2006 - kicked off its UK tour in spectacular style at Symphony Hall, Birmingham yesterday evening. Based at the National Centre of Performing Arts in Mumbai, the SOI is India's first and only professional symphony orchestra. Founded by NCPA chairman Khushroo Suntook and Khazak violinist Marat Bisengaliev - who'll join the orchestra as a soloist for some of the tour's later dates - this is a group that's achieved a remarkable amount in its 13 years of existence. They've worked with a host of world-famous conductors and soloists and performed all around the world, now for the first time to British audiences, under the baton of Associate Music Director Zane Dalal.
For its 10th anniversary, the orchestra commissioned a piece from composer, actor, and one of the world's greatest tabla players, Zakir Hussain. The result is Pushkar, a concerto for tabla and orchestra. This unique musical twinning saw Hussain bring out a tremendous array of colour from his paired drums, his subtle hemiolas perfectly entwining around Dalal's measured beat and the orchestra's steady tactus. Just watching the movement of his hands was mesmerising. His solo passage in the middle of the piece - could you call it a cadenza? - was particularly captivating, his rapid, agile finger movements creating densely intricate rhythms. The harmonic landscape of the orchestral music is a bit sparse and perhaps its full forces aren't being employed, though with most of the tabla part being improvised, it's almost as though the orchestra is a canvas on which Hussain paints. The stand out element to this work was certainly Hussain's marvellous virtuosity, though it was wonderful to see and hear these instrument share a stage.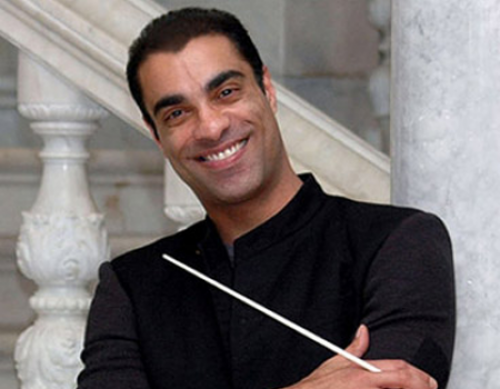 Opening the programme with Berlioz's overture Le Carnaval Romain, The orchestra played with a springy, youthful feel. Dalal's beat was crisp and clear, if a bit angular (the conductor pictured right). He could have varied the tempo a bit more and taken some risks with the music; rather, this performance felt somewhat safe and methodical, not really conveying the high spirits of an Italian carnival.
Happily the same could not be said about this performance of Rimsky-Korsakov's Scheherazade. Conducting here was far more subtle and stylish, Dalal carefully teasing at the shifts in tempi and pulling out the nuances of the work. In a performance which could rival some of Europe's major orchestras, the SOI wove a vivid tapestry evocative of Scheherazade's tales, with soaring woodwind, punchy brass and warm strings. Leader Adelina Hasani's solos were exquisite as she played with a caramel-tinged tone, capturing the essence of Scheherazade the master storyteller.
This is clearly an orchestra that's going places. Their excitement, sense of discovery and real zest for the music translated to the audience, and we can only hope that spirit continues for the rest of the tour and beyond.
Hussain's solo passage in the middle of 'Peshkar' was particularly captivating, his rapid, agile finger movements creating densely intricate rhythms
rating
Explore topics
Share this article