Waitress, Adelphi Theatre review - sweet if sometimes silly musical arrives from Broadway |

reviews, news & interviews
Waitress, Adelphi Theatre review - sweet if sometimes silly musical arrives from Broadway
Waitress, Adelphi Theatre review - sweet if sometimes silly musical arrives from Broadway
Tale of female emancipation gets a necessary post-interval lift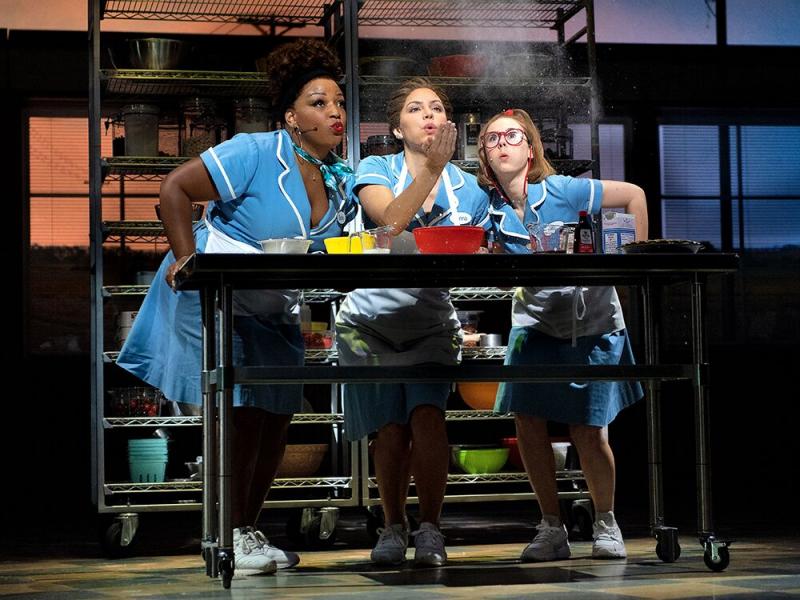 Sister act: Katharine McPhee (centre) in 'Waitress'
There's a lovely, quietly subversive musical lurking somewhere in Waitress, and for extended passages in the second act that show is allowed to shine through.
The flip side means putting up with an often coarse first act that seems to have taken its cue from its sister show in
female emancipation
, the Dolly Parton-scored
9 to 5
, playing down the street. The advantage for
Waitress
is Grammy ceremony semi-regular Sara Bareilles's eclectic and catchy score, and a clutch of winning performances capable of taking even the hoariest material (you've seen almost all these characters before) and giving it genuine heft.
The musical's source is the 2007 film from Adrienne Shelly, who was murdered prior to its release in a real-life horror story that can't help but inform one's view of the onstage domestic abuse from which our pie-baking heroine, Jenna (Katharine McPhee), finds it in herself to break free. Her newly liberated being comes accompanied by a song, "She Used to Be Mine," that really does rank as one of the defining power ballads of our post-Wicked age: a slow build starting in quiet reminiscence and building to a transformative roar, and onetime TV name McPhee (of Smash fame and the lone transplant from the ongoing run of Waitress on Broadway) smashes the number out of the park.
McPhee, in fact, cuts a pleasingly wistful presence throughout. If she wears her heart less evidently on her sleeve than did the show's Tony-nominated original lead, Jessie Mueller, the onetime American Idol finalist communicates the price to her own soul that been paid by enduring marriage to the loutish Earl (Peter Hannah). And once emboldened, Jenna rousingly suggests that there's no turning back, abetted by this point by her burgeoning relationship with a married gynaecologist, Dr Pomatter (David Hunter at his most endearingly goofy, pictured above right with McPhee), that might itself raise eyebrows were it dispatched with less charm.
Restaurants of whatever species and scale provide an inbuilt community, and Waitress flits between Jenna's marital discord and the medical checks that lead to the adulterous doc and her colleagues and customers at a pie diner run by Joe (Shaun Prendergast). While some of the offerings sound like an, um, acquired taste (Deep Dish Blueberry Bacon Pie?), Jenna knows her way around the triple ingredients of sugar, butter and flour that form the play's softly lilting refrain, and the smell of baked goods permeates the Adelphi foyer – if rather less convincingly than the pungently scented madeleines that greet playgoers at the Bridge Theatre across town.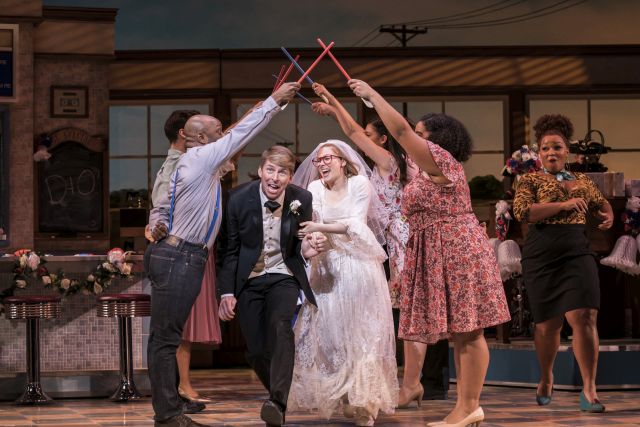 The template set by 9 to 5, The Witches of Eastwick and others demands that Jenna belong to a trio of women on the road to self-actualisation. True to type, one of these, Becky (Marisha Wallace, fresh from Dreamgirls), is good for a sequence of sassy anatomical jokes, though I don't quite believe that she would invoke Picasso by way of describing her breasts. That's not the finest moment of book writer Jessie Nelson, who in 2016 joined Bareilles and director Diane Paulus to enter the annals as the first all-female creative team in Broadway musical theatre history. (Nor can one omit choreographer Lorin Latarro from that roll call.)
On an amorous quest all her own is the bespectacled, Betsy Ross-loving Dawn (Laura Baldwin), who, like Becky, is an entirely stock type given freshness and vigour in performance. It falls to Dawn to lasso a partner for herself in Ogie, a potential stalker-turned-sweetheart who is played by 30 Rock's Jack McBrayer (pictured above, with Baldwin) with a grin that could span the state of Oklahoma. McBrayer's vocals suggest that he won't be entering American Idol himself anytime soon, but his abundant good nature typifies a show in which numerous stock devices nonetheless contain the power to disarm. Waitress may not itself be as fresh as the 27 pies baked daily on the diner's premises, but when it lays aside the jokiness in the second half and tells it straight, the show, like its baked confections, is very sweet.
Waitress at the Adelphi Theatre