9 to 5 the Musical review - Dolly Parton's film returns as retooled version of a Broadway flop |

reviews, news & interviews
9 to 5 the Musical review - Dolly Parton's film returns as retooled version of a Broadway flop
9 to 5 the Musical review - Dolly Parton's film returns as retooled version of a Broadway flop
More like nein to five, as beloved movie is reduced to substandard panto at the Savoy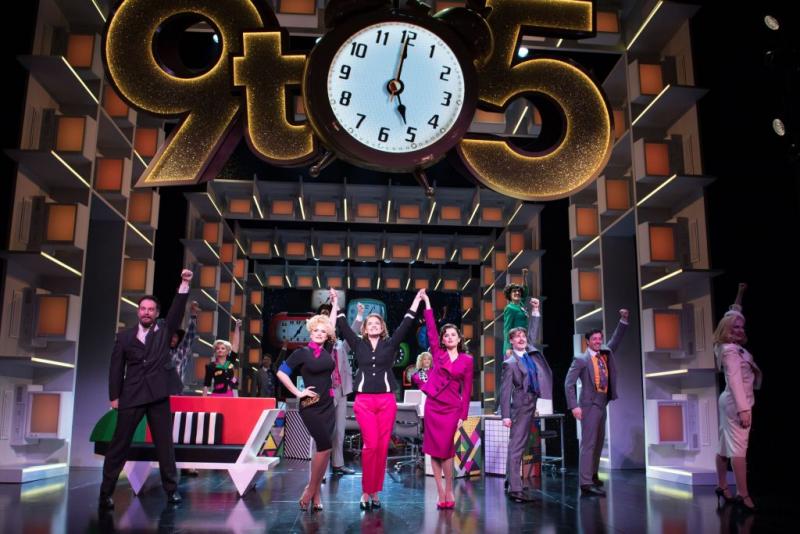 Sister act: the empowered women of '9 to 5'
A musicals-intensive season gets off to a wan start with 9 to 5, a retooled West End version of a 2009 Broadway flop based on the beloved 1980 film that proffered a sisterhood for the ages in the combo of Dolly Parton, Jane Fonda, and Lily Tomlin.
Parton gets bigtime producing billing on a stage venture for which she has provided a so-so (albeit Tony-nominated) score, and her shining face graces the onstage screens to clue us into the none-too-difficult plot and provide a fairly hoary Donald Trump joke. But it's clear pretty much from the start that Jeff Calhoun's production is aiming low and wants to stay there and has attracted an alcohol-fueled audience ready to meet its hard-working if essentially hapless cast at every panto-esque turn.
The springy, earworm-friendly title song has achieved an era-defining status all its own and is called upon on multiple occasions to remind devotees of the film of how far the material has fallen, even with the author of the screenplay, Patricia Resnick, on hand to script the musical's book.
As before, we have three put-upon female employees seeking revenge on their lecherous, eventually aerially-harnessed (don't ask) boss in a tale of distaff insurrection that shouted #MeToo well ahead of time. How odd, then, that with very few exceptions, the staging itself demeans its gifted actresses almost as much as the narrative does, though you could argue, I suppose, that it's all too frivolous to worry about. And, indeed, after a tankard or two of champagne that may well be the case for most in attendance. (A family behind me chomped their way through one foodstuff after another during a recent performance.)
From the start, we get a synoptic intro to our insurrectionary trio: young widow Violet (Caroline Sheen, filling in very adroitly for the injured Louise Redknapp), newly-dumped 21-year-old Judy (a shrill Amber Davies), and the Parton surrogate, Doralee (the winning Natalie McQueen, with Conley pictured above), who, we're told repeatedly, is much more than a pair of boobs. (Yes, that's the language in which the show traffics.) All three exist in varying degrees of servitude under the sexist watch of Franklin Hart Jnr (Brian Conley, in a role he will surely expunge with time from his CV), whose shenanigans are less funny than juvenile. "I'm going nuts with my nuts in a truss," Hart bleats as he gets his airborne comeuppance in a choice remark equalled perhaps only by Doralee's earlier broadside in his direction: "You've been as busy as an asshole at an asshole conference." (Huh?)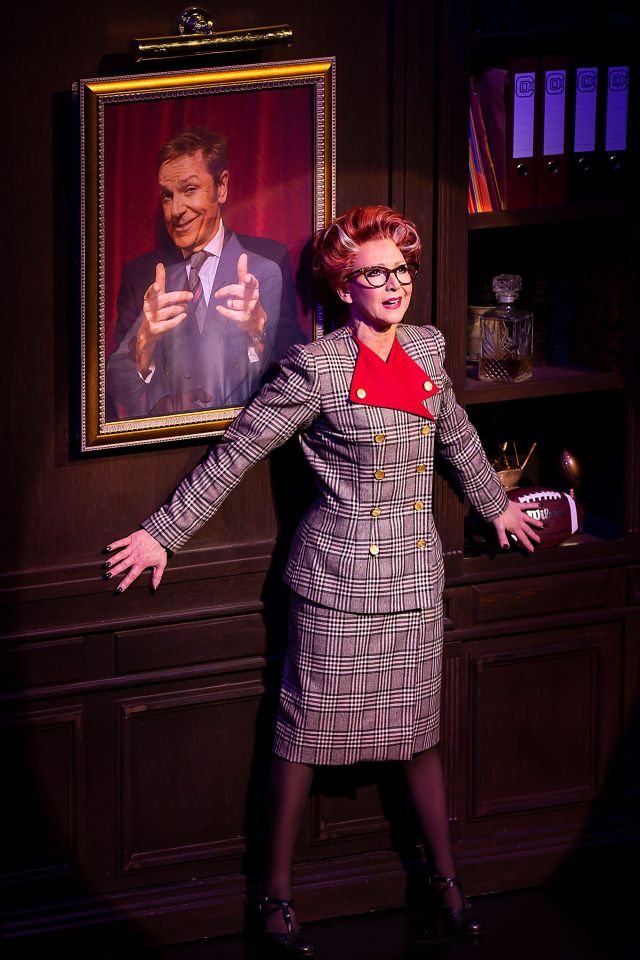 The ladies' task is to catch Hart out as an adulterer and a crook and to effect immediate reform in designer Tom Rogers' antiseptic workplace, around which the ensemble leaps and cavorts as if on loan from some hyper-kinetic production of How To Succeed in Business Without Really Trying, a far-superior Broadway musical about office life. (The choreography is by Lisa Stevens.) Parton's score devolves from a snappy opening number, "Around Here", to a series of songs that all say the same thing: women mustn't be judged on appearance alone. Whereas the Broadway iteration of 9 to 5 raised hopes that Parton might enter the musical theatre arena rather as Cyndi Lauper did rather more triumphantly with Kinky Boots, the show instead suggests that she needs to expand her thematic canvas lest we feel that she, and her talent, are merely running in place.
The entire thing seems aimed at the carriage trade to an extent not seen on the West End since Dirty Dancing, another show that whipped a female-heavy audience into a frenzy, albeit for reasons to do with lust and not (as here) with women's lib. Under the circumstances, McQueen and especially Sheen do genuinely winning work, even when the material on many an occasion makes you wince. Bearing a passing resemblance to a young Lauren Bacall, Sheen directly recalls the Broadway and film legend in a second-act number, "One of the Boys", that has the same title as a showstopper from Woman of the Year, a long-ago Broadway vehicle for Bacall.
And you've got to hand it to Bonnie Langford (pictured above), fresh from 42nd Street and cast as the Hart obsessive whose prim exterior couches a sexpot waiting to be let loose: this truly ageless performer will, it seems, stop at nothing to bring an audience on side and shows herself capable of leg extensions and the splits that might deter a performer half her age. For Langford alone an extra star for sheer sticktoitiveness, which is a trait audiences at 9 to 5 will come to experience first-hand.
9 to 5 the Musical at the Savoy Theatre until 31 August