I'm Every Woman, JW3, London - a musical celebration of International Women's Day |

reviews, news & interviews
I'm Every Woman, JW3, London - a musical celebration of International Women's Day
I'm Every Woman, JW3, London - a musical celebration of International Women's Day
A journey through womanhood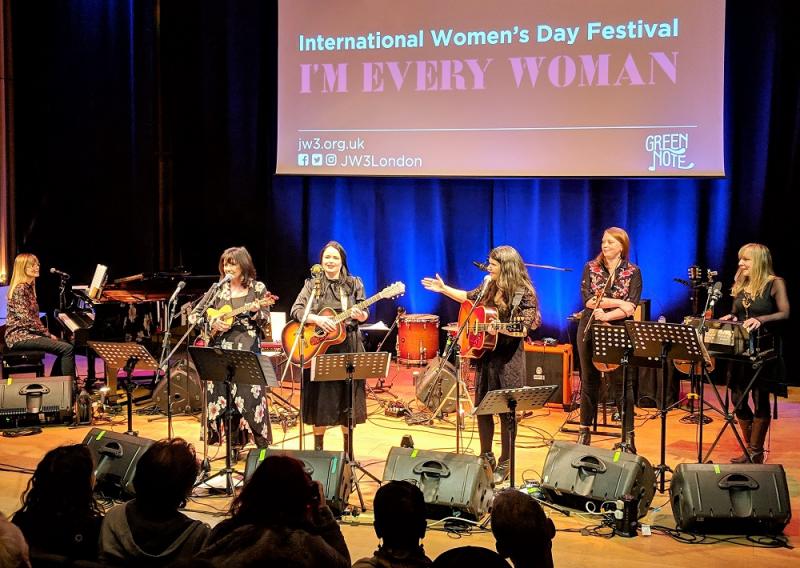 In one of the award-winning club's forays from its Camden Town home, Green Note welcomed International Women's Day with a special one-off concert exploring and celebrating the many ages and stages of being a woman. Three generations of musicians were on stage at North London's JW3.
The youngest, The Rosellas, an
a cappella
trio who met at school and who are now making quite a name for themselves, before shortly dispersing (temporarily one hopes) across the country to uni.
It was a life-affirming evening enjoyed by an audience that included a healthy showing of men and in which songs prompted both laughter and tears: I defy anyone not to cry at Kate St John's reflection on her late mother's move from the family home to care, as dementia got the better of her. Afterwards, she worried that it might have been "too personal" and perhaps in another forum it would have been. But as part of a show entitled I'm Every Woman, "We Watch You Slip Away" – a difficult song to write and completed with help from St John's mother-in-law, Peggy Seeger – was perfect, and perfectly heartrending, poignant in its universality, its lyrical concision making it all the more powerful.
The show was curated by musical director Michele Stodart, singer-songwriter and bassist, part of much-lauded band The Magic Numbers, and Immy Doman, co-founder of Camden's Green Note club, which is to London what the Gaslight or Gerde's once was to New York City. Their choice of songs was immaculate and the programme well-paced. It included Bill Wither's "Grandma's Hands", sung by The Rosellas with Stodart on electric bass and fellow Magic Number Angela Gannon on percussion, as well as Dar Williams' "When I Was A Boy", a gentle denunciation of gender stereotypes picked and sung by Stodart. Then there was the primal scream of Kate McGarrigle's "Proserpina", the last song she wrote and which she sang only once – daughter Martha Wainwright recorded it. Gannon took the lead this time, her reading gut-wrenching for singer and audience alike. The voices of the other women united to form a choir, a haunting backdrop for Gannon's powerful vocal, which was heightened by some intuitive violin playing from Connie Chatwin.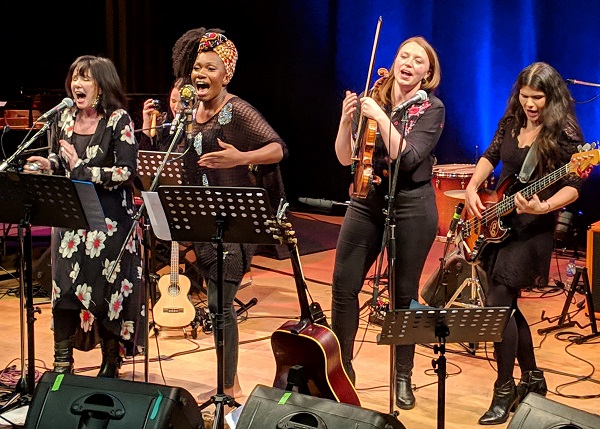 Life and death intertwined throughout, so too the mere promise of life. Charlie Dore – she of "Pilot of the Airwaves" – sat down at the piano to perform "All These Things", her brave (and perhaps unique) song about IVF. There was teen angst (Janis Ian's classic "At Seventeen"), break-up angst (Stevie Nicks' "Landslide"), and Brandi Carlile's "The Mother", a meditation on gay parenthood.
The woman who threw open the doors to the confessional, Joni Mitchell, "on whose shoulders we all stand", was represented of course, "Both Sides Now" sung by Dore and Margo Buchanan and dedicated to her. Buchanan recalled her two weeks in Japan with the Canadian during rehearsals for a show, a schedule that involved a shared daily car ride. "I'm sure it meant more to me than it did to her", she said reverentially, though she is herself no stranger to superstars, having worked with Tina Turner, Eric Clapton, Paul McCartney and Pink Floyd, amongst others.
Bristol-based singer-songwriter, Celestine, whose work effortlessly blends traditional African rhythms with soul, funk, gospel, and jazz, closed both the first and second sets. From Nina Simone's 1966 album Wild is the Wind came "Four Women", an iconic song whose verses deal with the old stereotypes of African-American women, and the number after which the show was named, "I'm Every Woman", which made a star of Chaka Khan at her first outing. Both were magisterial performances and the audience was as one, on its feet and clapping to the finale as Celestine kicked off her silver heels and danced around the theatre.
Having raised both the roof and the spirits, I'm Every Woman ended in reflective mode, all the performers crowding back on the stage for the encore, singing Pete Seeger's classic (taken from the book of Ecclesiastes) "Turn, Turn, Turn", the arrangement clearly inspired by the celebrated Judy Collins' cover.
A time to be born, a time to die
A time to plant, a time to reap
A time to kill, a time to heal
A time to laugh, a time to weep
Ten strong and multi-talented women, raising their voices together in a great song of nurturing and gentleness. It was the perfect ending.

Photos - top, from left: Kate St John, Margo Buchanan, Angela Gannon, Michel Stodart, Connie Chatwin and Charlie Dore; below, from left: Margo Buchanan, Celestine, Connie Chatwin and Michele Stodart (Liz Thomson)