Fellner, LSO, Haitink, Barbican review - the master at 90 |

reviews, news & interviews
Fellner, LSO, Haitink, Barbican review - the master at 90
Fellner, LSO, Haitink, Barbican review - the master at 90
Mozart fine-tuned to the soloist, ideal but never idealised Bruckner
Haitink: the greatest
So this is how Bruckner's Fourth Symphony should go. It's taken a master conductor just past his 90th birthday and an orchestra on top form to teach me. No doubt Claudio Abbado and Brucknermeister Gunter Wand could have done so, too, but I never heard them live in this, the "Romantic", and they are no longer with us.
Bernard Haitink - he eschews the "Sir" with a typically self-deprecating shrug - evinced a tearful semi-secret rapture in performances of Schumann's Second and Beethoven's "Pastoral" with the Chamber Orchestra of Europe; that he should do it in three-quarters of this Bruckner symphony with the
London Symphony Orchestra
was something of a miracle for this listener.
There was Mozart too - praise be, given that Haitink has to be the greatest living interpreter of the most humane music on the planet (alongside Bach and Schubert, that is). After the other-worldly quality of his Lucerne Beethoven, it was impressive to find his view well attuned to the full, robust approach of Till Fellner (pictured below) in the concerto with the richest finale in the repertoire, No. 22 in E flat; surpassing it, in fact, in the C minor opening of the slow movement. Anyone tuning in to those 31 and a bit bars of muted strings on the radio - you can do so from tonight - should be able to tell that a master conductor is at work. Haitink rounds off phrases with a rare perfection, inflects dynamics and details with the subtlest of gestures; you'd think to watch him from a distance that he isn't doing much, never has. But the supreme eloquence of the baton-wielding hand, the use of the left to raise or lower atmospheric volume with flickering fingers, are all that's needed. Last year I witnessed him at the dual controls, as it were, in Lucerne masterclasses for young conductors, score in front of him. There he did even less, but you could see he knew from the very few gestures where the pressure-points lay.
He also gives his star players space, Here the real reason many of us love this concerto so much is for its magic flute (Gareth Davis on super-subtle form), bassoon (Rachel Gough) and the slow minuet led by clarinets (Andrew Marriner supreme on the top line), the true miracle of the finale, Così style (you always miss the clarinets in a Mozart concerto without them). It might have been more rewarding to watch a pianist with a keener eye for colleagues, a more visible sense of fun (we'll get the ideal concordance between soloist and conductor when Isabelle Faust plays the Dvořák Concerto in the second of Haitink's birthday concerts this coming Thursday); but Fellner, almost running ahead of himself at times, was a stalwart guide - until the Hummel cadenza in the finale (Fellner uses Paul Badura-Skoda's, almost as good, in the first movement), when he suddenly fired up in brilliant Bachian counterpoint. And then there is that last little extension, as if Mozart doesn't want to leave his E flat masterpiece alone. All of the highest order.
How the sound happens remains one of those mysteries of great conducting (so much for "the maestro myth", though Haitink must hate that term, anyway). Thus the real miracle: how to make Bruckner not only so long-term logical that you hang on every bar, but also glorious in every tone, with perspectives you rarely get in the Barbican. Here was proof, after the recent, deadly one-dimensional Mahler 9 of the Vienna Philharmonic and Ádám Fischer, that this hall is not a problem if the conductor does all the work on volume and balance. The LSO has never sounded better or greater. It helped that the strings were so quick to pick up on the lighter, more rustic modes with such character; in Carmine Lauri they have a superlative leader; last Sunday's guest, Sharon Roffman, was on the front desk with him. You could see Lauri urging attack in the powerful strokes with which the first violins adorn one big build (Haitink's long-term crescendi, as in his Lucerne Beethoven last summer, are sheer perfection).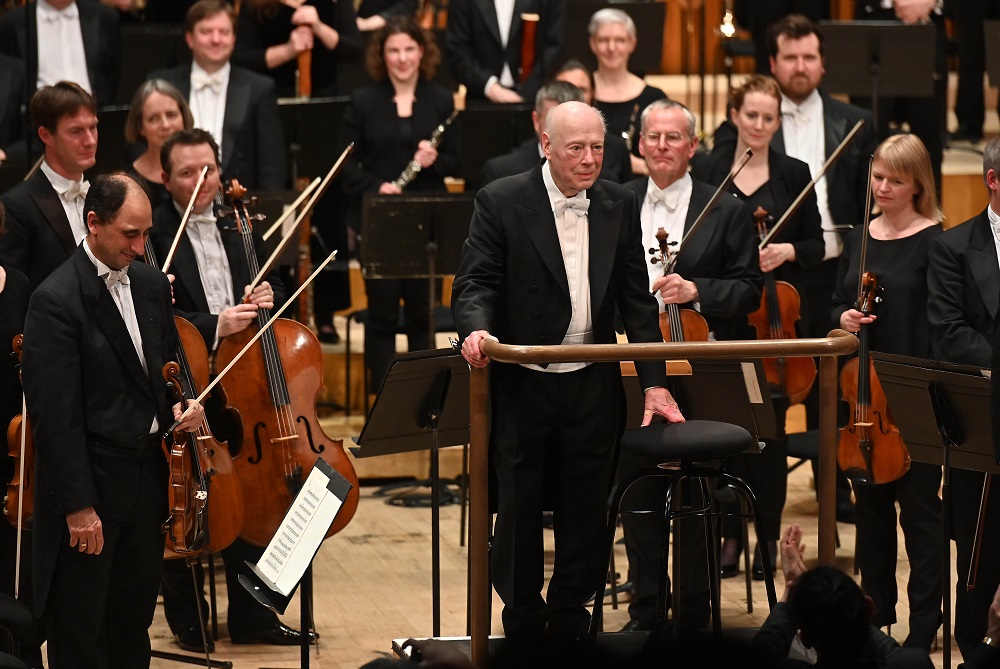 You would have forgiven first horn Katy Woolley if there had been a superficial flaw in her exposed solos; but there wasn't, and the tone was supernaturally beautiful throughout. The sheer quality of sound and dynamics kept interest alive in one of those finales you wish Bruckner had scrapped and started yet again; his last new theme with the familiar triplet patterns in common time is unworthy and has an extraordinariy banal cadence. Not even Haitink could ennoble this. But then there's the slow-burn coda, the very end finally justifying the work. Haitink had risen from his occasional, vigilant sitting long before this; the impact was assured. Instant standing ovation totally justified; hopes are unnaturally high for Mahler Four on Thursday.