Chimerica, Channel 4 review - fake news, true drama
Chimerica, Channel 4 review - fake news, true drama
Added Trump: Lucy Kirkwood's play takes a revisionary path to the screen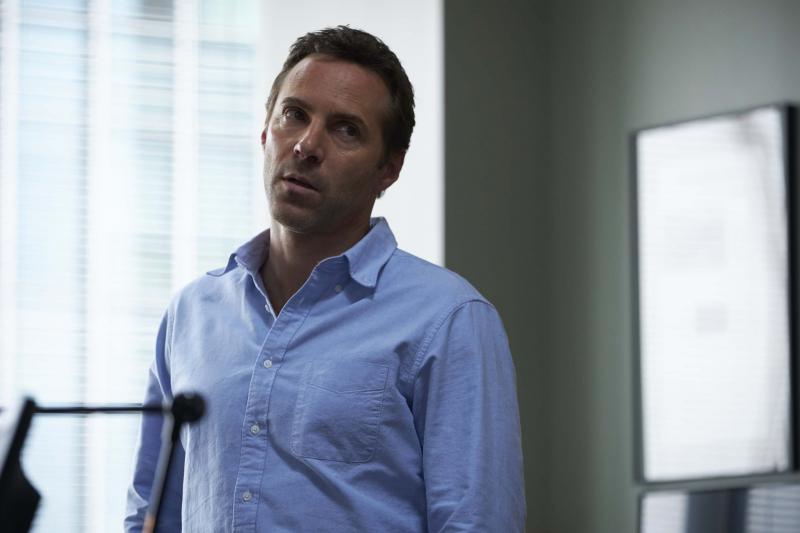 Man on wire: Alessandro Nivola
When it opened at the Almeida back in 2013 – a West End transfer followed, along with an Olivier award for Best New Play –
Lucy Kirkwood's
drama was (very loosely) about the geopolitical symbiosis between the world's two largest economies,
China
and America (hence, the title). It was seen through the prism of a story that began back in 1989 on Tiananmen Square and continued through to the present day.
Channel 4's new four-part drama, adroitly directed by Michael Keillor, retains the original's sense of uneasy interrelation between its two sparring national protagonists, but the axis of comparison has changed almost beyond recognition. And it wasn't events unfolding in Beijing that caused Kirkwood to give a new emphasis to her story, rather the upsets that hit Washington in 2016. All of a sudden, a piece about whatever verdict America might cast about democracy in China had to be reassessed, given what was brewing on the home front. This first episode may have seen Donald Trump still only on the election stump, but the issues that it raised – the relativity of truth, its susceptibility to manipulation, the fakery of news – are those that his regime has gone on to make its own.
Trump was intercut almost from the beginning, in fact, as we first encountered rookie American photojournalist Lee Berger, who was freelancing around the Tiananmen protest camps before, from a fortuitous hotel window, he took a picture of the lone "Tank Man" protestor who would go on to symbolise the tragic drama of that doomed moment. Then it was fast forward to Syria, 2016, where Lee, now a seasoned warzoner (and played by Alessandro Nivola, rugged) was taking a spur-of-the-moment decision that would destroy his world almost as completely as the protestors around him were having theirs wrecked by Assad's troops.
Kirkwood's script didn't rush, so the revelation of the gravity of his situation came only gradually, and Lee was already on a plane to Beijing, in the company of his longterm "text" companion from the New York Courier (read, Times) Mel Kincaid, before that bit of the story even came on the boil. In the Chimerica stage original Mel was a male role, but changing gender here proved a stroke of genius, because the casting of Cherry Jones (pictured above) was just so good.
With the spectre of the late Sunday Times correspondent Marie Colvin surely hovering over her, Mel was such a fully realised character that we could practically feel how desperately she wanted a drink (Mel had just gone on the wagon). She's a quintessential old-style journo of principle, whose exposure to the pain of the world's hell-holes over the years had given her the courage of bruised convictions that were now being challenged on the election beat at home every bit as much as they had ever been in a conflict zone. The editorial environment in which she and Lee worked was detailed very nicely, with a delicious performance from F Murray Abraham as their editor, an old-schooler now being assailed by the priorities, not to mention economic restrictions, of the new digital age: in one scene, he literally seemed to take a sniff of newsprint, the nostalgia palpable.
Lee was treading a fine, if unknowing balance between the mayhem he'd left behind at home and the mischief awaiting him as he reunited with an old pal from his Tiananmen days (Terry Chen), not to mention the potential ramifications of his spontaneous mile-high link-up with Tess (Sophie Okonedo), a Brit market researcher who was certainly straightforward about her own priorities when dealing with the truth. (Pictured above, Sophie Okonedo, Terry Chen)
This looked a very promising opening episode: it's intelligent, sheerly satisfying writing, with Kirkwood proferring some one-liners that were pure delight, especially when they came from Mel, who stands just on the right side of embitterment (Chinese chickens as "the Lance Armstrongs of the poultry world" for their steroidal enhancements). At the same time, Keillor took Chimerica's thriller elements at a restrained pace, the effect supported by some tantalising musical accompaniment (Claire Freeman). DOP Wojciech Szepel, not to mention production designers of all sorts, must have worked marvels to make locations (Bulgaria) look right for Beijing. There were affectionate moments of comedy – memories of Wham!'s celebrated 1984 tour to China precipitated a winning late scene – alongside the realisation that the pain of history never goes away (it was there, with a power that went beyond words, in Terry Chen's face). The fact that the present looked no brighter, and our western world more tainted than ever, made this an all-too-human watch.