Woman at War review – timely comedy-drama about an eco-warrior with a difference |

reviews, news & interviews
Woman at War review – timely comedy-drama about an eco-warrior with a difference
Woman at War review – timely comedy-drama about an eco-warrior with a difference
Benedikt Erlingsson with another distinctive tale about our relationship with nature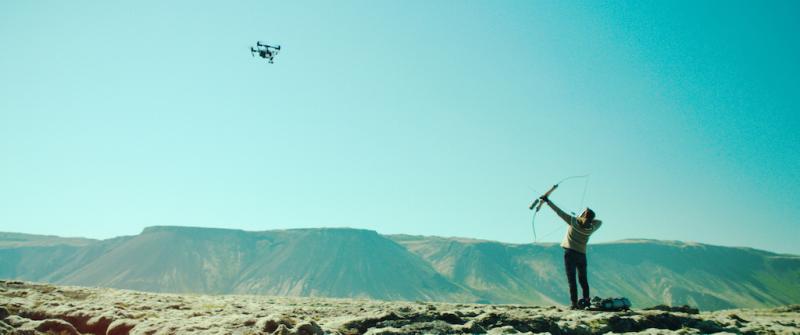 Less CO2, fewer drones: Halldóra Geirharosdóttir scores a bullseye in Woman at War
Hot on the heels of the London visit by Swedish teen activist Greta Thunberg – the most inspiring climate change campaigner since Al Gore – comes this timely, singular, enormously enjoyable comedy-
drama
from
Iceland
, whose heroine is another no-nonsense Nordic eco-warrior, albeit one with a very different
modus operandi
than young Greta.
Halla (Halldóra Geirharosdóttir) is a middle-aged choir conductor, with a double life as an environmental activist whose exploits win her the moniker, 'the mountain woman'. We first see her ingeniously shorting power lines in the Icelandic Highlands with a bow and arrow. Semtex will later come into play as she ups the ante against the government's development of heavy industry, in particular its attempt to attract Chinese partnership.
She's bold, determined, resourceful and super-fit – running miles over the freezing mountains to evade the helicopters and drones tracking her down. Her one-woman stand also has a sense of humour: when facing the drones she wears a Nelson Mandela mask, before taking one out with her trusty bow. And, like another great Nordic heroine, she has a nice line in knitted jumpers.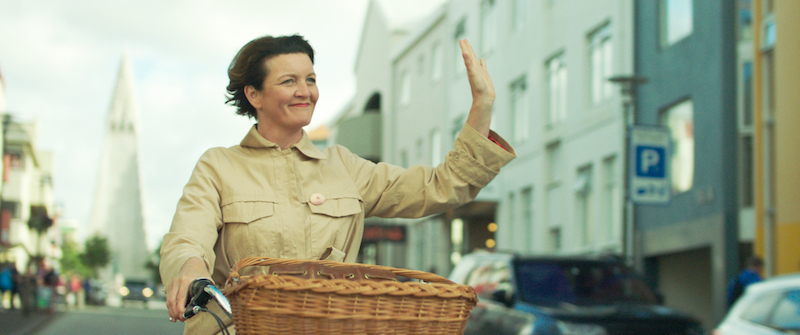 Halla has two accomplices: a nervy civil servant, Baldvin (Jörundur Ragnarsson), who's in her choir and feeds her intel on the government's reactions to her sabotage; and Sveinbjörn (Jóhann Siguroarson), a sheep farmer who may or may not be a second cousin, and brings a gentle sexual frisson to proceedings. She also has an identical twin sister, yoga instructor Ása (Geirharosdóttir again), who is as comically zen as Halla is intense.
The stakes for her are dramatically increased when an old application to adopt a child suddenly bears fruit. With a Ukrainian orphan waiting for her, the last thing Halla needs is a criminal record. But when the government's spin doctors twist her manifesto and paint her as a terrorist, she plans one last protest.
Icelandic director Benedikt Erlingsson's first film, Of Horses and Men, was one of the most startlingly original, audacious features of 2013. Woman at War isn't quite as weirdly wonderful as that, but it comes close. And its central character and campaigning theme offer this film more focus and universal appeal. A common aspect of the two films is nature. In stark contrast to the government ministers, press and military, Halla is at home in the stunning but challenging landscape, with a certain utilitarian attitude to the creatures who live there. The moment when she uses a dead sheep as camouflage is strikingly reminiscent of one of the earlier film's more memorable scenes, in which a character finds protection from a storm within the body of a frozen horse.
Erlingsson, who co-wrote the script with Ólafur Egilsson, fills the film with other beautifully conceived ideas and details – such as Halla's secret war room, which also contains a cot, and an impressive sequence in which she cycles past numerous open windows in town, as the news reports on different televisions reveal how the government and the media are spinning her story.
There are bum notes. The oblivious Latino tourist who continues to be in the wrong place at the wrong time wears a little thin, as does the three-piece band that keeps popping up – in Halla's home, in the mountains, on the motorway, as a sort of chorus to the action. (The less frequent Ukrainian choir works far better.)
But whenever the film is in danger of becoming twee, Geirharosdóttir gives a tug on the anchor, keeping it real. As sis, she's funny and light, but as Halla she's sensational – at once human and heroic, giving every indication that she, herself, has been through the wars, and very inspiring. If Meryl Streep were playing Halla, everyone would know about it. So they should definitely get to know Halldóra Geirharosdóttir.