Francis Bacon: Couplings, Gagosian Gallery review - sex and power in double figures |

reviews, news & interviews
Francis Bacon: Couplings, Gagosian Gallery review - sex and power in double figures
Francis Bacon: Couplings, Gagosian Gallery review - sex and power in double figures
A small selection focuses on the painter's radical figure paintings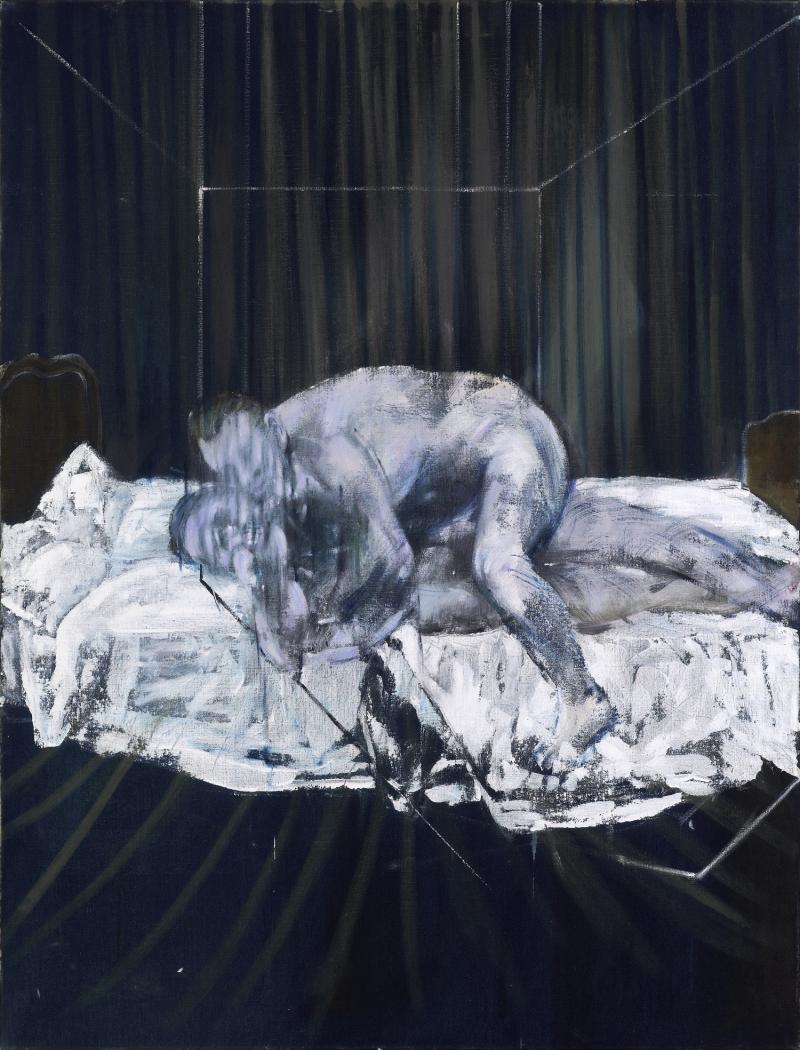 Francis Bacon, Two Figures, 1953
Forthright and often disturbing, Francis
Bacon
's "male couplings" are also ambiguous, and it is this disjunction that gives them their power.
Erotic, violent and yet so often tender, these 14 works from the 1950s to the 1970s restate Bacon's pre-eminence: surely no other artist has locked together
sex
and violence with such conviction.
Bacon explores the relationship between two bodies, and specifically two male bodies – though gender is often left in doubt – with a frankness that feels like a physical blow. Vulnerability and intimacy are brought up short by brute strength: primal, animal, but very recognisably human.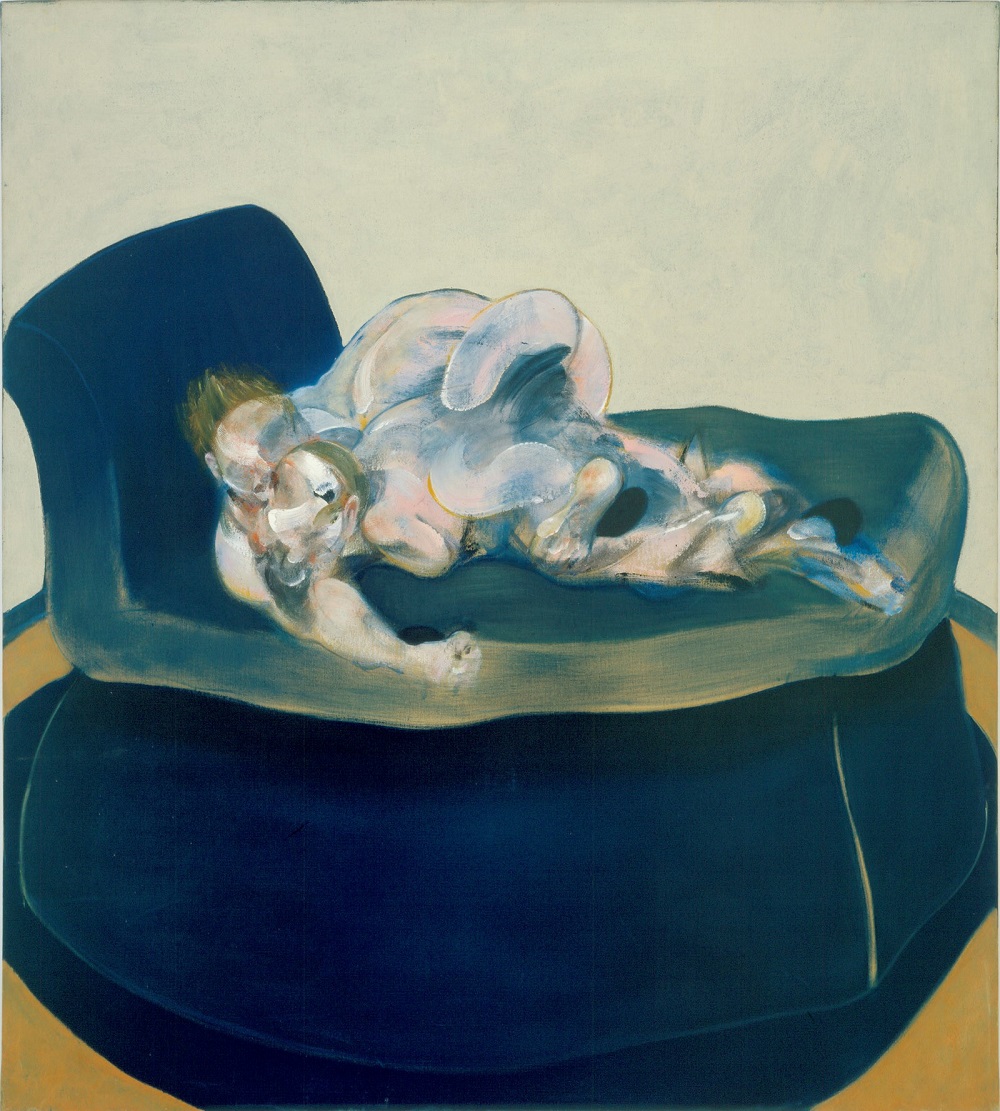 Among the photographs, torn-out pages and press cuttings used by Bacon as visual sources, the motion studies of wrestlers by 19th century photographer Edweard Muybridge are key. Bacon's Two Figures, 1953 (Main picture), are wrestling alright: in fact in 1953, 14 years before the decriminalisation of homosexuality in the UK, some viewers were content to see it as a painting of wrestlers and no more. It's ironic then that though the wrestling figures once gave the painting a semblance of respectability, their adversarial embrace is what makes the painting so unsettling. Their faces, contorted in a blur of ecstasy or agony, look out to us in a plea of need and desperation. Romantic ideas about sex are tossed aside: for Bacon, sex is power and there must always be a victor. In these scenes of battling, copulating figures the remorseless trajectory of a relationship bound for destruction is described in bodily fluids and a tangle of sheets.
Sometimes, only one figure is discernible, as in Figures in a Landscape, c.1956. Here two bodies resemble only one, painfully contorted, or perhaps a collection of dismembered body parts, with the second figure overwhelmed by the first and reduced to a pair of legs. It's as if sex – the "bed of crime" as Bacon called this theme – requires the annihilation of one or other party, the wrestling match that precedes it not so much a rough game, as a battle for survival (Pictured above right: Two Figures on a Couch, 1967).
Bacon's "male couplings" are inevitably inflected with autobiography, and his two most significant love affairs, with Peter Lacy in the 1950s and then George Dyer in the 1960s were both violent, his dominance of Dyer so complete that according to Bacon scholar Martin Harrison, Dyer's personality was "cancelled out". However such characteristics resonate through Bacon's work, it would be a mistake to think of him simply diarising his relationships, or documenting his pathologies. Instead, fundamental preoccupations, such as the destructive alchemy of human relationships find new voice in paintings like the walking man. Here we find ourselves confronted by a ghostly, besuited man who walks directly at us. Insubstantial and frankly two-dimensional as he is, it is an intimidating encounter with a malign and voracious presence: a black hole in human form.
If one person can obliterate another, so an individual can be broken into fragments, with multiple figures representing aspects of a personality. Animal figures serve to disrupt and reveal: in Two Studies of a Human Body, 1975, we might be looking at a man and his (approximate) mirror image. The seated figure with his back to us though is distinctly ape like, a somewhat more advanced version of the heavily muscled body in the foreground. In Two Figures with a Monkey, 1973 (Pictured left), a screaming monkey makes a terrifying inquistor, apparently demanding a reaction from us as it crouches between us and two lovers on a clinical green table.
In this painting, a strange, disembodied shadow lurks under the table, a presence that seems substantial and unsettling enough to be counted as a further figure in this already overcrowded scene.
One of Bacon's most intriguing works, Painting, 1950, also uses a shadow to create uncertainty and the sense of a lurking, other presence. Here the shadow is clearly that of a man, and yet it does not belong to the indeterminate, though probably female figure before us, whom we see, illicitly, through partially closed curtains. Named after his own occupation, the work casts the painter – and viewer – as voyeur, complicit in the exertion of power over the painted subject. Confused spatial arrangements and an ambiguous narrative begin to set out some of the possibilities and limitations of the art of painting and in doing so serve as a reminder that however horrifying and apparently pertinent Bacon's personal life was, it is ultimately through his paintings that we must consider him.
It is an intimidating encounter with a malign and voracious presence
rating
Explore topics
Share this article