Download Festival: downpours can't dampen spirits at metal bonanza |

reviews, news & interviews
Download Festival: downpours can't dampen spirits at metal bonanza
Download Festival: downpours can't dampen spirits at metal bonanza
Def Leppard, Slipknot, Tool and Slayer keep the riffs coming at the carnival of heavy rock
A headlining Slipknot draw a huge crowd as dusk falls on Saturday
Download is Britain's premier metal festival, attended by all ages. Theartsdesk's three person team offer up their reviews of one day each, as they navigated their way between Eighties hair metal, contemporary Viking metal and any other metal you might care to imagine…
Friday 14th June
By Ellie Porter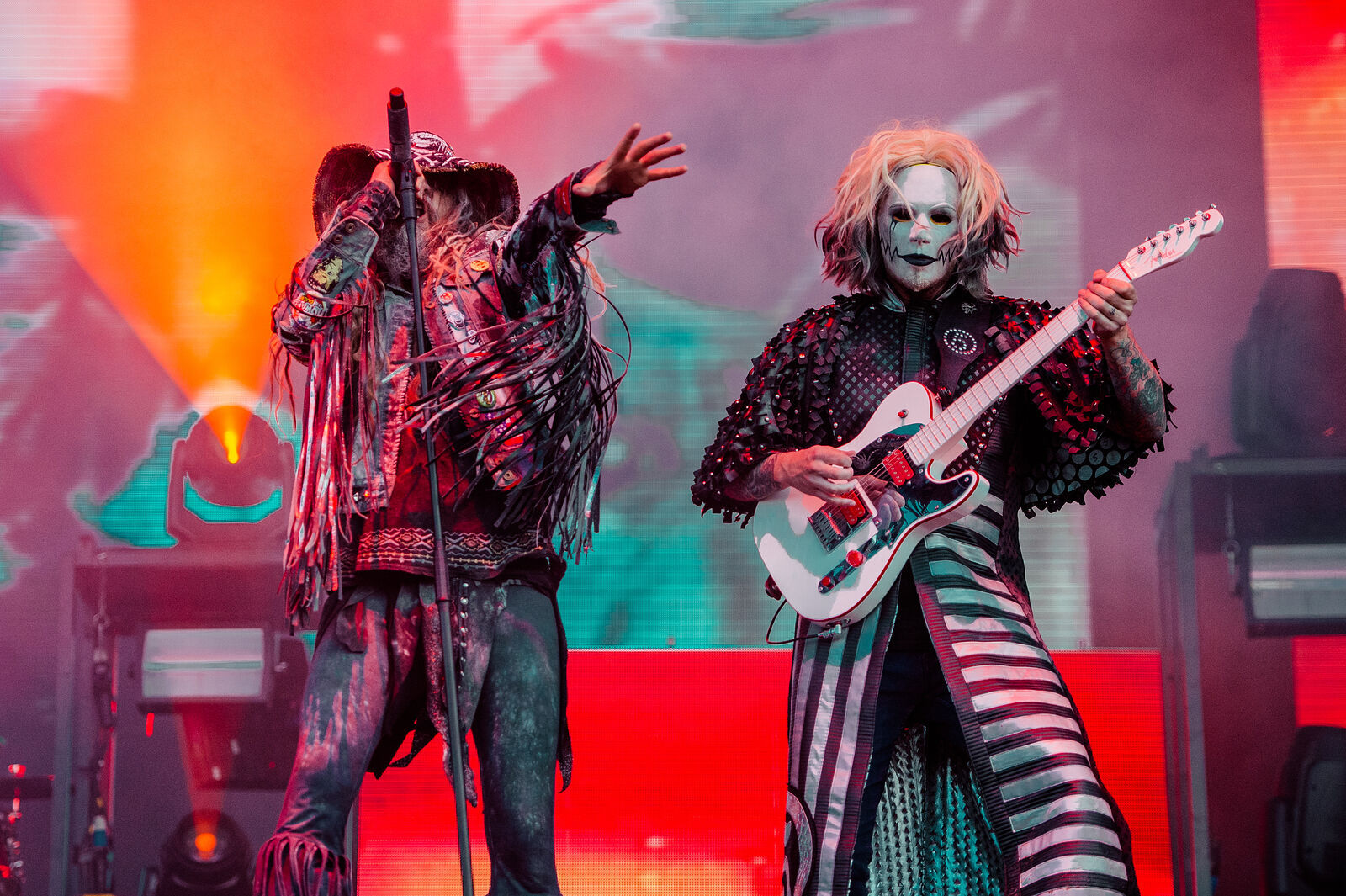 Pictured above: Rob Zombie headlining the Zippo Encore Stage © Matt Eachus

Well, last year's uncharacteristically glorious sunshine seemed too good to be true – and it was: normal service resumes this year at Download. Heavy rain in the week before the festival has resulted in glutinous ground and wails of #drownload on Twitter, which makes us slightly apprehensive about the mudbath to come. Still, armed with wellies and some alluring waterproof trousers we forge ahead and prepare to ROCK.
As we arrive there's a palpable sense of grim determination in the air as hordes of muddy metallers trudge through Donington Park. My partners in rock head off to the Avalanche Stage to see LA ska-punk outfit The Interrupters, returning with glowing reports of a rowdy, mood-lifting performance driven by frontwoman Aimee Interrupter's connection to a delighted crowd. In contrast I decide to see what Whitesnake are up to on the Main Stage, and during my hour-long wait at the bar (an attempt to combine seeing the band with the epic quest for an overpriced Carlsberg) watch a lithe, walnut-visaged David Coverdale (Pictured below © James Brindle) arrive with a holler of "ARE YOU READAYYGHHH???!?!?".
While Coverdale's voice sounds strong to start with it seems to flag later on, but he powers through a crowd-pleasing set (with surprisingly sweary interludes to request we make some noise) featuring "Still of the Night", "Slide It In" and, of course, "Here I Go Again". Pleasingly, Coverdale's sporting a shirt emblazoned with "WHITESNAKE" no fewer than six times, handy should we forget who we're seeing.
Next up it's Slash featuring Myles Kennedy and the Conspirators (pictured below right © Matt Eachus), returning to the Main Stage after playing it in 2015 (Slash was up there last year, though, with Guns N' Roses). Kennedy is on great form, and looks utterly delighted to be here. "You Downloaders have such heart," he tells us, one of many shout outs from bands over the weekend acknowledging the challenge of rocking under tricky conditions. The set is noticeably light on GN'R songs – only "Nightrain" makes the cut, possibly due to the fact that GN'R are touring again – instead filled with a combination of Conspirators songs and tracks from Slash's solo albums.
Back on the Zippo Encore Stage, the second largest stage of the festival, Rob Zombie is headlining. He topped the bill here two years ago, and this time has cranked up the lurid, spectacular visuals. Looking predictably splendid in his trademark evil space hillbilly outfits, the gleefully capering Zombie is magnetic to watch and hilarious in his interactions with the crowd. "I know you live for this shit if you're here under these conditions", he tells us. He exhorts us to keep partying, including the people milling about at the stalls up top. "If you came here to buy socks and hats, you've come to the wrong place!" Aside from a misjudged plug for his new film, the set is brilliant, with standouts including "Dead Radio", "Living Dead Girl" and a harrowing "Helter Skelter" – complete with disturbing videos of Charles Manson overlaid with spatters of blood.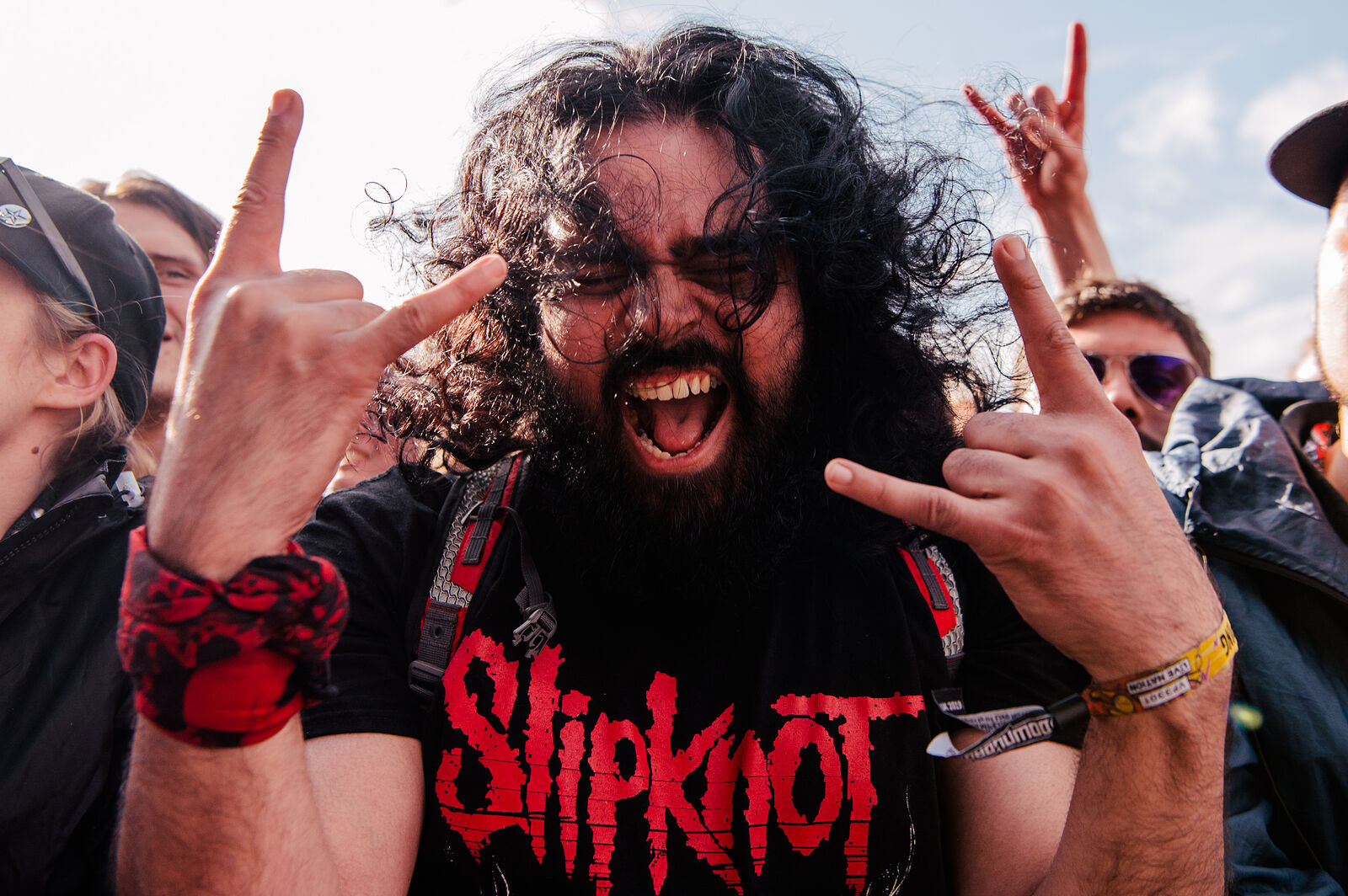 Taking our lives into our own hands, we then make the hazardous trek to the Main Stage to catch the rest of headliners Def Leppard. We arrive at the tail end of their run through the Hysteria album (meaning we've missed its best songs, alas), which they've been touring for a few months. They're the complete opposite to Rob Zombie, of course, but entertaining nonetheless, with singer Joe Elliott on pretty good form and habitually shirtless guitarist Phil Collen forced to admit defeat by donning a jacket in the face of plummeting temperatures. The post-Hysteria set is a mixed bag – it does drag on, but the very silly "Let's Get Rocked" is a lot of fun, as is "Rock of Ages". Def Leppard headlined here in 2009, which was an emotional anniversary for the band, the first time they'd played Donington since 1986, which was drummer Rick Allen's comeback gig after losing his arm in a car accident.
Having managed to reach the end of day one without any mud-based mishaps, it's time to turn in and conserve energy for the rest of the weekend – highlights of which include a blazing set from Halestorm, a ferocious Slipknot, an irresistibly entertaining Skindred, a thrash double from Anthrax and Slayer, and the world's premier Viking metal combo, Amon Amarth. And, on Sunday, one of the most unexpected guest stars: the sun, who'll hopefully be headlining next year…
Saturday 15th June
By Guy Oddy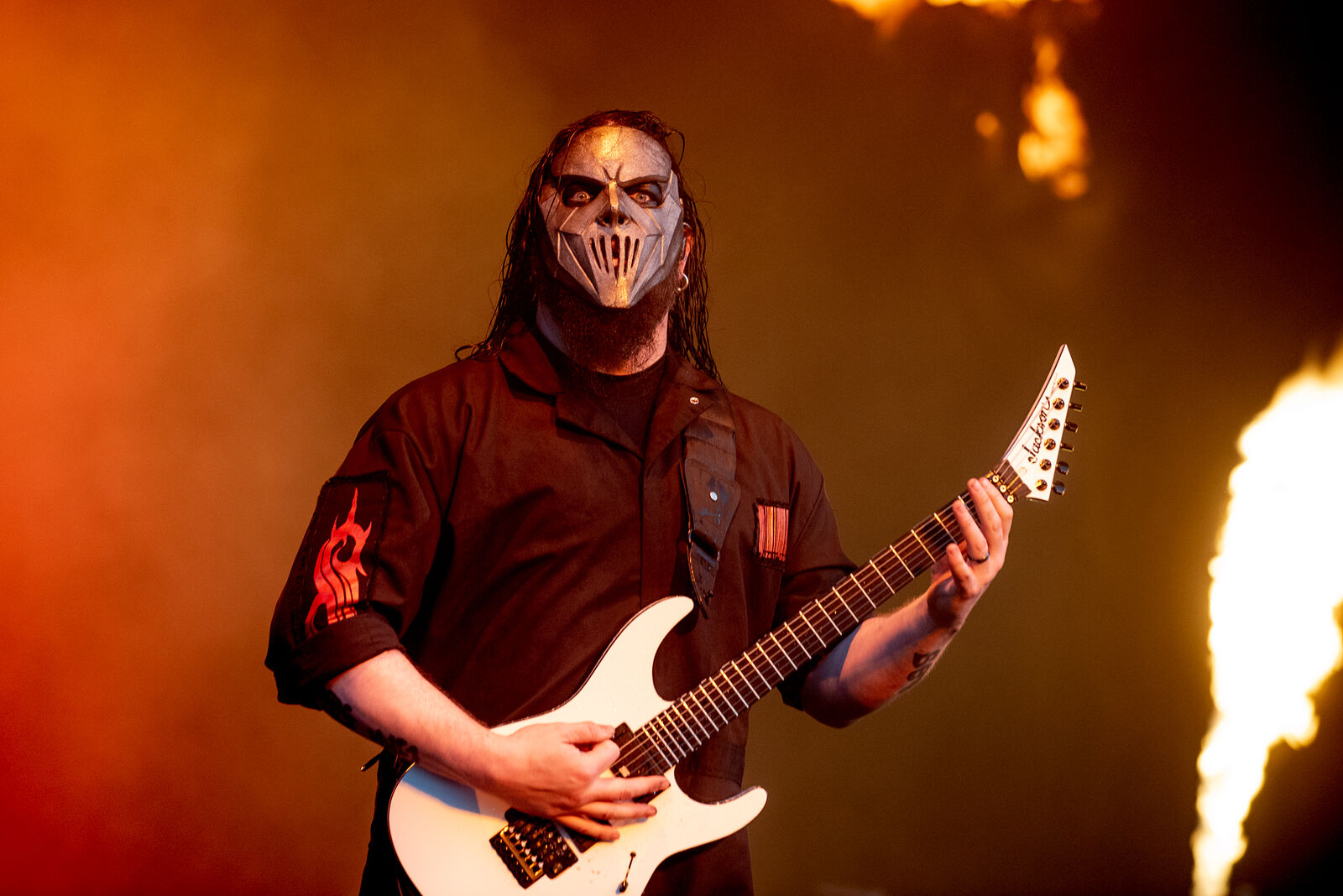 Pictured above: Slipknot headlining © Matthew Higgs

While the first day of Download was one for the older crowd, it did also manage to throw up some gems: worthy of particular mention were the rootsy Clutch, the Viking raiding party of At The Gates and the ever-green Eagles of Death Metal. By the second day, while the East Midlands might not have been basking in sunshine, the "Drownload" tag is something of an exaggeration: a couple of short showers and a muddy arena area was never going to stop the show. As Download doesn't really have much going on in the early hours, after the bands have finished, Day Two began with a relatively clear head, a lunchtime sausage sandwich in one hand, a cider in the other and the highly entertaining rock pantomime of Elvana.
Elvana (pictured right © Matt Eachus) are basically a Nirvana tribute band fronted by a shockingly bad Elvis impersonator. While this isn't a particularly inspiring concept, the band soon have the crowd totally on-side, stitching together tunes like "Breed" with "Viva Las Vegas"; "Rape Me" with "Love Me Tender" and a barnstorming "A Little Less Conversation" with "Smells Like Teen Spirit". It's a show that includes Grunge Elvis splitting his pants, a crowd singalong to "Heartbreak Hotel" and most certainly has everyone set up for the rest of the day.
From Elvana though, it's onto more serious fare. Power Trip bring their high-speed, political punk/metal over from Texas to the lunchtime slot on the Main Stage and are clearly somewhat excited to be playing Download. Tearing into "Hornets' Nest", a song about "not getting squashed like a bug", the band have plenty moshing furiously (some even doing so on each other's shoulders) as they lay down speedy riffs, apoplectic guitar solos and a sneering indignation towards those who own power. It is fiery stuff indeed.
Skindred are a new experience for me but their tasty stew of Funkadelic grooves, Bad Brains' righteous reggae/hardcore punk amalgam, and an instinctive command of the audience soon has everyone shaking a leg. "Pressure" is followed by the lively "Kill the Power", the funky "That's My Jam" (which includes plenty of audience participation) and the rabble-rousing "Rat Race". Singer Benji Webbe (pictured above left © Abbie Shipperley) even manages to have the crowd join in with a few lines of "If You're Happy And You Know It" and indulge him when he called out to "Let me see you wave like the Queen", before launching into the monstrous reggae-rock "Machine" and finally getting the audience to practice the Newport Helicopter with removed t-shirts whirled over-head. Skindred seriously know how to work the crowd and had all-comers joining in.
Mongolia's The Hu are set to play at the small Dogtooth Tent in the mid-afternoon but by the time we arrive, it's packed out. So, unfortunately, we have to make do with the sound of their droning Central Asian metal from outside – until the rain sends us off in search of something to drink. This was a disappointment, as their decidedly non-Anglo Saxon take on metal is something unusual that begged to be checked out further.
Techno-pranksters, Die Antwoord are also a strange and unexpected act to come across at Download. Stuck on the Main stage in the early evening with a grotesquely masked DJ and a few dancers, Ninja and Yolandi Visser in their Zef gear are an unlikely sight. Still, "Baby's on Fire" and "I Fink U Freaky" are also a wild experience, surrounded by raving metalheads. That's not to say that there isn't a bit of audience heckling and, unsurprisingly, Die Antwoord's electro-thump is not heard elsewhere on site all weekend. Playing at the same time as the South African duo, Stone Temple Pilots' set of heavy grunge nostalgia on the Zippo Stage is the more usual way Download embraced less metal-centric sounds in 2019.
Noise veterans Carcass had been the subject of some anticipation for Download 2019 but in the event they're a disappointment. All they have to offer is frontman Jeff Walker in a Crass t-shirt with a wind machine teasing his thinning locks and a grouchy "I know you've only come to see us because it's raining outside and the band on the Main Stage are crap" attitude. It isn't a great start and, as the expected relentless Grindcore fest doesn't seem to be on offer either, we don't stay around for too long.
Saturday's Main Stage headliners Slipknot on the other hand are well versed in delivering menace and chaos, and so it proves in their ferocious set. Back in the ring after a couple of years break from each other, the band come on stage still channelling all the US horror film tropes you might care to imagine. In particular, frontman Corey Taylor (pictured above right © Matthew Higgs) seems to be reimagining Danny Devito's take on Batman's The Penguin. Wearing a big black coat, a mask of the type that might be given to a burns victim and thinning, greasy hair, he spits and barks his way through a set that burns rubber from the first notes of "People=Shit", a ferocious "Heretic Anthem", new tune "We Are Not Your Kind" and a vicious "Spit It Out". Raging pyrotechnics, theatrics and a big bombastic sound make it clear that Slipknot are here to do the business and they don't disappoint anyone in the people-sea that seems to stretch in front of them, from the stage front to the back fence of the arena. In fact, Slipknot prove to be the highlight of the festival and while both Slayer and Amon Amarth play suitably storming sets on Sunday, they are both firmly in the shade of Iowa's revitalised nihilists.
Sunday 16th June
By Thomas H Green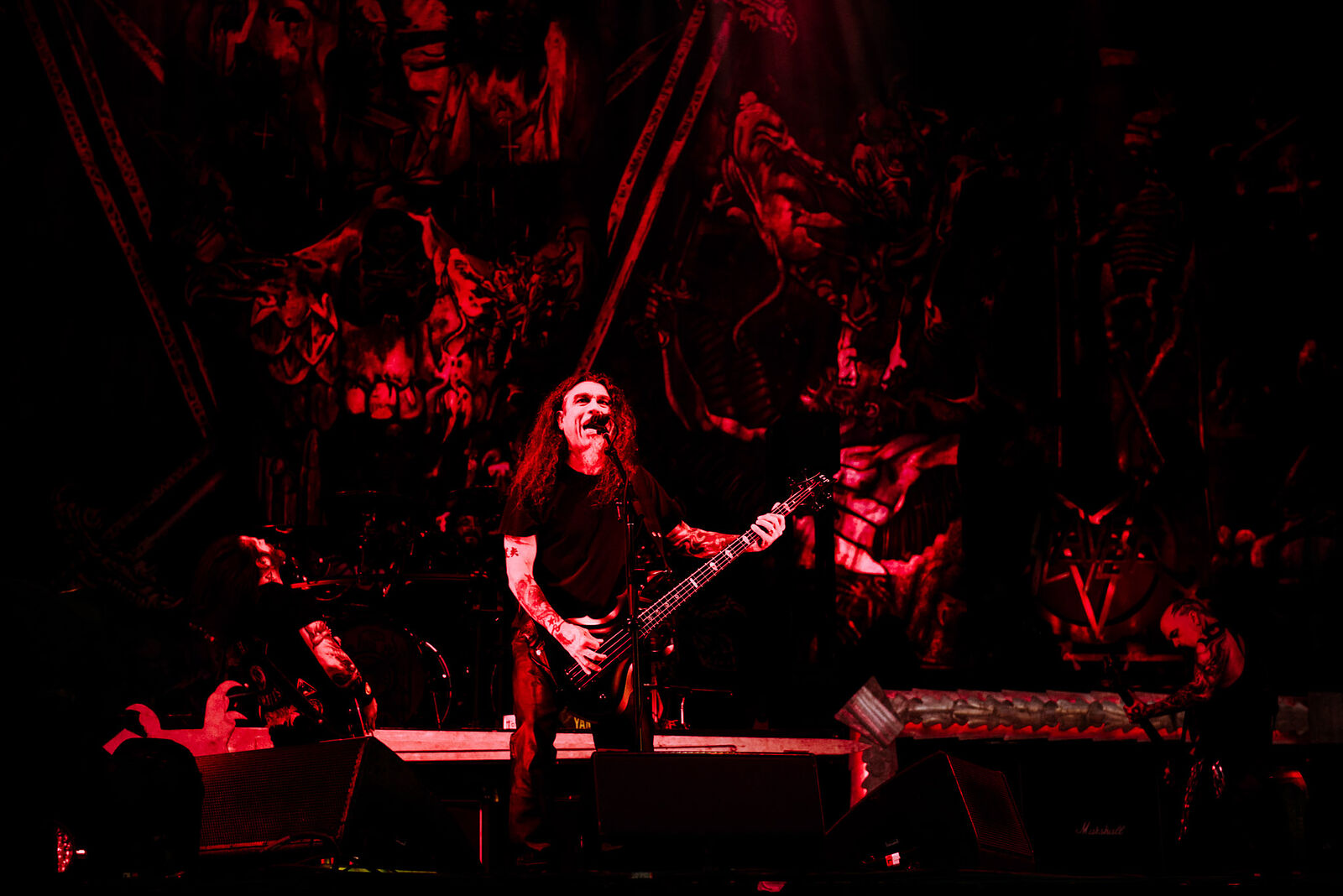 Pictured above: Slayer headlining the Zippo Encore Stage © Matthew Higgs

One of the funny things at Download is seeing the size of the bands' hanging backdrops. It tells you something about the venues they're used to playing. The big acts have ones that cover the whole stage-back, from the floor to the heavens, often several that peel away to reveal new scenes (inevitably of skulls!). Thus it's endearing when Dinosaur Pile-Up hit the Zippo Stage at midday backed by one the size of a large beach towel.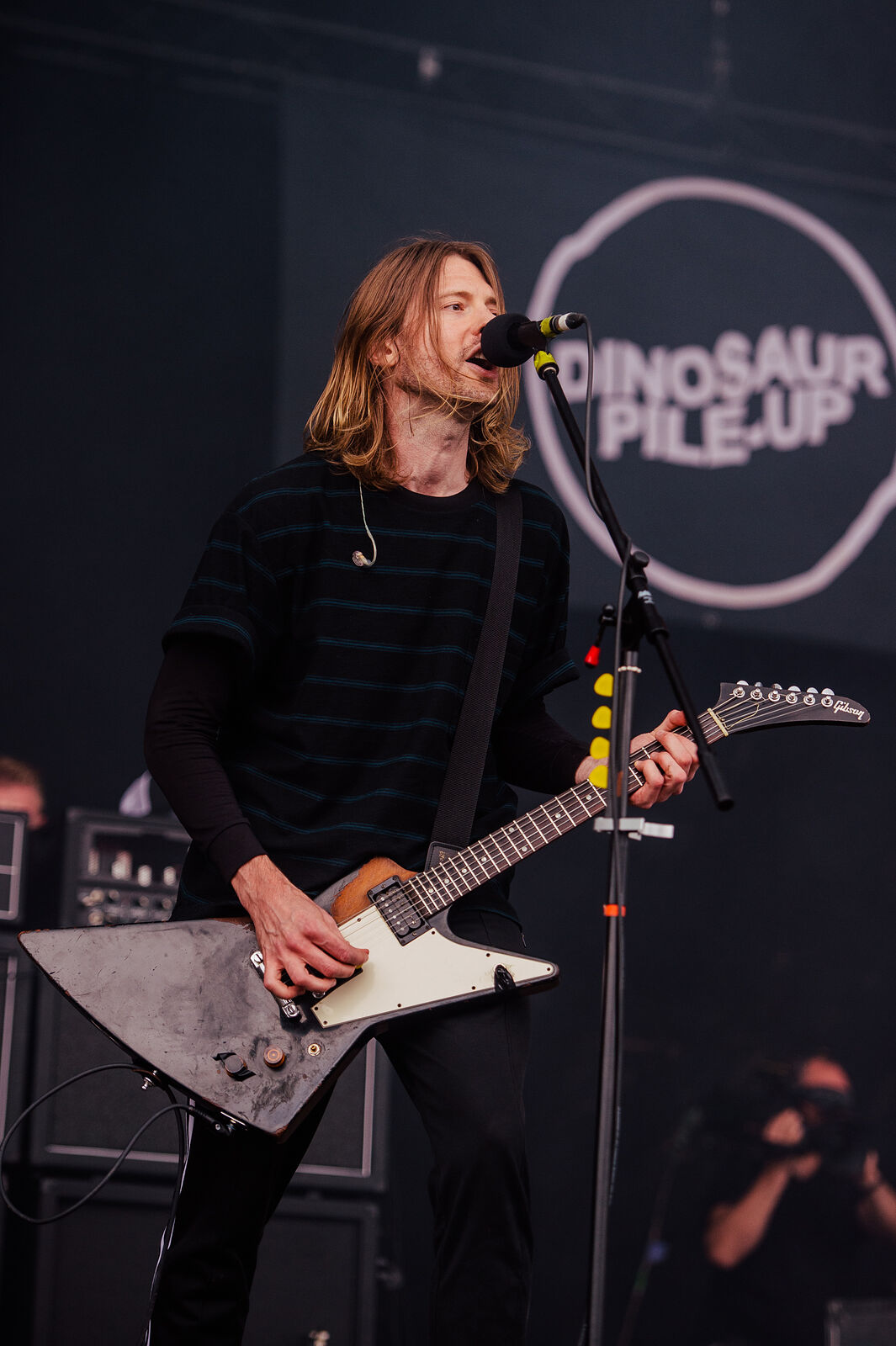 The dressed-down Leeds three-piece are enthused but initially lacklustre, offering a Nirvana-lite sound. Happily their excitement is contagious. Frontman Matt Bigland (pictured left © Matt Eachus) tells us he's been drinking since 9.00 AM – "It's Sunday morning, you feel like shit, I feel like shit, let's have a fucking good time!" – then kicks into the stonking title track from their 2015 album Eleven Eleven, all down-tuned menace in the verses but punk shouting in the chorus.
They revel in genre-jumping. "Arizona Waiting" is pure US-style FM radio power pop, but it's this year's "Back Foot", played as the closer, that's the killer, a bounce-around classic-in-waiting and one of the most contagious songs all weekend. It sounds somewhat as I recall Reef sounding, and I used to loathe Reef… so I find myself doubting my entire aesthetic sense, and daren't listen to Reef again since I hid all my partner's Reef albums: imagine the trouble it would cause if they were any good!
This being Download, with most peaking early and in their tents by 1.00 AM, it's time to load up on cider brandy back at the site, thus a suitably moshpit-friendly wobble can be achieved by mid-afternoon. Once loosened, we squeeze past the overzealous gate security to catch Swedish Viking metallers Amon Amarth whose stage set-up alone, featuring the drum kit ensconced in a gigantic horned helmet (pictured below right © Sarah Koury), is preposterous.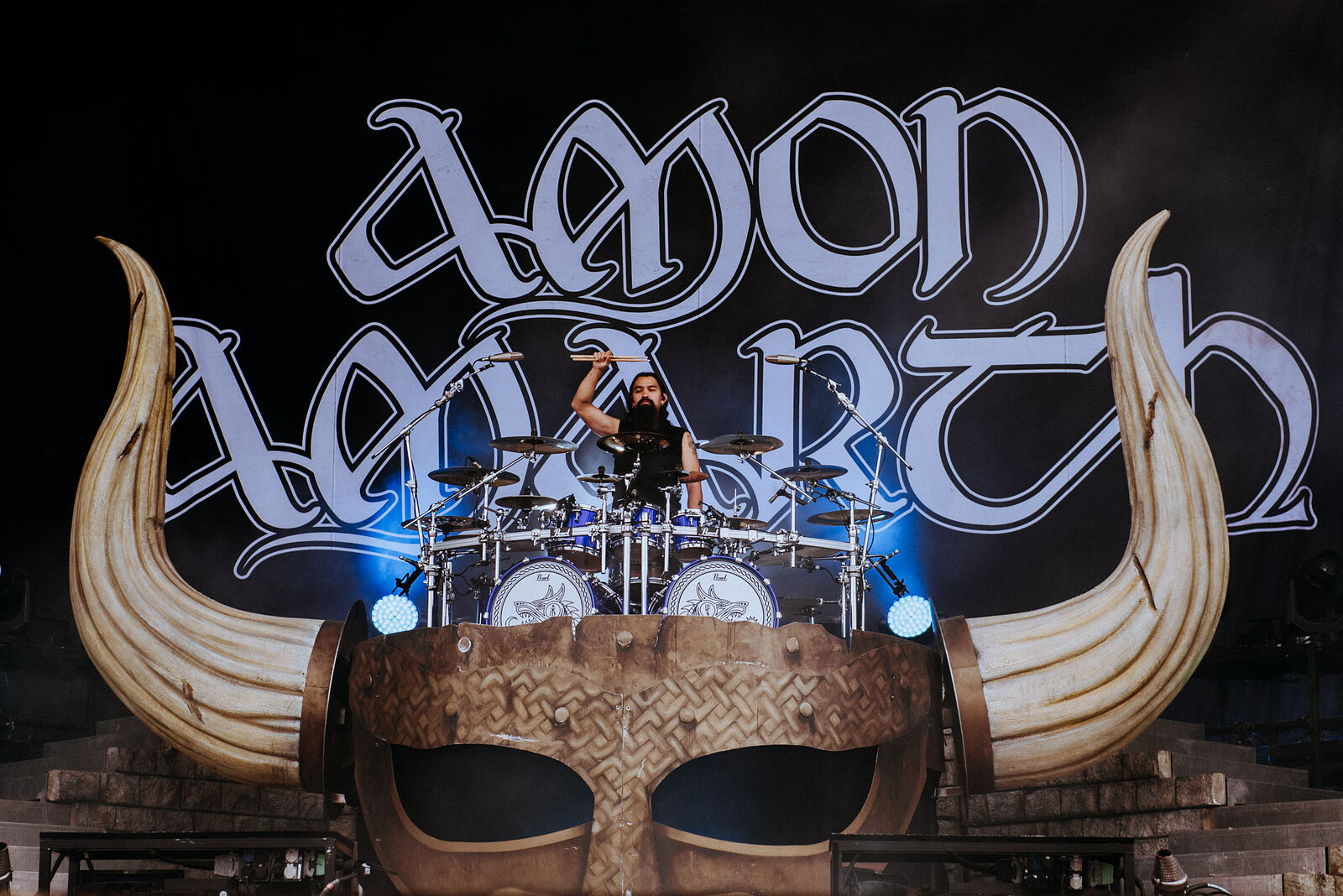 Yes, they are pure Spinal Tap, but they carry it off with aplomb. Heavily bearded lead singer Johann Hegg looks the part, with a drinking horn in his belt. This will later be pulled out, filled and drunk from as he encourages us all to make a toast for the song "Raise Your Horns" ("Raise your horns, raise them up to the sky /We will drink to glory tonight"!). Their set is filled with lots of choruses that feature fist-pumping "Hey! Hey! Hey!" sections, and song titles such as "The First Kill" and "Guardians of Asgaard". There's also plenty of showbiz, large burning insignia and, for the final "Twilight of the Thunder God", an enormous inflatable purple dragon.
Best of all, though, is their incongruous politeness between songs, leavened with a self-aware twinkle, prior to Hegg roaring stuff like, "Are you ready to do battle with us? Are you ready to fight to the last man? Then raise the shield wall!". It says something that during a lull in their set a section of the audience could be heard singing The Muppets' "Mahna Mahna". In short, while full of growl and attack, the whole thing emanated fun.
From there, a race to the Zippo takes us to Anthrax (pictured left © Matthew Higgs) who, once renowned as a quarter of thrash metal's "Big Four", back in the Eighties, are now, perhaps, the least celebrated of them. Their most recognizable member, guitarist Scott Ian, in shorts, his goatee now a large white tuft, plays an outsized guitar that makes him looks small, but gives the set punk energy as they race about the stage and pummel the assembled audience, enjoying a burst of sunshine, with decades old batterers such as "Got the Time", "Madhouse" and "I Am the Law". They are fronted by Joey Belladonna, whose screeching style is more New Wave of British Heavy Metal than thrash, but they nevertheless create a ferocious racket in front of a backdrop featuring yet more skulls.
We spend the weekend's heaviest and longest bout of rain under our broken gazebo, guzzling most of our remaining booze'n'barbecue supplies. A gust of wind then destroys the gazebo but the squall has passed. We hold a brief wake. By late afternoon, as we head for the Main Stage, there's much excitement at Smashing Pumpkins' forthcoming set. Two of our party speak of them reverentially, citing the 1993 album Siamese Dream as an all-time classic. The band arrive onstage to Handel's "Sarabande", leading to even greater anticipation, but they are, eventually, a vast disappointment.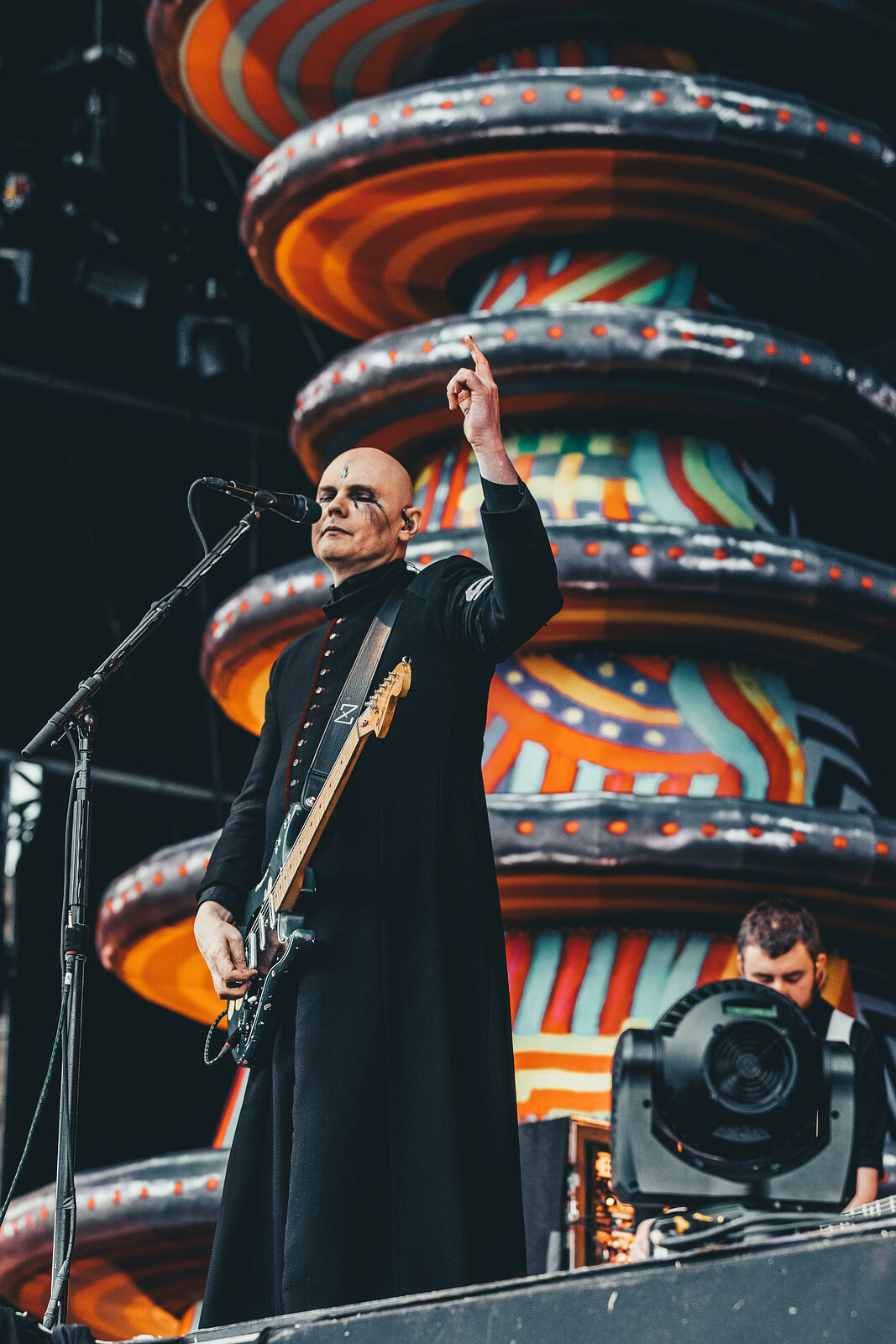 They wander around their career but focus mainly on recent and/or less well-known material, never a wise move for a big festival sense of occasion. Their leader, Billy Corgan (pictured right © Abbie Shipperley), is famously difficult, but his sour-faced taciturnity is just a downer. In black eye make-up, he's wearing a kind of goth cassock with red piping that does him no favours. Uncle Fester from The Addams Family is mentioned, somewhat unkindly, by someone nearby. He tries to get guitarist James Iha to vibe the crowd but he fails entirely, mumbling nothing much about how pleasant it is to be here.
Special guest, Danish singer Myrkur (Amalie Bruun), heavily pregnant, comes on for what Corgan indicates will be a Download treat. This turns out to be a tepid version of Black Sabbath's 1972 cut "Snowblind", its skanky, coke-addled riffage replaced with a woozy dark ambient vibe. The fact they play newish stuff ("Solara", "Knights of Malta") and lesser known fare such as the hip hop-flavoured "Ava Adore" wouldn't matter a jot if they just looked like any of them were enjoying any of it. But they do not, and they finish with long, moping slowie "The Aeroplane Flies High (Turns Left, Looks Right)" a bonus cut, no less, from the 2012 reissue of Mellon Collie and the Infinite Sadness. Rubbish! The only good thing about them is the giant Studio Ghibli-looking effigies that make up their stageset.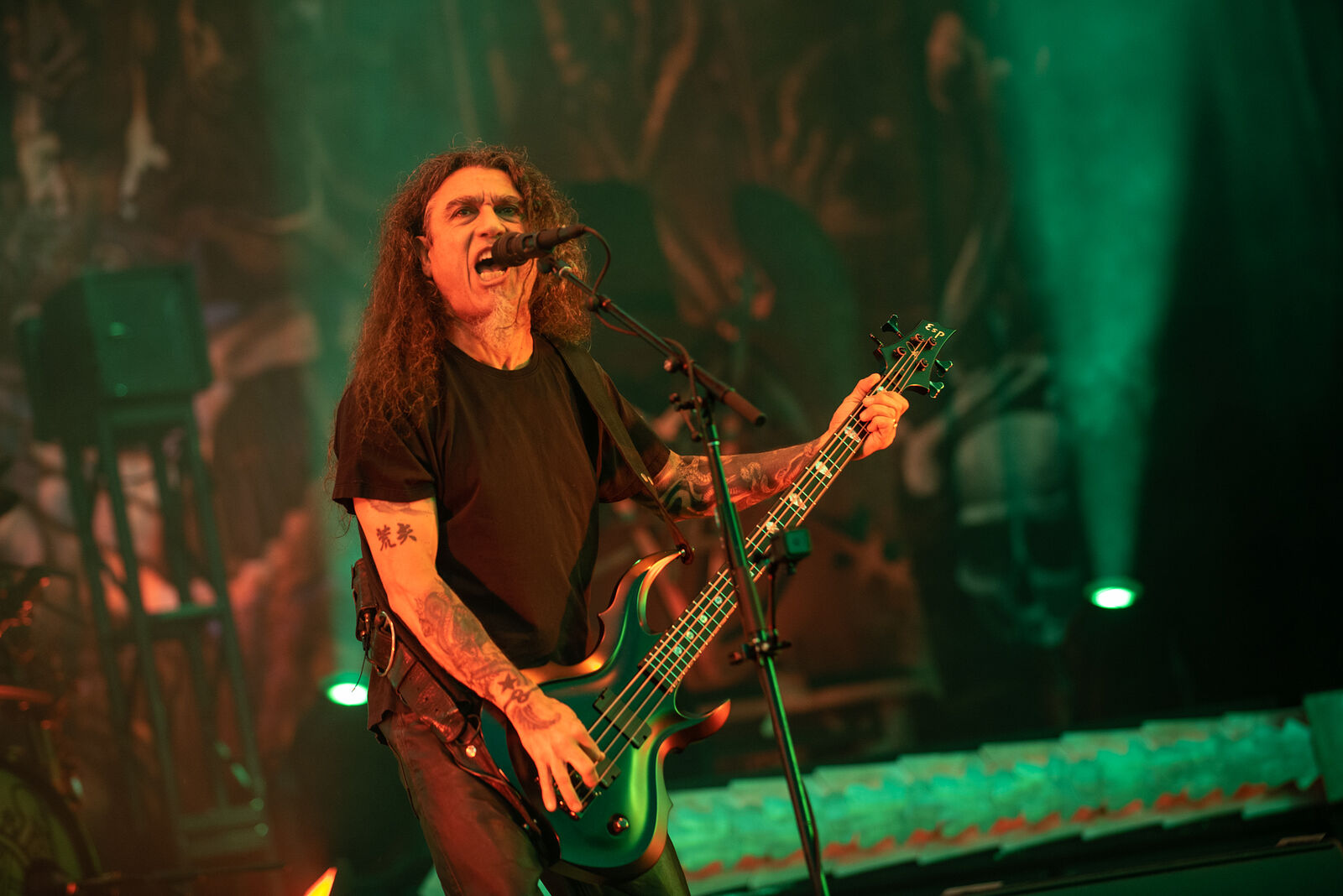 This leaves us feeling less than bubbly for thrash legends Slayer (pictured left © Matthew Higgs), whose final UK gig this is tonight. They're just nuts, though. With a combined age of 223 they play with impossible propulsion, like something possessed, a relentless assault from opener "Repentless" to the closing, annihilating "Angel of Death", a song that once caused so much controversy. It's hard to keep up with them, Tom Araya's barking vocals lead an overwhelming rhythmic warzone. From the classic riff of "Raining Blood" to the righteous crowd-bawled venom of "Payback" ("You've got a fucking catheter in your brain/Pissing your common sense away… payback's a bitch, motherfucker"), Slayer are a uniquely hardcore proposition.
At the end Araya prowls the stage edge after it's all over. He has a fascinating face, granite and zen calm, all mixed up. He doesn't speak, his eyes look emotional, taking it all in, then he's gone. They will be missed. After them, Tool's punk-meets-prog art-metal, their first gig here in over a decade, washes over us. The visuals look good, the sound has a moody pomp, but we're not fans. Suffice to say the field is less than half as full as it had been for the mighty Slipknot the previous night. If Tool are really just for their devotees, Download as a whole is not. It entertainingly combines the preposterous with the visceral, then adds beer. The whole place may be managed more like a sporting event than a festival, but once you accept that and enjoy the music and the company, it's a blast.
AND IN SHORT
Worst Thing About Download 2019: Lack of programme availability is a problem, as rifling through, checking what bands to see on the app is nowhere near as fun or user-friendly but, no, the worst thing is the security going into the arena. They're polite and pleasant and all that, but their searches are often ridiculous: going through a 50 year old man's wallet, checking his bank cards because "there are these credit cards that have been sharpened to be used as knives" seems a little over-the-top.
Best Thing About Download 2019: They dress better than the rest of Britain – no pastel Primark leisurewear here – but the real treat of Download is the welcoming and genuine friendliness everyone exudes, from the moshpit to the campsite. That and the endless riff assault.
Worst billboard: In 2019, having a huge billboard onsite, near an entrance, featuring four tanned, skinny women in skimpy black bikinis, sexing it up like they were in the late, unlamented Nuts magazine, is not cool. During the course of the weekend forces of righteousness, not unknown to our crew, plastered it in mud and, eventually, tore most of it down.
Best mud preventative: When most were asleep Download's night demons covered the main arena in straw so effectively that, despite repeated brief showers there were still places it was possible to sit down on the ground, and generally a whole lot less mud than there might have been. Impressive.
Best chorus: "Trouble is Your Middle name" by Whitesnake. Whitesnake's bombast proves entertainingly ridiculous, and frontman David Coverdale comes on like your Great Aunt Shirley who "looks after herself" and often mentions how she "went backstage" with The Hollies in 1965. But could we stop singing the ever-repeating "Trouble is your middle name" chorus at each other all weekend? No, we could not.
Below: Watch the video for "Back Foot" by Dinosaur Pile-Up
With a combined age of 223, Slayer play with impossible propulsion, like something possessed, a relentless assault
rating
Share this article