Jesus Christ Superstar, Barbican review - Andrew Lloyd Webber's musical lives again |

reviews, news & interviews
Jesus Christ Superstar, Barbican review - Andrew Lloyd Webber's musical lives again
Jesus Christ Superstar, Barbican review - Andrew Lloyd Webber's musical lives again
The Regent's Park revival is just as spectacular indoors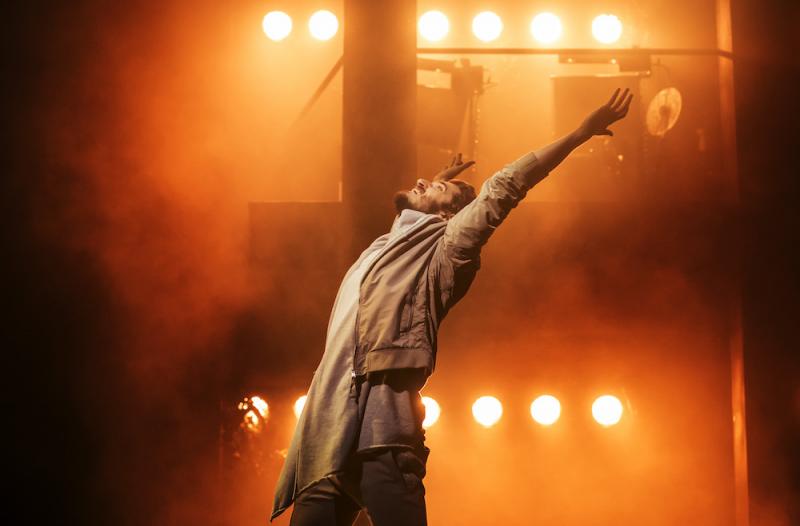 Holy smoke: Jesus (Robert Tripolino) implores the heavens
Andrew Lloyd Webber and Tim Rice's 1970 musical had a heavenly resurrection at Regent's Park Open Air Theatre three years ago, with an encore run the following summer.
It's soon heading off on a US tour, but first there's another chance for British audiences to catch this miraculous stripped-down revival at the
Barbican
.
Director Timothy Sheader blasts the cobwebs off this sung-through rock opera by making it a pertinent portrait of celebrity and fanatical fandom, while nodding to its concert origins via a gig-like setting. Strumming an acoustic guitar, Jesus (Robert Tripolino) has the cool mystique of an indie rock god, while a goth Pilate (Matt Cardle) is mean and moody on the electric guitar, Herod (Samuel Buttery) does a cabaret turn, and microphones, stands, amps and cables are ingeniously employed throughout.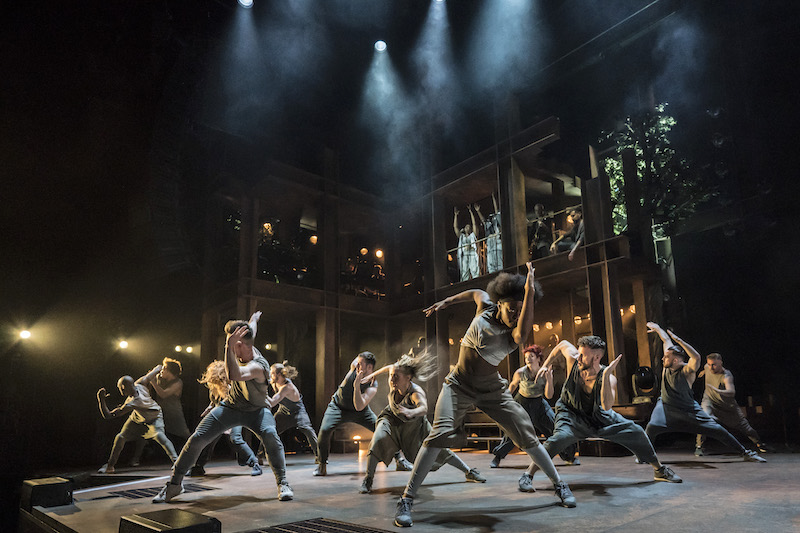 Tom Scutt's striking design translates well indoors, with its structure of rusted metal girders and fallen cross as sloping catwalk (plus a couple of trees in a nod to the Park), and Lee Curran's lighting is even stronger here – flashing stadium lights through to soft haze and a final divine stream illuminating Jesus on the cross. Scutt's effective costumes clothe Jesus's followers in hip grey hoodies, crop tops and tracksuits like a street dance crew, while the donning of Roman masks adds an instant eerie menace.
But the real superstar still is Drew McOnie's thrilling choreography (pictured above). His ensemble sways, shudders, grasps and gasps in sync – a heady collective sensation, relentlessly needy in their drain on Jesus, and savouring the delirious ecstasy of surrender to something greater. Later, they become a baying horde, and that same sense of absolute belief is pure horror: the unshakeable mob. Fluid transitions contribute to a trim, disciplined production, and McOnie's work adds a visual and visceral dynamism to what can otherwise be more of an aural experience.
Mind, the richly textured score – roars of rock, lilting ballads, stirring gospel and pounding choral numbers – has probably never sounded better, thanks to Tom Deering's musical supervision and the Barbican's acoustics; what the transfer might lose in atmosphere, it certainly gains in musical power. The only danger is that the superb onstage band (under MD Ed Bussey) rings out so loudly, it occasionally overpowers the singers – and, with sloppy diction in a few places, some lyrics and key story moments are hard to discern.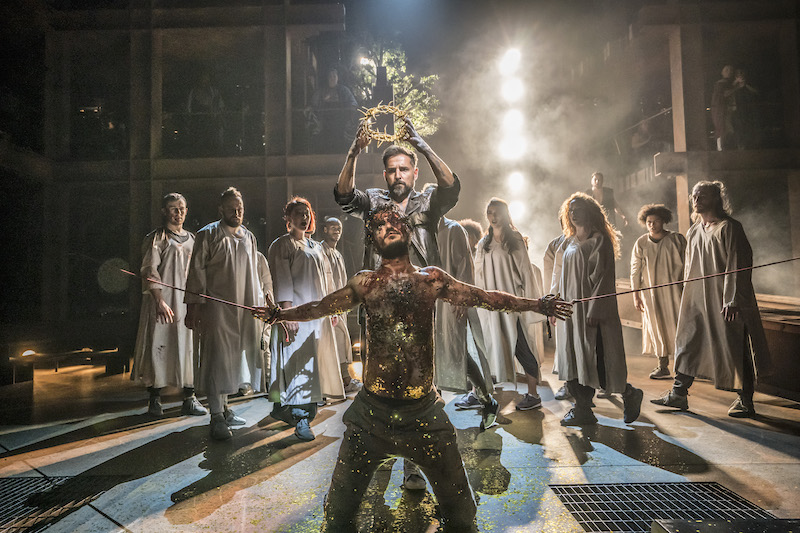 Robert Tripolino (pictured above with Ricardo Afonso and company) makes for a magnetic Jesus – initially adopting a certain hipster passivity, as the character allows other to project onto him, later tearing into a barnstorming "Gethsemane" that rockets through all the conflicting emotions of someone about to undergo the ultimate test of faith. As Judas, Afonso provides a great stylistic contrast – always interrogating, always on the move, his creamy vocals expressive and increasingly urgent in the face of Tripolino's elegant tranquillity. When he sells out, Judas dips his hands in dripping silver, and Afonso looks as tortured as if his flesh was branded by blood.
Sallay Garnett brings an earthy, understated warmth to Mary, her "I Don't Know How to Love Him" a jazzy croon, Matt Cardle impresses as a prowling, aggressive Pilate fired up by the crowd, Samuel Buttery's Herod is a flamboyant but terrifyingly merciless despot, and there's strong support from Cavin Cornwall, Nathan Amzi, Matthew Harvey and Tim Newman as, respectively, high priests and disciples. The entire cast maintains a careful tonal balancing act: simultaneously cool but camp, spectacular but grounded, playful but soulful. The climactic sequence is extraordinary theatre, as Jesus is lashed (blood spurts cleverly represented by hurled glitter), crowned and crucified amidst a musical and choreographic fury. It makes believers of us all.