The Bridges of Madison County, Menier Chocolate Factory review - Iowan romance fizzles |

reviews, news & interviews
The Bridges of Madison County, Menier Chocolate Factory review - Iowan romance fizzles
The Bridges of Madison County, Menier Chocolate Factory review - Iowan romance fizzles
Trevor Nunn's busy production competes with Jason Robert Brown's exquisite score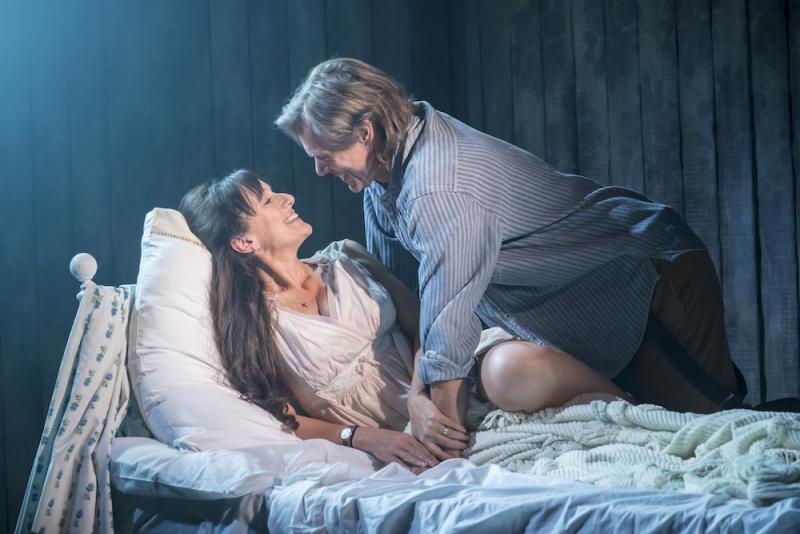 The morning after: Francesca (Jenna Russell) pursues her affair with Robert (Edward Baker-Duly)
Robert James Waller's bestselling, though critically panned, 1992 romance novel was reincarnated in the Clint Eastwood and Meryl Streep-starring film, and then again in Jason Robert Brown and Marsha Norman's Tony-winning 2013 musical – both adaptations wisely sloughing off some of the original's schmaltz and sappiness.
Now Trevor Nunn, whose
Menier
-originated
Fiddler on the Roof
is currently playing in the
West End
, helms the moderately successful UK premiere.
Italian war bride Francesca (Jenna Russell) has been transplanted to Middle America, where she's raised two children with farmer husband Bud (Dale Rapley). But her peaceful existence is disrupted by the arrival of a travelling National Geographic photographer, Robert (Edward Baker-Duly, pictured below with Russell), who has come to take pictures of the titular covered bridges. With Francesca's family away at the Iowa State Fair, their relationship blossoms over the course of a few days.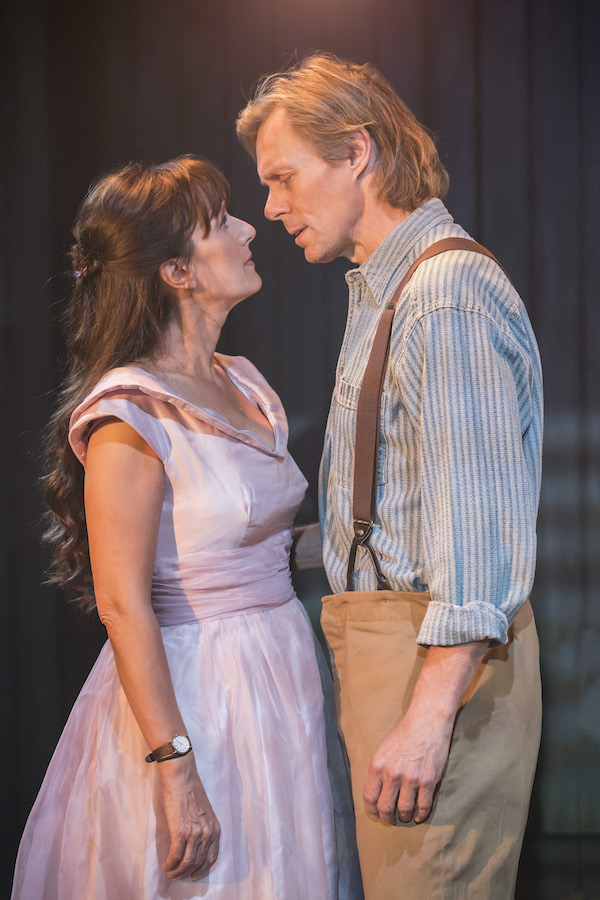 The Menier seems like a perfect setting for this intensely intimate piece, which is much more of a character study than a plot-driven drama. Yet, oddly, Nunn's production fights the small space, packing it with furniture wheeled in on tracks or revolves, and creaky wooden sliding doors constantly revealing new set pieces (noisily readied with scrabbles and bangs). Nor can the performers just connect with the material, and the audience, when there's endless stage business, and attention is frequently diverted to the unimaginative projections.
It's a frustrating choice, since Brown's music is so exquisitely delicate, and his finest lyrics such textured, emotive poetry – the kind of score you want to fully engage with, rather than split focus with dinner preparation or losing sight of the actors in the cab of a truck. It's also a piece that, at its best, has a transcendent, timeless quality – the Sondheim-esque examination of a life, and of the road not taken. This production, in contrast, is resolutely determined to be naturalistic, yet when the staging is simpler and freer, the actors – and the work – shine, as in the standout love duet "One Second and a Million Miles".
Jenna Russell has a wonderful ability to convey a well of complex feeling through song, and she certainly demonstrates Francesca's dawning realisation of an unfulfilled life, and the subsequent elation and fear of pursuing something beyond that. Baker-Duly provides the requisite grizzled charm and challenging ideas (Robert has hippy-ish long hair, no family relationships, and – gasp! – is a vegetarian), but lacks the irresistible smoulder. Together, they make for kind, sincere companions; what's missing is the burning desire, the shattering, soul-bearing passion that tears a hole in Francesca's life and awakens the long-dormant sensual woman she swapped for self-denying wife and mother.
Likewise, both supply nice character notes – Russell particularly funny in conveying Francesca's ambivalence towards farming, and in thanking "the patron saint of Iowa housewives" for Robert's arrival – but the leads struggle with Brown's deceptively difficult score. It requires an impressive range and the ability to take flight both emotionally and musically; here, too often the numbers plateau when they should soar (in contrast to the Broadway production's Kelli O'Hara and Steven Pasquale). However, two supporting performers put over their numbers beautifully: Gillian Kirkpatrick's nosy neighbour Marge (pictured below with Paul F Monaghan) having her moment to cut loose, and, as Robert's ex Marian, Shanay Holmes doing full justice to the yearning folk lament "Another Life".
There are also good turns from Dale Rapley, Maddison Bulleyment and David Perkins as Francesca's husband and bickering kids. Though the family drama feels tacked on, it's well handled by Nunn – particularly in the passages that parallel Francesca's existential crisis, and the sense of social change that comes with the mid-Sixties setting. MD Tom Murray leads a strong orchestra, comfortably handling the score's mix of stripped-back folk, rousing country and stirring semi-operatic grandeur.
At close to three hours, the production certainly feels like it could use a trim – that's partly a feature of the staging, partly the work itself, which has an unhurried, multi-ending epilogue rivalling that of the final Lord of the Rings film. A stronger romantic connection would help power it, but Brown's score constantly rewards endurance, finding profundity in the everyday, as well as in the eternal.
When the staging is simpler and freer, the actors – and the work – shine
rating
Share this article