Fiddler on the Roof, Menier Chocolate Factory review - family matters in this sensitive musical revival |

reviews, news & interviews
Fiddler on the Roof, Menier Chocolate Factory review - family matters in this sensitive musical revival
Fiddler on the Roof, Menier Chocolate Factory review - family matters in this sensitive musical revival
Trevor Nunn's intimate staging provides a soulful seasonal outing
Thursday, 06 December 2018
The Mama and the Papa: Golde (Judy Kuhn) argues with husband Tevye (Andy Nyman)
There's a welcome alternative to panto hijinks in this gem of a Trevor Nunn musical revival – more attuned to the biting hardships of winter, and to the elegiac aspect of change, than to festive jollies.
Which is not to say that there isn't rousing fun to be had in many a slick set-piece, but this intimate, sensitive staging brings out the work's soul, particularly its timeless call for empathy and compassion.
Joseph Stein, Jerry Bock and Sheldon Harnick drew on Sholem Aleichem's stories for their 1964 musical, and it initially feels like a folk tale: that of Tevye the dairyman (Andy Nyman) and his travails in the small shtetl of Anatevka in 1905, from having to pull his wagon when his horse goes lame to sparring with wife Golde (Judy Kuhn) and fretting about marrying off his five daughters (pictured below right). But the work opens up in fascinating ways as the village and its Jewish inhabitants come under threat from Russia's Christian Tsar.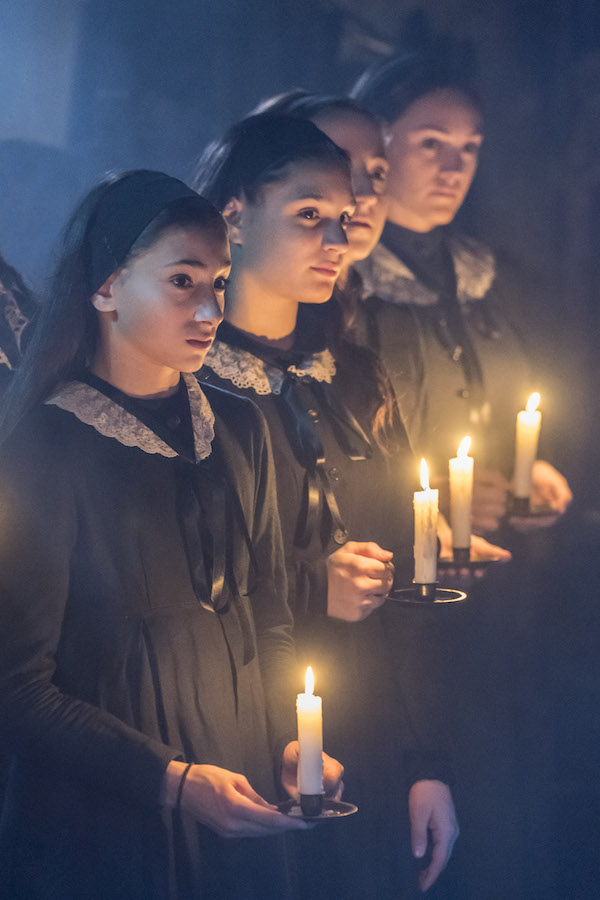 Nunn plunges the audience into Anatevka in his thrust staging, with cast members weaving through the audience and musicians (an outstanding eight-piece orchestra) joining the action. Robert Jones backs the performers with a cluster of dark wooden houses and trees, plus a pump that gushes out water and props like easily constructed tables and benches. Tim Lutkin's lighting is hugely effective, both marking the passage of time and adding to evocative moments – such as a candlelit ceremony blessed with a soft golden hue.
It's part of a clever balancing act (the show's overriding theme) that Nunn maintains: we're simultaneously charmed by this world, and ready to mourn the loss of such communities, while also understanding its limitations. That charm sours somewhat if you're a teenage girl who the village matchmaker wants to pair with a middle-aged man, or if you fall in love outside of the matchmaker's arranged marriage sphere – or, even worse, outside of your village and faith. Plus, the traditions that Tevye reveres are already under threat; his world is almost a mirage.
Nyman is superb as the outwardly assured patriarch who actually spends most of the time imploring an uncommunicative God, and whose authority crumbles in the face of his daughters' entreaties. He has immaculate comic timing, introducing winces and groans from wagon-pulling into "If I Were a Rich Man", and showing how his faith is both sincere and a handy dodge: paraphrasing the Bible to suit his purposes, or "praying" to avoid confrontation with Golde.
But he's also genuinely devastating in the more sombre scenes, gripped by a real crisis as he argues back and forth over challenging his long-held beliefs, agonised by the possibility of losing his daughters, and sweetly boyish as the new rash of marrying for love prompts him to seek assurance from his wife. Kuhn, in turn, is an impeccable Golde: obviously the family's real authority, though shrewd enough to underplay it, and generally counteracting her husband's passion with wry practicality – yet she, too, is felled by fierce affection for their offspring.
Both are in wonderful voice, as are their engaging daughters: Molly Osborne's quietly determined Tzeitel; Harriet Bunton's spirited, witty Hodel; and Kirsty MacLaren's endearingly eager, curious Chava. There are also good turns from Stewart Clarke, showing how Perchik's worldview becomes shaped by love as well as by radicalism, Joshua Gannon's stuttering suitor Motel, Louise Gold's busybody matchmaker, Matt Corner's charismatic Fyedka, and Fenton Gray's evasive rabbi. The only issue throughout the cast is inconsistency with accents.
Threats from the outside world come with a visceral shock: a moment of pure aggression between two literally clashing cultures in the bar, the invasive violence at the wedding, or, perhaps most chillingly, two Russian soldiers physically harassing Chava with casual menace. The stark final moments are a clear contrast from a stage bustling with people exchanging gossip, unified in prayer, or filling every inch of space with euphoric dancing (Matt Cole building on Jerome Robbins' bravura choreography, above).
Instead, under a fall of snow, we have suitcase-laden figures scattering into the dark – images that merge so easily with contemporary ones of persecuted immigrants seeking a new life, hoping that love makes a home rather than land. But Nunn doesn't push the political, instead magnifying the personal: parents watching in awe as their child gets married, a proud man realising his rules must bend for family, or travellers hoping their leap of faith will be met with kindness. There may not be tinsel, dames or nutcrackers, but this is definitely a show with heartfelt messages for the festive season.
We're simultaneously charmed by this world, while also understanding its limitations
rating
Explore topics
Share this article