Edinburgh International Festival 2019: Bach's Multiple Concertos/ Manon Lescaut reviews - dancing harpsichords, perfect Puccini |

reviews, news & interviews
Edinburgh International Festival 2019: Bach's Multiple Concertos/ Manon Lescaut reviews - dancing harpsichords, perfect Puccini
Edinburgh International Festival 2019: Bach's Multiple Concertos/ Manon Lescaut reviews - dancing harpsichords, perfect Puccini
A day of pleasure and pain crowned by Sondra Radvanovsky and Donald Runnicles
Sondra Radvanovsky as Manon with brother Lescaut (Thomas Lehman)
Puccini's and Abbé Prévost's glitter-seduced Manon Lescaut might have been inclined to linger longer in the salon of dirty old man Geronte if he'd served her up not his own madrigals but Bach's music for various harpsichords and ensemble.
Five such concertos gave us a morning of pure pleasure in the light-filled, packed-to-the-rafters surroundings of the wonderful Queen's Hall (★★★★), a sober though appreciative audience sitting and standing around the artists in the converted church like a Lutheran congregation, yet were all but eclipsed by the seductive force of Puccini's first great love music in the best of hands, instruments and voices at the Usher Hall the same evening (★★★★★).
It was guaranteed that the greatest of conductors, Edinburgh-born Donald Runnicles, would know exactly how to work with Puccini's immaculate sense of dramatic timing in tandem with the Deutsche Oper company where he has reigned supreme since 2009 (I learned this morning that Runnicles was once an usher in this very same Usher Hall, where he saw Leonard Bernstein and knew he wanted to be a conductor). Less know quantities were how an opera that cries out for visceral staging would work in concert, and how well the star-crossed lovers would fare in their journey from Amiens via Paris to the desert (!) beyond New Orleans. Put simply, this may have been the best Puccini singing and playing I've ever heard live, a throwback to those insanely well-cast and orchestrally opulent Karajan recordings of the 1970s, but with a more theatrical pacing.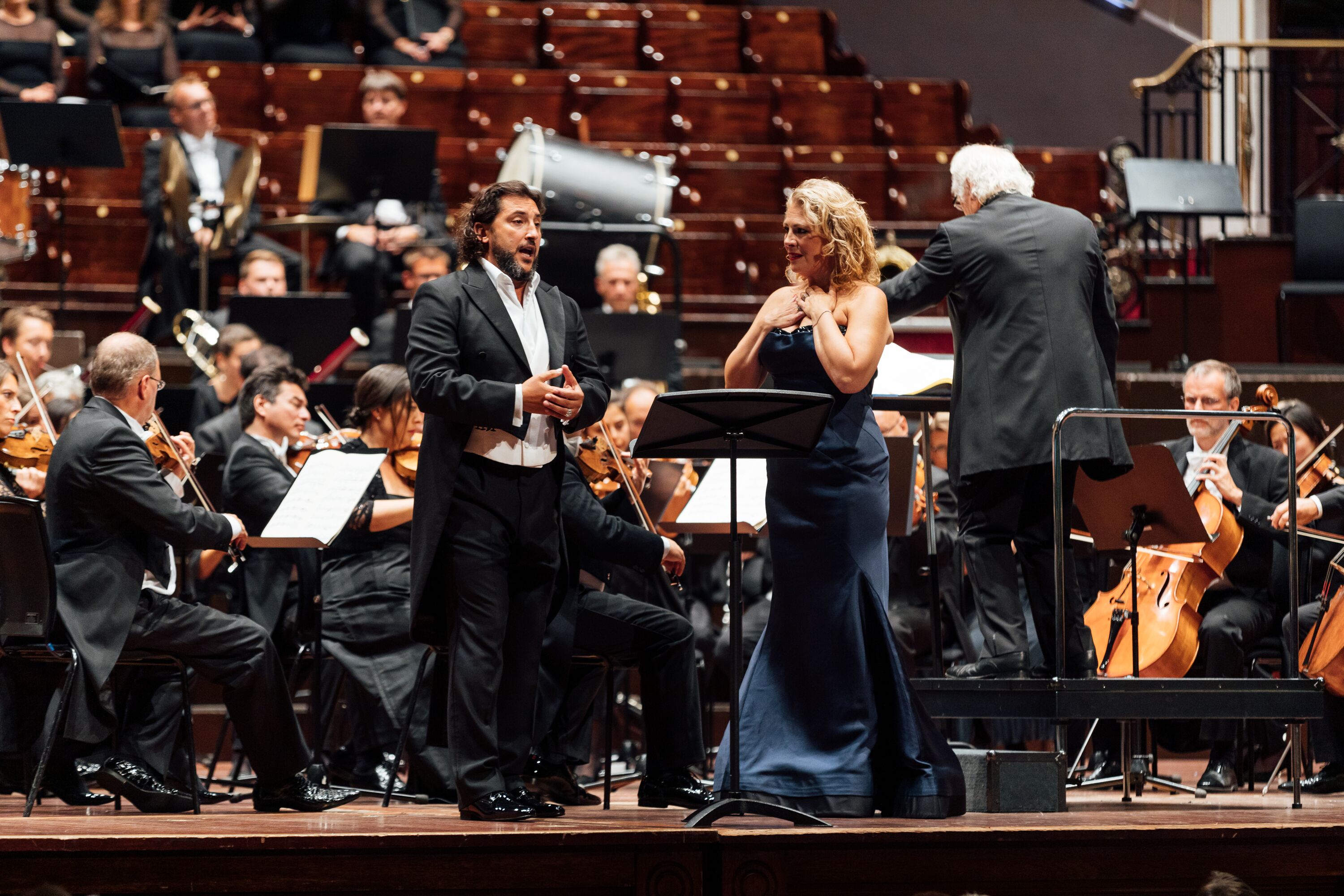 I kick myself for having missed Illinois-born Sondra Radvanovsky in Royal Opera revivals of Manon Lescaut and Tosca. She is the complete artist, blessed with an opulent voice you simply have to experience live, not without a touch of metal but perfectly modulated with supreme musicianship. In nuance, she was Runnicles' equal. If ever you needed the perfect example of how a great singer, conductor and orchestra can work as one, her lacerating last aria, "Sola, perduta, abbandonata", was it. A biting turn of the screw from the magnificent Deutsche Oper oboist, a wan echo from the flute, then all focus on a voice in extremis. And as in previous acts, the careful concert staging, in this case bringing lover Des Grieux back, and Runnicles' perfect control allowed the action to continue seamlessly. A man shouting "bravissima" was quickly quelled before mass applause could break out and we moved inexorably towards the poor girl's last breath (and a great deal more swiftly than in the horrible case of undone Beth in the rambling operatic treatment of Breaking the Waves the previous night)..
Radvanovsky was also collegiality incarnate for her late-replacement tenor, Jorge De Léon (pictured above with her and Runnicles). Clearly it was for his benefit that music was placed on two stands either side of Runnicles - everyone else acted it all out without scores - and when the lovers were together, the soprano discreetly looked occasionally at the pages in front of her simply so that her Des Grieux would feel better supported. In any case, De Léon mostly managed to free himself from score-dependency, and it was thrilling to hear him fully liberated, the rich-grained Italianate tenor to the life, by the time we reached Des Grieux's passionate reproaches of Manon for her hesitation in giving up Geronte's luxury.
From then on, it all soared even higher: the tumultuous fugato of the Act Two finale, dazzlingly executed by the Deutsche Oper strings, the chamber-musical subtleties of the Intermezzo, the immensely powerful ensemble as the prostitutes line up to be shipped off to the New World in Act Three. Runnicles (pictured right in action last night) can always twist the Puccini knife, but he chose to keep the great blaze at the end of the act subordinate to the tragedy which followed. There were impeccable, idiomatic characterisations from Thomas Lehman's opportunistic brother, Ya-Chung Huang as lighter tenor relief and Carlos Chausson 's Geronte, as well as a lustrous solo from Anna Buslidze leading a glamorous vocal group very far from the "scruffy" musicians introduced by Lescaut.
It's always exciting to hear a professional opera chorus in the Usher Hall, and the Deutsche Oper kept numbers relatively small, but sound always focused, big when need be, under the guidance of ex-Glyndebourne chorus master Jeremy Bines. Many would say this was Radvanovsky's evening, but it was all at the very highest level.
So was the sequence of Bach concertos in the morning. We saw before us four plain-ish harpsichords, not the pretty ones with painted lids, but the interplay between their executors, John Butt bringing his Dunedin Consort but ceding the biggest virtuoso display to equal soloist/conductor Richard Egarr, Diego Ares and Thomas Foster, was always fascinating (one ensemble pictured below). What's the collective term for such a group? One would be tempted to say "a susurration of harpsichords" were it not for the twang, because even with only six or seven strings against them, the subtle instruments couldn't always be heard.
You had to wait for the four to come to the fore - or for one of them, in the case of the Fifth Brandenburg Concerto, where Egarr eventually went wild in his first-movement cadenza. He also charmingly introduced the arrangement of the Italian Concerto as essentially for two players, with the other two "jamming" in a Graingeresque "dishing up". It was a delight, but surely the finest of the three concertos for three or four was the D minor work, BWV 1063, with its gruff first-movement unisons, its central Siciliana sounding more like a teasing slow waltz and the brilliant counterpoint of the finale. And a fifth player, a very sweet child thumping for a bit on the balustrade upstairs as if it were a dummy keyboard, only added to the pleasure.