Temple, Sky 1 review - down in the tube station at midnight |

reviews, news & interviews
Temple, Sky 1 review - down in the tube station at midnight
Temple, Sky 1 review - down in the tube station at midnight
Mark Strong leads powerful cast in fascinating medical thriller
Saturday, 14 September 2019
Special skills: Mark Strong as Daniel Milton
At first, the opening episode of Sky 1's enticing new drama Temple looked like it was going to be mostly concerned with a heist gone wrong.
A gang of bandits were busily
stealing
an enormous mountain of money when they were inadvertently locked inside the building they were robbing by their half-witted getaway driver. The sound of approaching police sirens indicated the way events were heading.
This had been intercut with shots of Dr Daniel Milton (Mark Strong) making a furtive-looking late night visit to a hospital, ostensibly to retrieve his missing diary. In fact he was nicking a bag-full of medical supplies, for purposes as yet unknowm. These dual strands in due course entwined themselves together, but in ways nobody could have anticipated.
Actually that might not be quite true. If you'd already seen a Norwegian series called Valkyrien, you might have been able to predict what was going to happen, because Temple is a remake of it, masterminded by screenwriter Mark O'Rowe. Suffice to say that that Dr Milton's deep, dark secret is at the core of the story.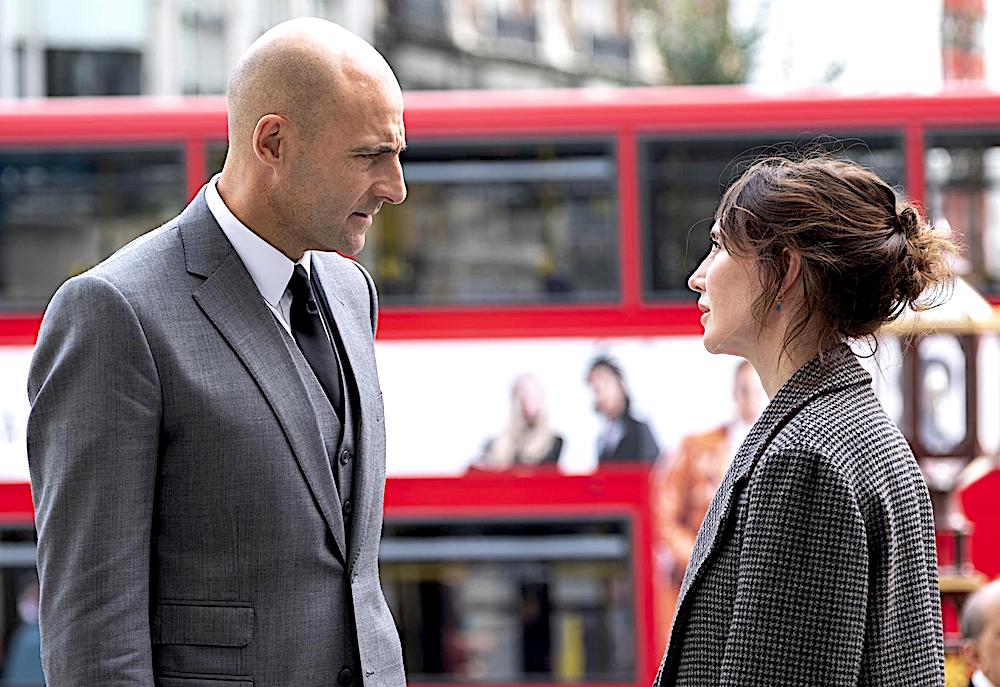 It lies, to quote another recent Scandi drama, beneath the surface. Down in the bowels of the London Underground, in fact, because it's at Temple tube station that the Doc is running a... well, let's not get ahead of ourselves. On the face of it, Milton is a top-flight surgeon, whose mind is as sharp as his immaculately cut suits. Evidently he's at the top of his profession, happily married to medical research scientist Beth (Catherine McCormack). Or at least he was until very recently. The reason we next saw the Doc in the back of a taxi looking especially formal and severe was that he was on the way to his wife's funeral, where he delivered a measured but rather moving eulogy.
But death is not always what it seems, and as the story unfolds we shall see him exercising his very particular set of skills in a most unorthodox way, moving into areas normally left untouched by the NHS. Strong (who also co-produced) is in his element here, switching between a demeanour of august probity and a kind of necromantic outlandishness.
There's excellent support from McCormack (why don't we see her more often on the telly?), while Daniel Mays enjoys himself to an indecent degree as Milton's lowlife sidekick Lee. Carice Van Houten (Melisandre from Game of Thrones) plays Anna (pictured above), a medical colleague of Milton who finds herself sucked unwittingly into his plans (though how people keep going in and out of a door on the Temple station platform without arousing suspicion has not so far been explained). There are some neat production touches which give Temple something a little different, like fixed camera shots from the top of Lee's battered van, smart contrasts between claustrophobic interiors and exhilarating outdoor wide shots, or the shards of macabre humour that illuminate the dialogue. Matthew Herbert's superior background music is the black icing on the cake.