LFF 2019: Marriage Story review – not a dry eye in the house |

reviews, news & interviews
LFF 2019: Marriage Story review – not a dry eye in the house
LFF 2019: Marriage Story review – not a dry eye in the house
Scarlett Johansson and Adam Driver break up, plus first looks at 'Portrait of a Lady on Fire' and 'Waiting for the Barbarians'
Wednesday, 09 October 2019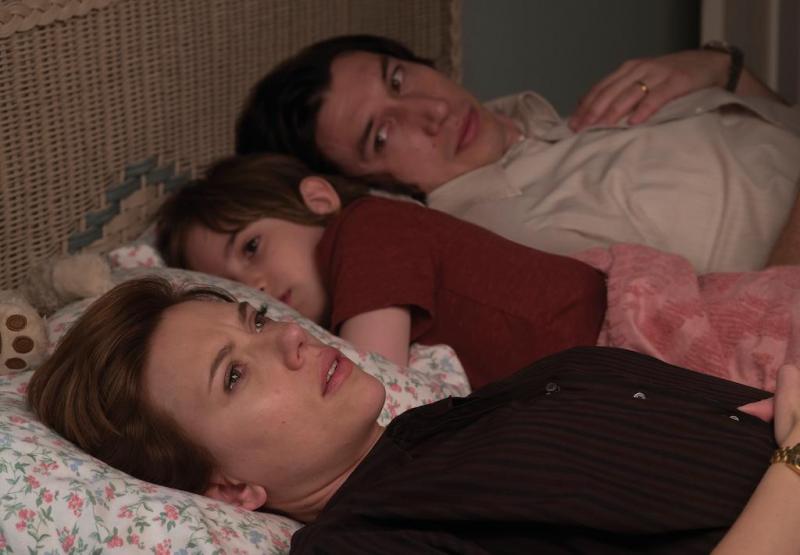 Scarlett Johansson, Azhy Robertson and Adam Driver in Marriage Story
Marriage Story, shown at the London Film Festival, feels like an instant classic, that intimate, tangible, resonant kind of classic that touches a chord with almost anyone. It's not just a film about a divorce, but that added nightmare of a divorce with kids involved, and the yet more despairing experience of separating when there is still love. And it's heart-breaking.
It's also funny, smart and, perhaps most significantly, balanced. As accomplished as the Oscar-laden Kramer v Kramer was, in 1979, one couldn't help feeling that the cards were unfairly stacked against Meryl Streep's wife and mother. Here there is regrettable behaviour on both sides – usually fuelled by lawyers – but there is no villain, no-one we're expected to side with over the other, no-one we want to win, or least of all lose.
It's written and directed by Noah Baumbach (Greenberg, Frances Ha), the New Yorker who has the same finesse for comic dialogue as Woody Allen but more emotional weight, who writes brilliantly for women and whose early film The Squid and the Whale also dealt incisively with divorce. This, his most accomplished film, seems to leave no stone unturned in its dissection of marital upheaval. And it features superb, deeply moving performances by Scarlett Johansson and Adam Driver. Expect all three to be frontrunners in the awards season that's about to heat up.
The title isn't as ironic as it sounds, for all divorces start with a marriage; this shows what made Nicole and Charlie a great couple in the first place, and perfect parents, while also revealing – as the characters themselves start to discover for themselves – the fault-lines, the suppressed issues that have now destroyed their relationship.
Fittingly, it opens with two voice-over monologues: the first by Charlie, as he describes what he likes best about his wife, then she of him, each accompanied by sweet montages that illustrate these characteristics – such as her skill for brewing tea that she will not then drink, the fact that he "never looks embarrassing, which is hard for a man."
But here's the rub: they've written these monologues for a mediator, engaged to smooth the couple's passage towards divorce. They're already thinking of these gems as the past, in order to move forward.
Nicole and Charlie have also been a professional couple – he a writer/director who runs a theatre company in Brooklyn, she his lead actress. Their separation coincides with Nicole accepting her first TV job, in Los Angeles; the move, her side-lined aspirations, his unwillingness to deviate from his own, all exist on the aforementioned fault-line. Despite their good intentions for a peaceful separation, when lawyers become involved a coast-to-coast battle ensues that is painful for them both and perplexing for eight-year-old Henry (Azhy Robertson), caught in between.
The ensemble is terrific, from the inimitably eccentric Wallace Shawn as the old ham of the Brooklyn acting troupe, to Julie Hagerty and Merritt Wever as Nicole's hilariously flaky mum and sister, to Laura Dern (pictured above, with Johansson), Ray Liotta and Alan Arkin as divorce lawyers of very different persuasions. Dern's has the best lines. "Why are women held to a higher standard," she asks Nicole over the custody issue, before answering herself. "God was the father. And he didn't show up."
But it's the leads who truly captivate, Johansson as a woman who's throwing herself at a chance of genuine self-determination, Driver a decent man torn apart by the consequences of his self-absorption. The actors tackle massive monologues, one truly volcanic row and the silent shorthand of a years-long bond with beautifully naturalistic performances that can tear the heartstrings in an instant.
Portrait of a Lady on Fire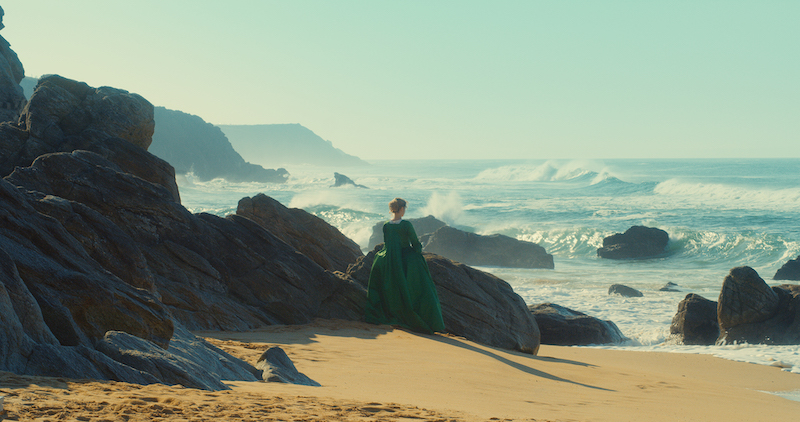 The French writer/director Céline Sciamma has made her name with contemporary stories about young female experience; her last, Girlhood, was set in a tough Parisian banlieue. But she's an extraordinary filmmaker, whose work is grounded in character, empathy, intuition, so it's of no surprise that her first period drama is no less essential.
Brittany, 1770. A painter, Marianne (Noémie Merlant), arrives at a chateau on the coast. The countess (Valeria Golino) wishes to have a portrait painted of her daughter Héloïse (Adèle Haenel), which will be sent to the latter's intended in Milan. Until recently Héloïse resided in a convent, which she liked, in part, because "equality is a pleasant feeling." If an arranged marriage isn't a terrible enough fate, she's actually taking the place of her recently deceased sister, who is assumed to have thrown herself off a cliff.
Héloïse refused to pose for the last painter. In order to fare better, Marianne is instructed to use subterfuge: she is to be a walking companion, with a view to observing her subject, then painting in secret. But what will happen when the deceit is inevitably exposed? More to the point, what will happen when the pair acknowledge their obvious attraction?
This is a sublime film, at once an atypical love story, a gorgeous account of female camaraderie and solidarity (Marianne and Héloïse forming a close, class-free triumvirate with their servant) and a film about painting itself, the physical act and that more intangible alchemy, the gaze, between painter and subject, the observer and the observed; radically, that gaze belongs to women, with hardly a man in sight throughout.
It's exquisitely designed and shot, with careful, colour-coded attention to clothing, a vividness to sea and sky, and with such luminosity and depth to the close-ups that you feel you can touch these women's faces. The dialogue speaks to a world of longing, loneliness, and defiance against a world too frequently prescribed for women without their consent. And the acting is impeccable, not least when Haenel and Merlant convey a wealth of silent emotion. ★★★★★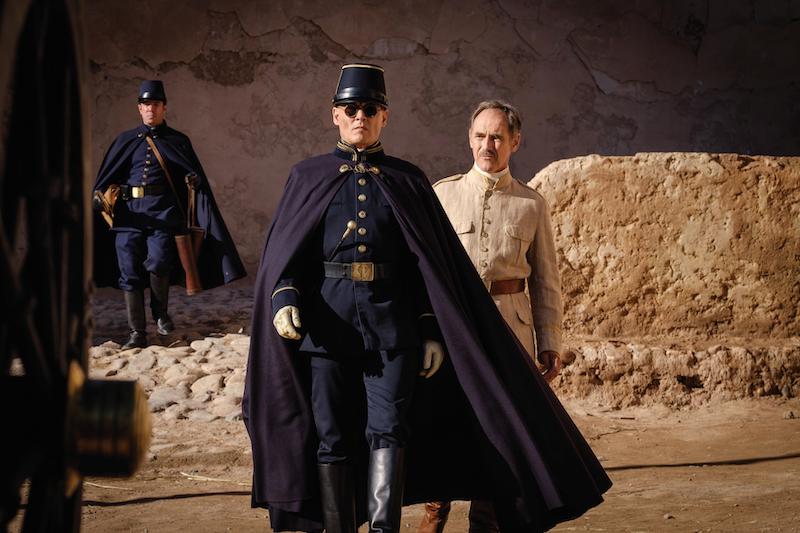 Waiting for the Barbarians
This adaptation of J.M. Coetzee's acclaimed early novel is penned by the author himself, directed in his first English-language film by acclaimed Colombian Ciro Guerra (Birds of Passage, Embrace of the Serpent) and has a lip-smacking trio of leads in Mark Rylance, Johnny Depp and Robert Pattinson. What an enticing prospect it is. And what a disappointment.
Rylance is the magistrate in charge of a desert town on the frontier of 'the Empire', who runs the place with a genial hand and a determined desire to have an easy life. He's interrupted in this by the arrival of Colonel Joll (Depp) from the Bureau of State Security, who is determined to find unrest amongst the local nomads and will torture and kill until he can prove the point.
There's no doubting the material as a compelling allegory, which draws from the 1984handbook for repression in which tyrannical regimes create their own enemies. The excellent Rylance evokes any sane, decent person's frustration at the needless, savage whipping up of dissent.
However, it's not just language that can get lost in translation. The slow, deliberate pacing that functions so well in Guerra's Colombian films seems to suffocate this one, while his usually imaginative storytelling has become downright conventional, even turgid.
Depp should be commended for a performance that is far more restrained and chillingly effective than his cartoon get-up – catwalk sunglasses, Darth Vader cape – might have elicited. Pattinson is fine in a limited role as a sort of mini-Joll. Esteemed cinematographer Chris Menges conjures some ravishing images in the desert. ★★
The actors tackle massive monologues, one truly volcanic row and the silent shorthand of a years-long bond with beautifully naturalistic performances
rating
Explore topics
Share this article