Cross Currents/Monotones II/Everyone Keeps Me, Linbury Theatre review - the Royal Ballet finds the missing link |

reviews, news & interviews
Cross Currents/Monotones II/Everyone Keeps Me, Linbury Theatre review - the Royal Ballet finds the missing link
Cross Currents/Monotones II/Everyone Keeps Me, Linbury Theatre review - the Royal Ballet finds the missing link
In exploring the road not taken, the Royal Ballet turns up treasures old and new
A keeper: Beatriz Stix-Brunell (in orange) and dancers of the Royal Ballet in 'Everyone Keeps Me'
This programme of three short works is all about influence, specifically the supposed cross currents between ballet and contemporary dance in the latter half of the 20th century.
The irony is that this is the first time that the
Royal Ballet
has presented a piece made by the great American dance pioneer and experimenter
Merce Cunningham
, whose centenary this marks. Had they not thought him relevant before now?
Still, better late than never. This trio of ballets – a compact, early-ish work by Cunningham, a contemporaneous one by Frederick Ashton, and a world premiere by New Yorker Pam Tanowitz – suggests a route the Royal Ballet might have followed but didn't. Cross Currents, a compact trio from the early 1960s, foregrounds Cunningham's USP – the divorcing of dance from music. Here, typically, the two elements are set running like trains on different tracks. The three dancers, serenely intent on the steps' inner rhythms, appear oblivious to the manic jangle of Conlon Nancarrow's player-piano score.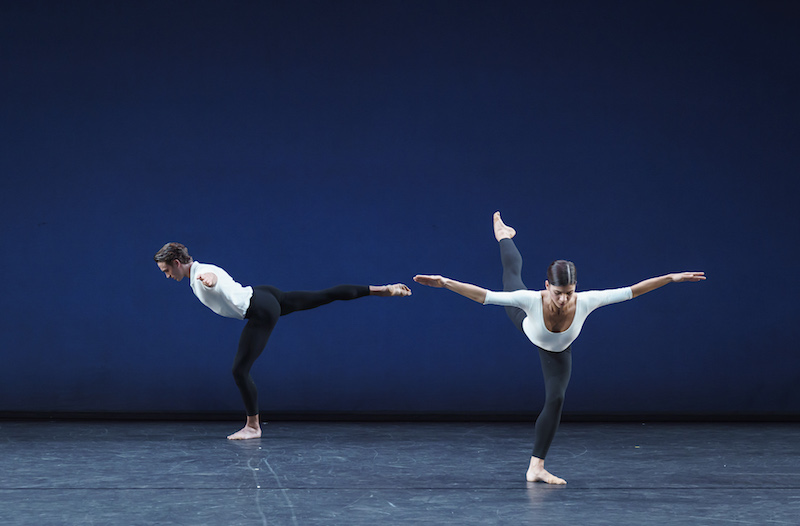 Frederick Ashton is said to have composed his luminous Monotones II while under the influence of Cunningham's first London performance in 1965, but otherworldly is about as far as that influence goes. The piece is firmly wedded to the gentle plod of Erik Satie's piano Gymnopédies, for all that its movement is so smooth and seamless. For where Cunningham was all about process over product, Ashton was a sucker for beauty, and the notion of ungendered dance was anathema. These three performers may be dressed like sexless inhabitants of planet Zorg, but the two guys' every move is about glorifying the ballerina – heck, they even lift her above their heads as if enthroning her. Happily Gina Storm-Jensen, supremely poised in unforgiving neck-to-toe white Lycra, is every bit worth their attention.
It's left to newcomer Pam Tanowitz to justify the programme's title. She had been quietly making work with her own company in New York for 20 years when she had an international hit with Four Quartets, seen earlier this year at the Barbican, and the equal influence of Cunningham technique and ballet's airy grace was clear. Everyone Keeps Me is smaller scale, but just as compelling for the way it focuses the gaze on exquisite details, for its sly humour and immaculate composition, made up of steps and gestures that are in no way outlandish but feel new-minted. In a repeated pirouette a girl raises one hand and deploys it in just the same way as a classical fouettée deploys the foot. The effect is of a cheery wave – joyful and witty.
For this choreographer, communication is key, but not just with the audience: the dancers look at each other, rarely at us. This creates a sense of intimacy, of a circle of interlocking friendships, but far from locking us out, it draws us in, intrigued. At one point Calvin Harris reels off a complicated solo with his back to us, then pauses to catch his breath. Glancing over his shoulder before setting off again it's as if he has only just realised that anyone was watching.
In Tanowitz's post-modern aesthetic almost nothing is off-limits, just as Ted Hearne's string quartet score includes almost every kind of sound a bow can make on a string. At one moment a girl is engaging in a delicate hornpipe, all buoyant and vertical, the next, dancers are rolling like spilled pencils across the floor. The spirit of folk dance and community dance is strong, not least at the opening and close as all nine performers (pictured above) advance in a line, arms linked behind their waists. In its warmth of spirit, the piece is a 21st-century update on Jerome Robbins's Dances at a Gathering and it has the same potential to become a classic. Too bad this 25 minutes of dance heaven was given so few performances. Pam Tanowitz is a precious commodity, and the Royal Ballet should invest, now.
This programme suggests a route the company might have followed but didn't
rating
Explore topics
Share this article