Reissue CDs Weekly: Big Front Yard |

reviews, news & interviews
Reissue CDs Weekly: Big Front Yard
Reissue CDs Weekly: Big Front Yard
Lost but marvellous Malvern mid-Seventies band are finally heard
Big Front Yard in 1975, with Mick (left) and Steve Dolan (right)
In June 1978, the still-extant independent label Cherry Red issued its first record. The seven-inch featured three slices of terse, Buzzcocks-ish art-punk by The Tights. The band were from Great Malvern, Worcestershire – as was the label. They only made one more 45 but Cherry Red – named after a Groundhogs song; the label was founded by local concert promoters – was built to last. Later, Great Malvern spawned Stephen Duffy's Lilac Time and Blessed Ethel.
Jenny Lind and Edward Elgar were local, but this seemed to be it as far as it went for entries on the rock 'n' roll map.
Surprisingly, Cherry Red was not Great Malvern's first indie imprint. In 1975, a local outfit called Big Front Yard pressed their own single on the one-off label Rampant Records. The coupling of "Money-Go-Round" and "Mad John's Dream" attracted no notice, especially as it was issued before the punk-inspired independent label boom. In putting out their own single, Big Front Yard were ahead of the times. Even so, the band were less than a footnote. There was no place for them on the rock 'n' roll map.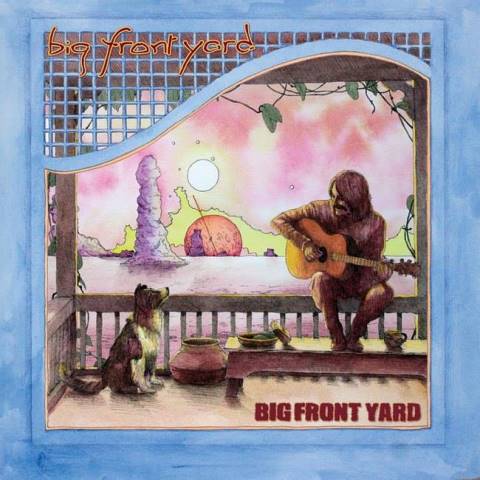 Big Front Yard were, as the label behind an eponymous double-album retrospective puts it, "lost British underground rockers." And it's now revealed that the band were not the rock-history non sequitur they seem. Their prime movers were brothers Mick and Steve Dolan, former members of the Birmingham pastoral-prog outfit Hard Meat, which issued two albums on Warners in 1970 and played the US. Before that, both passed through Brit-soul band Jimmy Powell & The 5 Dimensions. Hard Meat formed in Devon in 1968 – the siblings were in bands there and Cornwall – and split in 1971. Their first single, for Island, was a downer-style version of the Fab's "Rain".
With this backstory, Big Front Yard ought to have had legs. They coalesced in 1974 from a group of musicians the Dolans began playing with the previous year and packed it in during 1977, after a final gig over Xmas 1976. The single wasn't all they left.
As it collects 14 tracks, Big Front Yard shows Big Front Yard were active. There's seven tracks from a 1974 session at a studio in Mathon, west of Malvern. They also recorded at De Lane Lea in London and Birmingham radio station BMRB. They played Birmingham, Dudley, Worcester and installed themselves as the regular band at Great Malvern's Foley Arms Hotel. A demo tape was sent to John Peel. Nothing was heard in response. Their one London venture was a February 1975 gig at pub rock circuit stop-off The Newlands Tavern, where they hoped to attract A&R attention. They did not.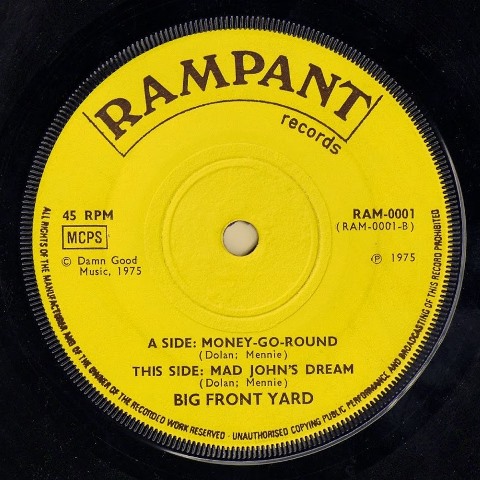 What's heard has been rescued from cassettes kept by the band's old manger, who went on to a PR role with United Artists Records in 1977 when punk was the order of the day. Despite their pioneering indie single, Big Front Yard were not punk precursors. (pictured left, Big Front Yard's 1975 single)
At its best, Big Front Yard compellingly makes the case for the quartet as having occupied a headspace analogous to that of fellow UK Seventies bands Help Yourself, Man and Mighty Baby. Like these, Big Front Yard felt the pull of America's west coast.
The meat of the action are the seven tracks from the single session which are spread across Side One and most of Side Two. Though taped in Mahon, the recordings are credited as being mastered at De Lane Lea's Wembley studio which suggests they were completed with a release in mind (an implication not gone into in the liner notes). Furthermore, as it's seven tracks it likewise adds to the impression the band had embarked on making an album.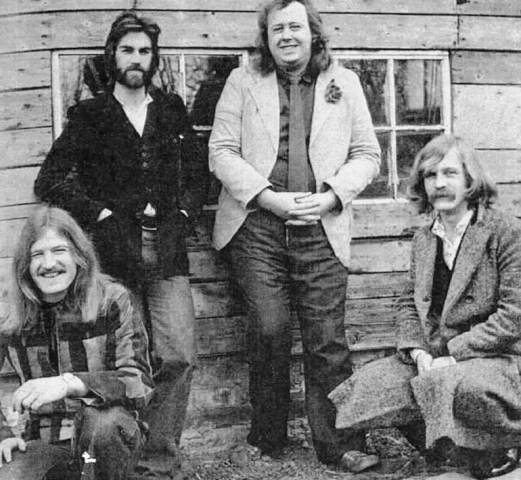 This perchance album kicks off with "The Daily Grind", a country edged swinger with subtle hints of The Steve Miller Band. It's great. Next up and in the same vein, "On the Hill" is even better and seems to tell the story of encountering a guru who suddenly disappears. Top-drawer stuff. "Lay Down", the third track, has a more mystical atmosphere, moody organ and some snaky, twinkly John Cipollina-style guitar. As this session wends its way from the speakers, it's hard not to wonder who at the time outside the band heard it and what their reaction was. No record label picked Big Front Yard up, yet they continued with what they were doing for another two years.
It's also hard not to wonder if Big Front Yard were a little late out of the gate. Not because of their later days coinciding with the arrival of punk but because the general air of this music suggests 1971 or 1972, rather than a few years later. If the Dolans had made these recordings immediately after the demise of Hard Meat there would have been a logical and uninterrupted follow-on. Finding a place in 1974 and 1975 would have been difficult. The roots circuit was toughening up as harder edged, reductive bands like Doctor Feelgood and Eddie & The Hot Rods attracted attention while pub rock pioneers Brinsley Schwarz and Ducks Deluxe each headed towards their 1975 demise.
Both Mike and Steve Dolan are no longer alive, so it's not possible to ask them about the ins and outs of Big Front Yard. The music itself will have to be enough. And thankfully, it is more than enough. The double album is a limited pressing but copies can be found without much of a search.
Next week: the best of 2019