Girl From The North Country, Gielgud Theatre review – poignant collaboration between Conor McPherson and Bob Dylan |

reviews, news & interviews
Girl From The North Country, Gielgud Theatre review – poignant collaboration between Conor McPherson and Bob Dylan
Girl From The North Country, Gielgud Theatre review – poignant collaboration between Conor McPherson and Bob Dylan
Raw depiction of a community where dreams go to die
Release through music: Shaq Taylor (centre) and Kate Brayben with the company of 'Girl from the North Country'
Despair hangs like mildew over the small iron-ore mining town of Duluth, Minnesota, where dreams go to die, and the living haunt the clapped-out buildings like lost souls.
This poignant collaboration between playwright Conor McPherson and
Bob Dylan
– himself born in Duluth in 1941,
seven years after
this play begins – takes us into a community in which music provides a rare release for individuals scavenging for reasons to stay alive.
It was something of a surprise for McPherson to be approached by Dylan to create a theatrical vehicle for his music; when asked why he thought he had been chosen, he replied, "It's almost too frightening to contemplate". The jukebox musical is a challenge at the best of times, yet here McPherson gives it a potent force by starkly delineating the kind of socio-economic conditions that produce blues and folk at their rawest.
Ferdy Roberts (pictured below) – also co-artistic director of the eternally innovative Filter Theatre – here plays George Walker, who, as the local doctor, has an insight into the different kinds of pain, "physical, spiritual, indescribable", that scar this small community. Central to the story is Donald Sage Mackay's wearily stoical Nick Laine, an impoverished boarding house owner whose wife Elizabeth suffers from dementia, and whose daughter Marianne has been abandoned by the father of her unborn baby.
McPherson also directs the production, which has transferred after a triumphant run at the Old Vic in 2017 and a subsequent shorter run at the Noel Coward in early 2018. Against Rae Smith's atmospherically shabby boarding house set, artfully lit by Mark Henderson, we watch as Nick valiantly struggles to hold together the strands of his disintegrating life.
The songs – complete with the onstage band ­– emerge organically from the action. All are beautifully delivered but stand-out moments include Gloria Obianyo's Marianne singing Tight Connection to My Heart, as she rages against Nick's attempts to marry her off to a 69-year-old, and Katie Brayben's rafter-rattling delivery of Like a Rolling Stone. During the music, Henderson's lighting is also deployed to striking effect. Each singer remains fully illuminated while other members of the cast strike tableaux as darkened silhouettes.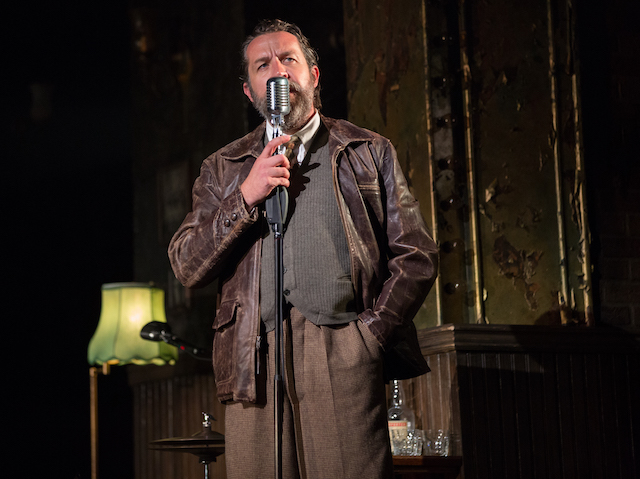 If there's a criticism it's that the pacing of a production with many excellent constituent parts can sometimes feel a little lumpy. When the dramatic tone is so downbeat and understated, the shift between songs and the straight dialogue occasionally leaves the spoken words feeling a bit disjointed. Even so the different tensions in the community slowly start to build up. Whether it's the simmering love between Rachel John's empathetic Mrs Neilsen and Nick, or Colin Bates as Gene Laine, struggling drunkenly to find himself as a writer, we realise we're watching a whole series of mini tragedies in action.
The arrival of different visitors at the boarding house shifts the dynamic: the Burke family with their learning-disabled son, Elias (Steffan Harri), or the excellent Finbar Lynch as a shifty Bible salesman who arrives along with Shaq Taylor's dignified boxer, Joe Scott. In Scott, Marianne finally starts to see the possibility of escape. Meanwhile the Burke family bring with them a secret which powers the evening to its tragic climax.
At a time where politically our situation feels so divided between the haves and the have nots, it's salient to remember that despite the American setting, Dylan's song Girl From the North Country was written after he had visited England and met several figures from the British folk scene. This musical may be set in 1930s America, but it has massive resonance in a twenty-first century Britain poised on the brink of Brexit. There's no strong sense of catharsis at the end of the performance: it's more of an ache at how little agency most of the characters wield. The rage and power is all in the music – when the band stops playing, what's really left?
Girl From The North Country at the Gielgud Theatre until February 1 2020
Read more theatre reviews on theartsdesk
@Hallibee1