Bombshell review – powerful, to a point |

reviews, news & interviews
Bombshell review – powerful, to a point
Bombshell review – powerful, to a point
Drama charts an opening salvo in the fightback against predatory media monsters
Thursday, 16 January 2020
If only we could get stuck in the lift. Charlize Theron, Nicole Kidman and Margot Robbie in Bombshell
With Harvey Weinstein about to go on trial, the timing is particularly apt for a film that outlines the fall from grace of another media giant who used his powerful position to sexually victimise women.
The late Roger Ailes was the CEO of the right-wing, Trump-supporting Fox News, who was massively influential in American
media
and
politics
until forced to resign, in 2016, in the face of sexual harassment accusations by a raft of female staff.
Bombshell captures the toxic environment inside the Fox News building, where Ailes would advance or terminate a woman's career on the basis of sexual favours, his behaviour was an open secret (much like Weinstein's) and impunity derived from a maxim, voiced here, "that no woman in corporate America gets to sue her boss."
Though that was about to change. As such the film charts a prologue to the #MeToo revolution. Led by a trio of highly contrasting performances from Charlize Theron, Nicole Kidman and Margot Robbie, it has a glossy veneer and a sardonic, light touch that feels quite daring given the seriousness of the subject, but which works because of the twisted, manufactured media milieu in which its story takes place.
Indeed, the title's dual meaning refers not only to the shock waves caused by Ailes' downfall, but also to the female image – low-cut, high-heeled, Barbie lookalike – that he created for his TV cameras and for his own, perverted, private gaze.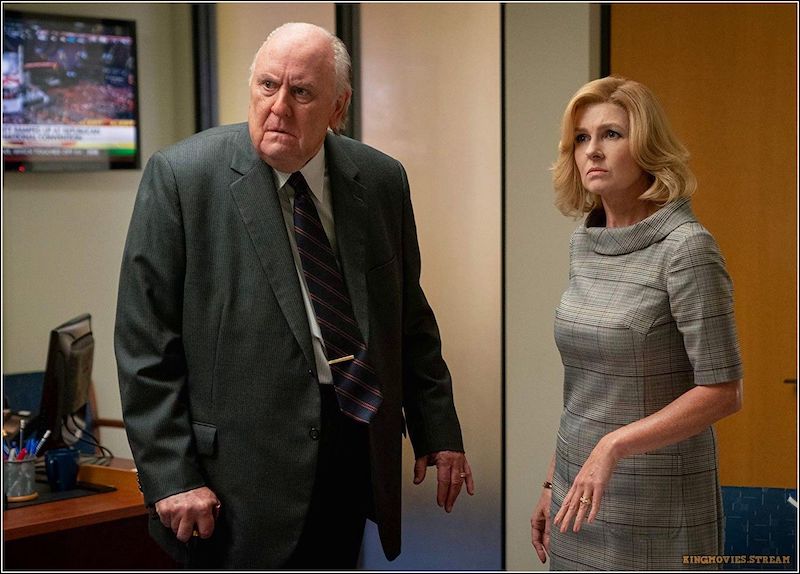 Theron is Megyn Kelly, a star news anchor at Fox, who in the film's opening section has her confident wings clipped when she challenges presidential hopeful Donald Trump on his rampant sexism, becoming victim to a year-long assault by Trump and his troll army. As a result, when lower-tier anchor Gretchen Carlson (Kidman) files a sexual harassment suit against Ailes (an appropriately loathsome John Lithgow, pictured above with Connie Britton as Beth Ailes) and the office is awash with expectation of follow-up accusations, Kelly remains silent – despite her own, similar experience.
Meanwhile, Kayla Pospisil (Robbie) is a fictional composite, a young staffer who has drank the Fox Kool-Aid and is unabashedly networking her way to the top – until she reaches Ailes's office and realises what, with him, that entails.
With Robbie painfully conveying Kayla's shock and humiliation as the old man grunts before her, Bombshell's seductive preamble abruptly ends. Robbie is heartbreakingly good, her character's experience the dramatic heart of the film.
Theron and Kidman fare a little less well, their physical transformations distracting, the messy complexity of their real-life characters lurking frustratingly out of reach. And this is a problem, overall, for director Jay Roach (Meet the Parents, Trumbo) and writer Charles Randolph (The Big Short), whose work is powerful, to a point, though could go deeper into the murkily complicit office politics on show.