Tiger Country, Hampstead Theatre online review - a taut drama of NHS pressure and pain |

reviews, news & interviews
Tiger Country, Hampstead Theatre online review - a taut drama of NHS pressure and pain
Tiger Country, Hampstead Theatre online review - a taut drama of NHS pressure and pain
Nina Raine's urgent story of hospital stress rings truer than ever today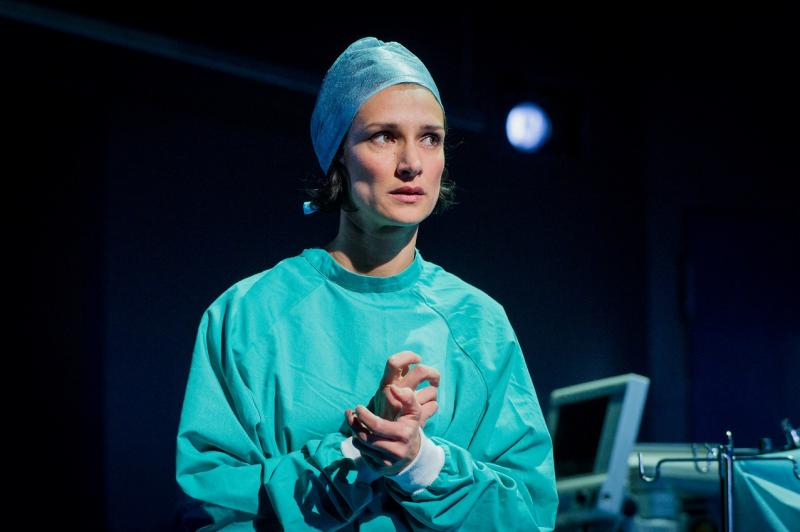 Indira Varma: brittle accomplishment
If ever there was a "play for today", it's surely this.
Nina Raine's
2011 A&E
drama
follows
hospital
staff – doctors senior and junior, surgeons, registrars, consultants, nurses – as they confront, individually and collectively, the stress of a routine that is rarely less than rushed, often simply frantic. Raine undertook considerable research for the piece, its portrayal of life within the NHS acclaimed at the time as authentic by those inside the system, while the cuts that austerity has brought over the last decade can only have intensified the tribulations depicted here.
What it's like in the extreme new circumstances of today, most of us can only guess. Raine's title refers to the danger zone that comes up in surgery, like that we witness in an early scene, when the surgeon must judge with particular care how to proceed when his or her instruments come close to an artery. In that sense, no doubt, the whole service is surely now living in permanent "tiger country", where risks must be balanced all the time against possible benefits. The hardest lessons for Raine's characters come when, despite their supreme efforts, those best intentions come to nothing.
Raine writes her female roles particularly well, with Tiger Country's contrasting central pairing setting off innocence and experience: Ruth Everett's Emily (pictured above), a newly arrived junior doctor whose idealism is undiminished, opposite Indira Varma's Vashti (main picture), the hardened registrar who's fought her way up against obstacles that include her race and gender. But any suggestion that Vashti's unforgiving rigour is set in stone is challenged when her family world becomes caught up in that of her workplace environment.
Emily meanwhile has come to join her partner James, their previous distance relationship now facing entirely new challenges (her last job, geriatric care on the South Coast, is dismissively termed by one cynical colleague "crumble-on-the-sea"). That unforgiving remark is indicative of how Raine doesn't flinch from the shortcomings of her characters and their milieu – the casual racism that's there in the system, the apparently nonchalant lack of concern shown by the bolshier nurses, the tactics of career advancement which exacerbate inevitable professional infighting.
Raine intersperses periodic pain with humour of both situation and single line
Would this "massive juggernaut" of a system function better if it was better resourced? Inevitably, as repeated references – so familiar that they hardly any longer count as complaints – to equipment that's outdated, to new patients whose admissions threaten to be "breached" if they exceed the four-hour waiting time make clear. Mentions of the cost of new robes – "not a bloody cardigan" – resound with especial acuity given current shortages.
Herself directing a tight ensemble of 11, Raine intersperses periodic pain with humour of both situation and single line (Emily confronts the risk of "losing patience with the patients"). Her production – this screen version, running just under two hours, is from a largely recast 2014 revival of the play – similarly juxtaposes the relative calm of more reflective dialogue with scenes of almost desperate choreographed activity that literally career across Lizzie Clachan's bare, functional set. The latter dominate the mood, no doubt partly because filming such an energetic, in-the-round production left less room for close-ups (the previous Hampstead online production, Drawing the Line, was the opposite).
Raine's writing has a consummate maturity throughout, her characters, however briefly we encounter them, tellingly drawn. Tiger Country brings home with frequently pained insight the sheer stress that all those who work within the NHS face, even in such past, possibly "better" times. Real life today is reminding us once again how central it is the very bedrock of our existence. It's a lesson never to be forgotten.
Would this 'massive juggernaut' of a system function better if it was better resourced?
rating
Explore topics
Share this article