Das Boot, Series 2, Sky Atlantic review - multi-layered war drama goes from strength to strength |

reviews, news & interviews
Das Boot, Series 2, Sky Atlantic review - multi-layered war drama goes from strength to strength
Das Boot, Series 2, Sky Atlantic review - multi-layered war drama goes from strength to strength
Divided loyalties and moral dilemmas in the heart of Hitler's Reich
Not such a lovely war: Captain von Reinhartz (Clemens Schick)
Das Boot made an impressive debut early last year with its entwined narratives of war by land and sea.
This second instalment (
Sky Atlantic
) looks set to be better still, exploring the strata of life under
Nazi
occupation in the German-run port of La Rochelle while also developing the American connection which we saw glimpses of last time around.
It opened with a bang, or a series of bangs, as we joined Johannes von Reinhartz (Clemens Schick), skippering his submarine U-822 in an attack on a merchant ship on a dark and turbulent Atlantic. As the ship sank, von Reinhartz was horrified to see women and children floundering in the water, but his unsentimental tactic of manoeuvring his boat beneath the survivors successfully deterred the enemy from dropping depth-charges. It made von Reinhartz the toast of La Rochelle.
However, the German army is surrounded at Stalingrad, war-weariness is setting in, and murdering civilians intensifies the sickness in his soul. When he's ordered to undertake a top-secret mission ferrying some SS officers across the Atlantic, von Reinhartz hatches a plan to abscond from the Kriegsmarine and hand himself over to the Americans, along with his vessel's Enigma code machine.
He thus joins the show's other refuseniks and resistors. Simone Strasser (Vicky Krieps), who's been working under the piercing eye of Gestapo chief Hagen Forster (Tom Wlaschiha) while helping to conceal a Jewish family, met a harrowing end when she fell into Forster's cynical trap. Meanwhile her brother Frank (Leonard Scheicher, pictured above with Krieps) tried to desert from the navy to reunite with his baby daughter, but was saved from a firing squad by sympathetic old-school Commander Gluck (Rainer Bock), who assigned him to von Reinhartz's crew.
What sets Das Boot apart from more run-of-the-mill war dramas is its satellite-vision scope and its fine-grained examination of the soul-destroying compromises of war. The depiction of daily life in La Rochelle, with German patrols routinely checking papers and citizens scurrying about their business with their eyes to the ground, communicates a pervasive sense of terror and mistrust. La Rochelle's police chief Pierre Duval (Thierry Frémont, pictured below with Fleur Geffrier) must play the role of compliant underling to the Germans, but does his best to find ways to assist his countrymen when he can. However, he's powerless to prevent Forster – who has an almost supernatural talent for finding weak spots and exploiting them – from assigning the low-life criminal Desjesquier as an auxiliary policeman tasked with hunting down Jews. Desjesquier is happy to torture fellow-Frenchmen to death in pursuit of his goal.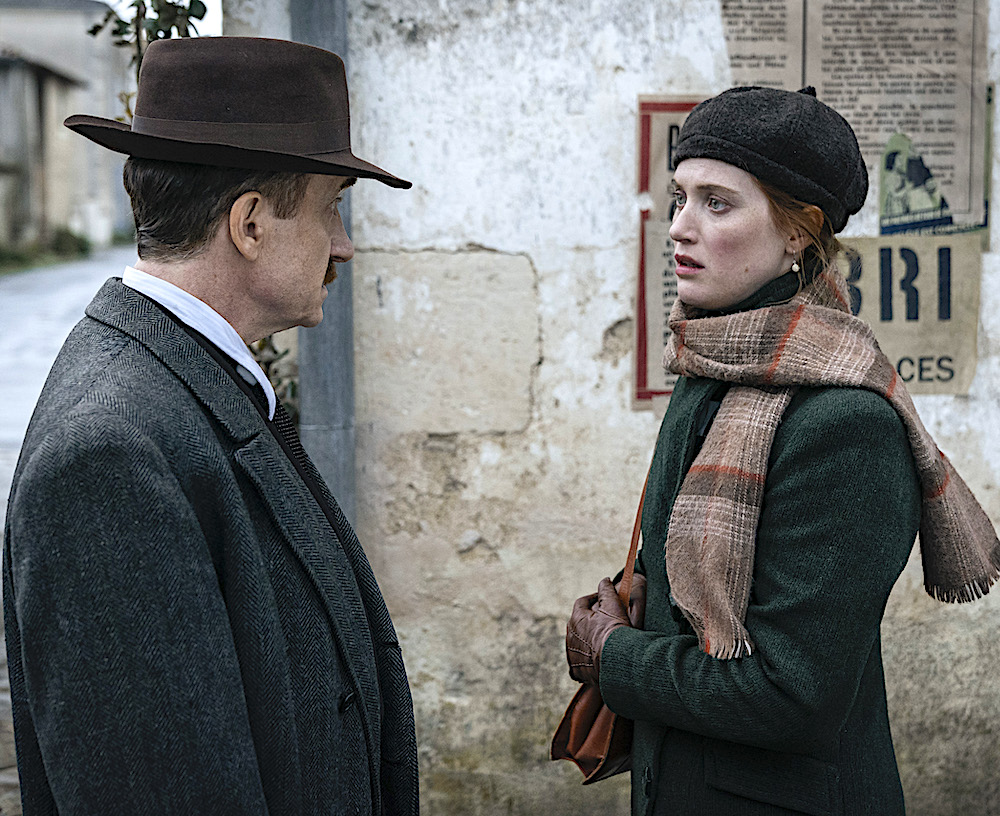 It's Forster, too, who proposes sending disgraced U-boat commander Wrangel (Stefan Konarske) to hunt down the rogue von Reinhartz, even though Gluck is fairly certain that Wrangel cast Captain Hoffmann (Rick Okon) adrift in mid-Atlantic and left him to die. Wrangel is a cold-blooded killer, but Forster sees him as a heroic poster-boy of the Reich.
But vile as the Nazis were, Das Boot reminds us that they had supporters in high places. In New York, where Hoffmann has, as it were, resurfaced, we learn more about the business tycoon Jack Greenwood's partnership with the Third Reich and his aspirations for a seat in the US Senate. While New York discriminates against its black population, it teems with Nazi sympathisers, including the Irish-American cop who carries messages from the IRA. This is drama ranging far beyond the cramped and squalid interior of a U-boat.
This is drama ranging far beyond the cramped and squalid interior of a U-boat
rating
Explore topics
Share this article