Alina Ibragimova, Kristian Bezuidenhout/Iestyn Davies, Elizabeth Kenny, Wigmore Hall online/BBC Radio 3 review - two perfect pairings |

reviews, news & interviews
Alina Ibragimova, Kristian Bezuidenhout/Iestyn Davies, Elizabeth Kenny, Wigmore Hall online/BBC Radio 3 review - two perfect pairings
Alina Ibragimova, Kristian Bezuidenhout/Iestyn Davies, Elizabeth Kenny, Wigmore Hall online/BBC Radio 3 review - two perfect pairings
An uplifting pull to melancholy music in both of these splendid recitals
Elizabeth Kenny and Iestyn Davies at the Wigmore Hall yesterday
Last Tuesday's offering from the Wigmore Hall's series of live broadcasts was a fiery recital from Russian violinist Alina Ibragimova partnered by pianist Kristian Bezuidenhout.
Beginning with
Schubert's
Violin Sonata "Sonatina" in A minor, Bezuidenhout's opening bars had a restrained urgency, giving just a hint at the passionate flourish Ibragimova was to provide as she entered. Dialogue between violinist and pianist was intense, as they moved very much as one unit through the movement towards a rounded end.
The second, Andante movement opened with a serene poise with some incredibly expressive and deeply lyrical playing from Bezuidenhout at the keyboard. Ibragimova (pictured below with Bezuidenhout) was spirited and rousing in the Minuetto: Allegro and both players ended the melancholy final movement with a zesty punch.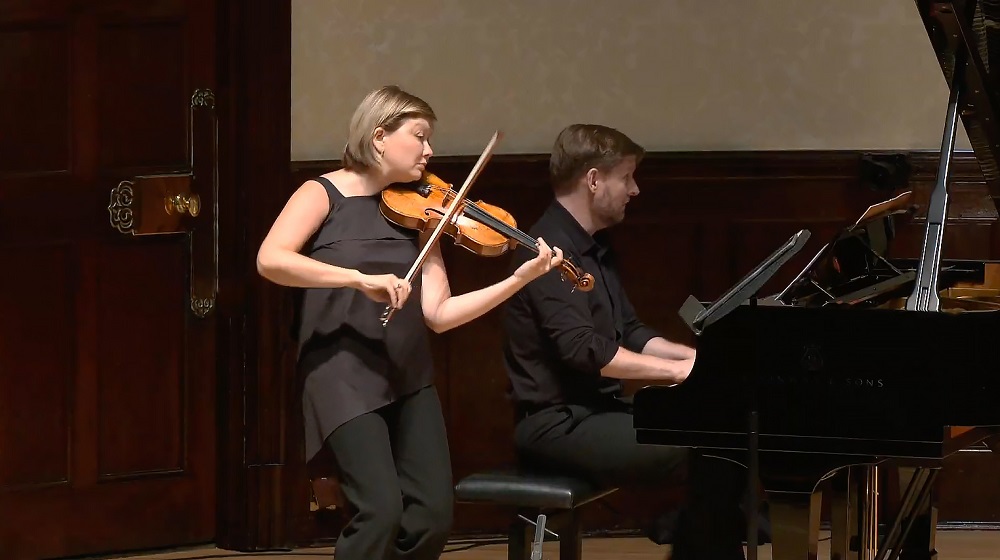 Beethoven's "Spring" Sonata was equally alluring (as BBC Radio 3 presenter Georgia Mann rightly pointed out, this spring's been an unusual one). Themes of opening, unfurling and new life are apt for this concert series. Ibragimova began with supple playing, evocative of fresh, young spring shoots, and Bezuidenhout's intricate, delicate accompaniment was a perfect match. The music seemed to glisten throughout, buoying with sparkle even the darker hued elements of Beethoven's score.
One of the few concerts in this series not to use a piano, yesterday's recital saw Elizabeth Kenny play lute, theorbo and guitar as she and countertenor Iestyn Davies (pictured below) performed music from a range of periods. Opening with Purcell's "Strike the viol, touch the lute" from Come Ye Sons of Art, Davies's ornamentation was exquisite, as was Kenny's accompaniment on theorbo. The final three in this opening group of six short pieces by Purcell were for solo theorbo. Kenny's own arrangement of keyboard work "Stefauchi's Farewell" was witty and light while "Lilliburlero" cheered with a gentle sway.
Moving on to works by John Dowland, Thomas Campion and Robert Johnson, Davies's countertenor was gloriously clear in his expressive rendition of Dowland's "Behold a wonder here" and Campion's "The sypres curten of the night is spread" had a delicious understated angst. Kenny's solo performance of Johnson's Fantasia was intricate and compelling, with delicately measured rubato, and Dowland's "The King of Denmark, his Galliard" had a beautifully refined rusticity.
Skipping forward two centuries, Kenny swapped her lute for a small French guitar for some music by Mozart and Schubert. Mozart's "Abendempfindung" ("Evening Thoughts") was a gentle, almost lullaby-like, contemplation on the close of the day. In Schubert's "Heidenröslein" ("Rose on the Heath") – a simple folklike setting of a poem by Goethe in which a young man tells of his rejected love – Davies was animated and engaging, giving off quite a carefree feeling for someone just spurned by his lover. His mood was more sombre for "Am Tage aller Seelen" ("All souls rest in peace"), as both players performed with a deep tenderness and reverence
Themes of opening, unfurling and new life are apt for this concert series
rating
Explore topics
Share this article