Reissue CDs Weekly: Dudu Phukwana and the "Spears" |

reviews, news & interviews
Reissue CDs Weekly: Dudu Phukwana and the "Spears"
Reissue CDs Weekly: Dudu Phukwana and the "Spears"
Dudu Pukwana's Joe Boyd-produced debut album reappears, with added Fairport Convention input
Inside this box - what was issued in South Africa as the 'Dudu Phukwana and the "Spears"' album
Whether explicitly or indirectly, what's written on a master tape box can tantalise. Revealing part of a picture creates a desire to want to know more. Take the example seen above. It's for an album by South African alto saxist Dudu Pukwana.
Whether explicitly or indirectly, what's written on a master tape box can tantalise. Revealing part of a picture creates a desire to want to know more. Take the example seen above. It's for an album by South African alto saxist Dudu Pukwana. The annotation gives a date of July 1968 and the client is Witchseason, the company run by manager/producer Joe Boyd. The recording took place at Sound Techniques, the independent Chelsea studio favoured by Boyd for his other clients. He'd worked there with Pink Floyd in 1967. Around the time of this session, Boyd had brought Fairport Convention and The Incredible String Band to Chelsea. As with those, the engineer – given as "J.W." – was John Wood.
The closest the album has to a title is "Kwela L.P.", a handle drawn from the shuffling South African musical style which in the early Sixties had seeped into Bert Kaempfert's "A Swingin' Safari".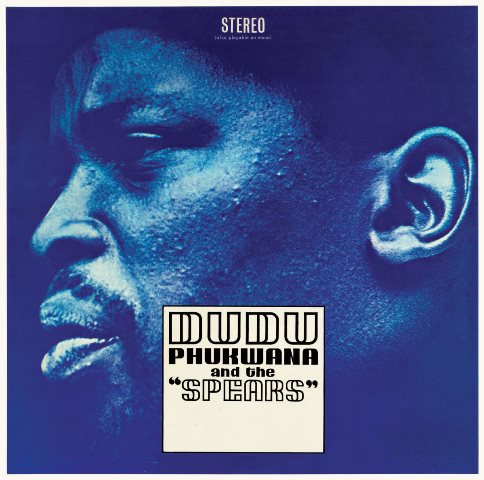 It's very intriguing. There must be a story. In 1968, Boyd was predominantly associated with British folk as it became ever-more individualistic. Nick Drake, John Martyn, Nico, Vashti and others were over the horizon. The producer's associations with 10,000 Maniacs and R.E.M. were in the more distant future. Dudu Pukwana would become a mainstay of the British jazz scene, and as a member of the band The Blue Notes had left his native South Africa in 1964. Whatever was said on the tape box, Kwela was probably not on Pukwana's mind in 1968.
Thanks to the reissue of this obscure album – Pukwana's first solo set – the full story is revealed. It was credited to the misspelt Dudu Phukwana and the "Spears" and issued only in South Africa during 1969 on the Quality imprint, a subsidiary of the Trutone label. Apartheid was the reason Pukwana left the country in which he grew up, so it's ironic that this was where the album was released.
Boyd had come across in Pukwana in The Blue Notes, who he'd seen at Ronnie Scott's. With the band reconfigured to be named after their pianist as The Chris McGregor Group, Boyd produced the Very Urgent album, issued by Polydor in May 1968. A month later, Polydor released the Boyd-produced first Fairport Convention album. Very Urgent veered towards free jazz and didn't suggest South African origins for its players. What came next, in June or July 1968, was sessions for an album showcasing Pukwana and South African musical styles. This is what was issued as Dudu Phukwana and the "Spears" – almost as per the credit on the master tape box. (pictured below left, the original album with "Pukwana" spelt correctly on its labels)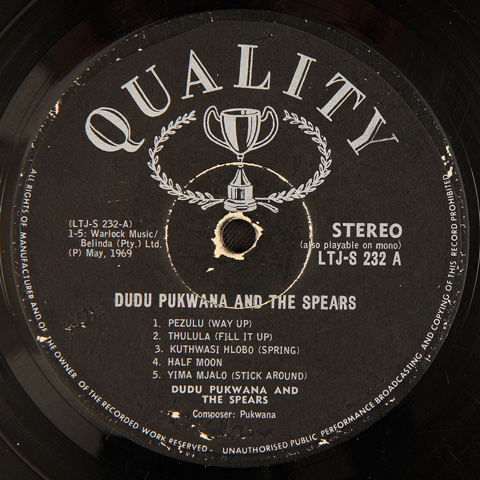 The result, Boyd concluded, was too South African sounding for the British market. Consequently and bizarrely, Boyd and Pukwana travelled to South Africa in January 1969 to see if they could organise a release of the album there. They succeeded – albeit with a cover misspelling Pukwana's name. Trutone's sloppiness went further than inaccurate credits. The album's "Half Moon" and "Kwa Thula" were different mixes of the same track. Boyd had given the label a note saying that "Kwa Thula" was to be replaced. This didn't happen. According the reissue's liner notes, Dudu Phukwana and the "Spears" barely sold. Still, it was out and some of the recording costs had been recovered.
Heard now, the album doesn't sound so niche. There's a swing analogous to that of Soho club-jazz outfits like that of Georgie Fame's Blue Flames. Perhaps London's dance floors would have welcomed the album. Every track is concise, and there's no flab to the playing. Opening cut "Pezulu" sets the scene for a groovy set, in tune with what soundtracked clubs like The Flamingo and The Scene circa 1963 to 1966. The reissue is of the album as it was issued and sounds magnificent: direct, dynamic and punchy.
The story did not end there. The reissue is a double album. While in South Africa, Boyd bought a copy of the newly issued Good Luck Motella compilation, which showcased the on-the-rise mgqashiyo vocal style, a type of mbaqanga. He thought there might be a place in the UK for a Pukwana album drawing on mbaqanga. On his return to London he lent Good Luck Motella to Fairport's Richard Thompson, who soaked up what he heard. Sessions were booked at Olympic in Barnes rather than Sound Techniques, where Thompson and fellow Fairport guitarist Simon Nicol came on board for this new Pukwana project. In 2006, one track from the unreleased sessions surfaced on the CD comp White Bicycles: Making Music in the 1960s, issued to tie in with Boyd's book of the same name. Now, more is heard. (pictured right, Dudu Pukwana in South Africa, 1969)
Sides C and D of the new reissue draw from an album acetate Pukwana had made when he visited New York in 1969. One side of the acetate (Side C of the reissue) was material from the South African album (including an alternate take and the sound of tape spooling backwards, credited now as "Studio Interlude") and the other, Side D of the reissue, collected five tracks from the Olympic sessions (described confusingly in the annotation and liner notes: only Side D draws from the post-South Africa sessions at Olympic).
At Olympic, the players included Pukwana, Nicol and Thompson, and Mongezi Feza (trumpet), Harry Miller (bass), Joe Mogotsi (vocals), Louis Moholo (drums) and Bob Stuckey (organ and bass pedals). Other musicians are heard, but although their identities are uncertain the annotation makes informed and supportable suppositions about their names. Considering that Thompson and Nicol were in an active, evolving band which was still adjusting to absorb Sandy Denny into its line-up, had just released the What We Did on Our Holidays album and was then working on the Unhalfbricking album (parts of which were recorded at Olympic), it is fascinating both were happy to take the time to adapt their styles to suit South African jazz-inclined music. The liner notes go into the ins and outs, but the bottom line is what's heard cooks and has nary a hint of Fairport Convention. Nicol and Thompson fully subsumed themselves into this vehicle for Pukwana. Fairport Convention continued on their way, but the Pukwana sessions stalled: Boyd says Pukwana's 1969 album was unfinished as the sax player was drinking heavily and did not produce enough performances worth keeping. He had to wait until 1971 to record his first UK album.
For the Dudu Phukwana and the "Spears" album alone, this reissue is a must. What's heard on Side D goes further by revealing an essential and previously obscure aspect of the Fairport Convention biography. Until now, tying them into South African jazz at the time they were inventing English folk rock would have seemed improbable. So, indeed, there is a story – one more intriguing than it initially appeared.
Next Week: Box-set edition of Be Bop Deluxe's debut album Axe Victim
Until now, tying Fairport Convention into South African jazz at the time they were inventing English folk rock would have seemed improbable
Explore topics
Share this article