LFF 2020: One Night in Miami review - Kemp Powers's play makes the leap to the big screen
LFF 2020: One Night in Miami review - Kemp Powers's play makes the leap to the big screen
Regina King's directing debut, plus 'Relic' and 'Bloody Nose, Empty Pockets'
'One Night in Miami': forceful characters, distinctive attitudes
Set on February 25 1964, Kemp Powers's 2013 play One Night in Miami put newly-crowned World Heavyweight Champion Cassius Clay in a motel room with soul singer Sam Cooke, superstar NFL footballer Jim Brown and spokesman for the Nation of Islam, Malcolm X.
The four men were real-life friends, but Powers's account was heavily fictionalised, depicting the foursome engaged in sometimes furious debate over issues of
racism
, black power, politics and personal responsibility.
Putting it on film (showing at the BFI London Film Festival) was a big ask for first-time feature director Regina King, hitherto best known for her acting roles in Jerry Maguire and Enemy of the State, but she has shouldered the burden stoutly. Transferring any play to film is plagued with pitfalls, and though the dramatic palette has been expanded by fight scenes depicting Clay versus Henry Cooper at Wembley and then his championship bout with Sonny Liston in Miami, there's no way around the fact that that a big chunk of the running time comprises four men talking in a very drab room. Happily, the four principals have been shrewdly cast. Each emerges as a forceful character with his own distinctive attitudes, and though the piece's didactic purpose sometimes suggests we're in a political science class, dramatic variety is guaranteed by the way that there's often more that divides the quartet than unites them.
British actor Kingsley Ben-Adir puts the grit in the oyster as the humourless, doctrinaire Malcolm X, remorselessly committed to revolutionary struggle and desperately proud of having persuaded Clay to join the Nation of Islam, even as internal clashes mean that Malcolm is about to leave the movement. The notion that the newly-crowned world champ and his buddies would have spent the biggest night of his career sitting in the boring Hampton House motel with no beer and no female company being lectured about black consciousness is, perhaps, the most credibility-challenging aspect of the piece, even if Brown and Cooke both express their desire to get out and party.
On the upside, Eli Goree brilliantly captures Clay's exuberance and hyper-confidence, his mouth even faster than his twinkling feet, while Aldis Hodge brings a strong, silent power to his portrayal of Brown. Though ridiculed by Malcolm for writing trivial love songs, Leslie Odom Jr's Cooke mounts a potent defence of his successful business ventures in the music industry, in which he ran his own label and smartly kept control of his publishing rights. Frankly, it's a damn cheek for anybody to criticise the great Cooke, a visionary in his chosen field. But it's all grist to the dramatic mill, and it's a movie that's liable to get you bickering energetically in your own living room.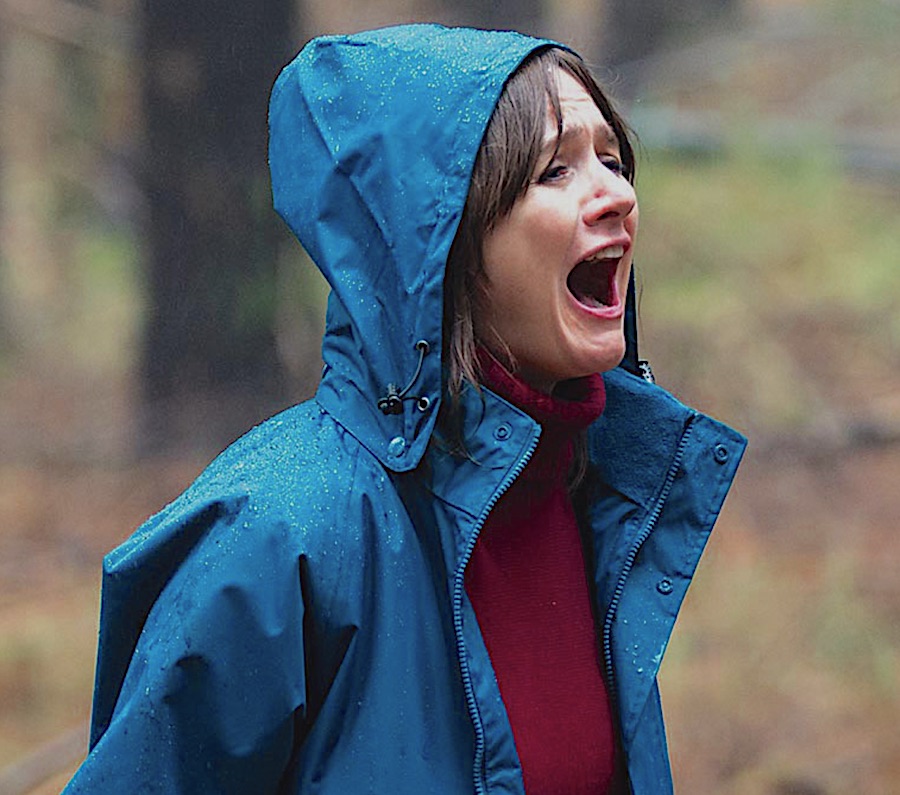 Relic ★★★★

This arresting debut feature by Australian director Natalie Erika James, who co-wrote the screenplay with Christian White, walks the line between horror of the mind and revulsion of the body. The drama centres around 80-something matriarch Edna (Aussie stage and screen veteran Robyn Nevin), whose disappearance from her remote home in the Victoria wilderness brings her daughter Kay (Emily Mortimer, pictured above) and granddaughter Sam (Bella Heathcote) out to search for her.
They find Edna's home eerily deserted, with strange patches of black mould on the walls and Post-It notes with reminders to pay a bill or flush the loo suggesting that her mental capacity is failing. Then suddenly, after a three-day absence, Edna reappears, seemingly in control of her faculties despite her unkempt appearance and irritated at the concerns expressed by Kay and Sam. And anyway, as Kay tells the local cops, "she's in her eighties, she forgets things."
But as the narrative develops across a tautly-reined 90 minutes, it becomes increasingly obvious that little is what it seems. We get dreamlike glimpses of a dessicated corpse in a decaying hut, while Edna is fearful that someone or something has been trying to break into her home. When she tells Kay that there's something hiding under her bed, Kay's sceptical dismissal is second-guessed by a subliminal glimpse of something the camera can't quite define.
Kay concludes that Edna must go into a care home ("independent living with the edges taken off," as the nurse in charge sells it to her), to Sam's indignation. But James's controlling idea here is to present the terrible inevitability of mental and physical decay, and externalise it as a malign force affecting both the elderly and the people who love and care for them. Charlie Sarroff's brooding cinematography and some panic-evoking sound design evoke enough shivers and jolts to keep you up all night, but ultimately James's vision is perceptive and compassionate.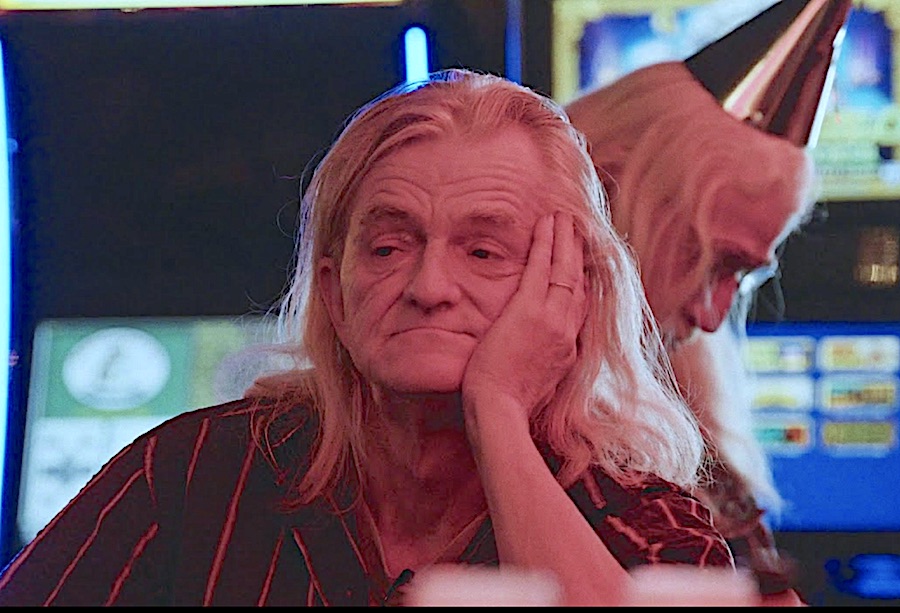 Bloody Nose, Empty Pockets ★★
How much truth do you want in your verité movies? With Bloody Nose, Empty Pockets, sibling documentarists Bill Ross and Turner Ross have ostensibly memorialised the closing night of a Las Vegas dive bar called the Roaring 20's in which the hard-drinking regulars come together to bid a frequently tearful farewell to what has clearly been a second home to many of them. As the booze (plus some tokes and a few tabs) take hold, the barflies wax lyrical, sentimental, political, confrontational, romantic and incomprehensible, as anyone might during a liberally-lubricated 18-hour unbroken shoot.
It's hard not to warm to the burly charm of bartender Marc, the philosophical guru of his wayward flock who's apt to serenade the punters with a whizz through Kenny Rogers's "The Gambler" on his acoustic guitar. We hear plenty of the rambling narratives of Michael Martin (pictured above), an ageing ex-actor who now finds himself dossing down at the bar by night, while warning his partners in insobriety against throwing their lives away by losing themselves in drink like he did. A shot of him sobbing quietly to himself in the corner is like a cautionary video from Alcoholics Anonymous.
On top of that you get conflicted Vietnam vets, big Pam who crashes to the floor after a jug or two too many, a nasty little dude who wants to pick fights with everyone, and robust landlady Shay, who keeps warning everybody not to feed alcohol to her son Tra while he spends the whole night outside the bar's back door soaking up drugs and booze.
If it sounds like an all-too-convenient cross-section of archetypes from the Great American Night, it is. The Rosses have played fast and loose with their genre definitions, hand-picking a cast of likely-looking suspects and bundling them into a bar in New Orleans (it's called the Roaring '20s, and it's still open). They set up the scenario and let the action roll where it would, though the Seventies-style credits and muddied picture quality are clues to the artifice involved. Bloody Nose has been showered with critical plaudits and got them swooning at Sundance, but it's like constructed-reality TV with extra vomit and sawdust on the floor. And at the end of the day, a boring drunk is a boring drunk.
Eli Goree brilliantly captures Clay's exuberance and hyper-confidence, his mouth even faster than his twinkling feet
rating
Explore topics
Share this article