City of London Sinfonia, Southwark Cathedral / Kanneh-Masons, Barbican review - soaring teamwork |

reviews, news & interviews
City of London Sinfonia, Southwark Cathedral / Kanneh-Masons, Barbican review - soaring teamwork
City of London Sinfonia, Southwark Cathedral / Kanneh-Masons, Barbican review - soaring teamwork
The pure joy of music-making in both events, but with rigour and discipline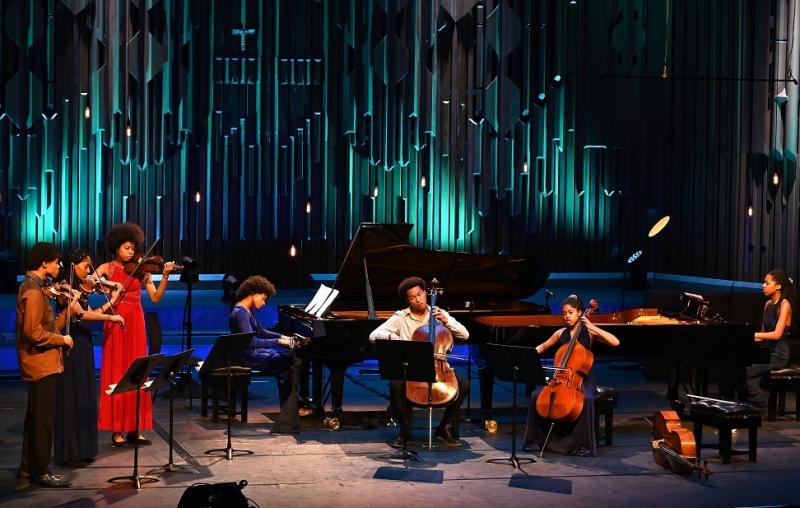 Braimah, Aminata, Konya, Isata, Sheku, Maniatu and Jeneba Kanneh-Mason at the Barbican
"Live music is back," runs the Barbican's latest slogan, so treasure it and get out there while you can. Thursday evening in London offered an embarrassment of riches.
I chose the City of London Sinfonia live in Southwark Cathedral over the Kanneh-Masons on the other side of the Thames in the Barbican only because I knew I could catch up with the family live on screen later. My colleague Jessica Duchen was one of the lucky few in the Royal Festival Hall for violinist Tasmin Little's farewell recital.
You could also have taken your pick, if you could get a ticket, between two pianists – Jonathan Plowright at the Wigmore Hall and Charles Owen at the Fidelio Orchestra Café – while the Academy of St Martin in the Fields Chamber Ensemble were playing Mozart and Beethoven at Kings Place's Hall One and the Minerva Piano Trio had given a lunchtime recital at St John's Smith Square.
Forgive the list, but it's good to point out how the programming is almost like old times, albeit without big symphony orchestras and choirs. The gratitude and excitement seem equal on both sides: most soloists and ensembles are still playing in front of an audience for the first time since mid-March. Frissons even in a short mindfulness session from City of London Sinfonia violinist Ann Lovatt before the ensemble's Serenades for Strings? Absolutely, when the players illustrated the magical intakes of breath which Elgar and Tchaikovsky use to introduce their slow movements. And standing on one leg with mental focus doesn't seem at all daft when you then feel as listener how the body shifts weight from side to side in the performance, and how wonderful CLS leader and creative programmer Alexandra Wood used the physical freedom common to all the standing players (violins and violas; only the three cellists and the double-bass player sat. Pictured below by Marilyn Kingwill: the previous performance in Southwark Cathedral, a trio arrangement of Bach's Goldberg Variations).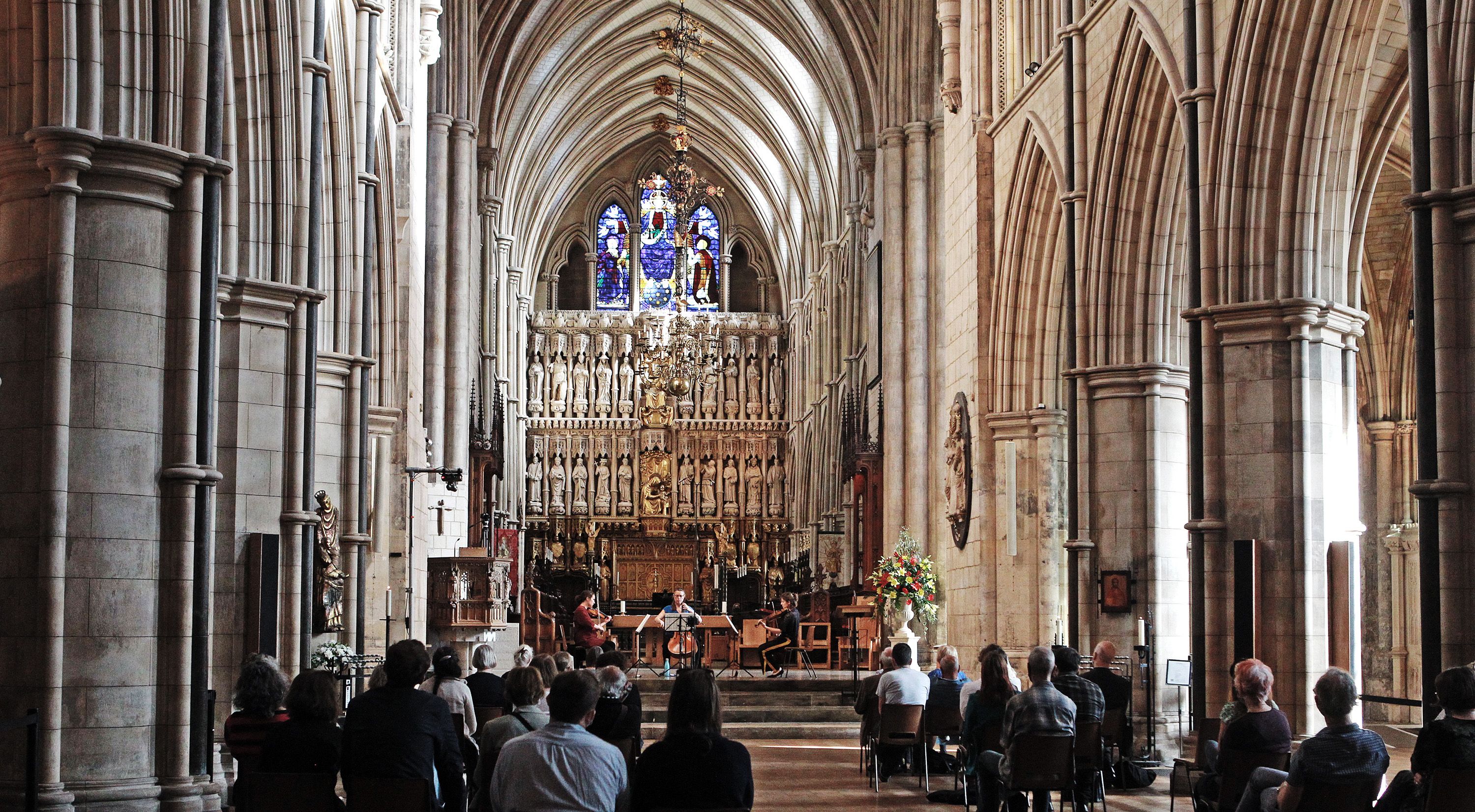 There was the kind of personality in the interpretations you'd expect with a top conductor, and for that, especially in the space given to transitions and climaxes, Wood (pictured below) must take a lot of the credit. When I compared versions of the Tchaikovsky for BBC Radio 3's Building a Library, there was a marked contrast between chamber orchestras and large symphonic string sections. The best of each proved equally viable, but here we had the virtues combined; Southwark Cathedral acoustics, far from muddying the sound, gave it extra depth and body.
The joy and tenderness of this great masterpiece could have been diffused by the space, but they weren't, and the freedom to move around, which those who'd bought standing tickets used for a clockwise ambulatory around the fringes, came as an optional extra. The CLS has done a great deal to break down barriers in concert performance, but the essential rigour of live performance still remains.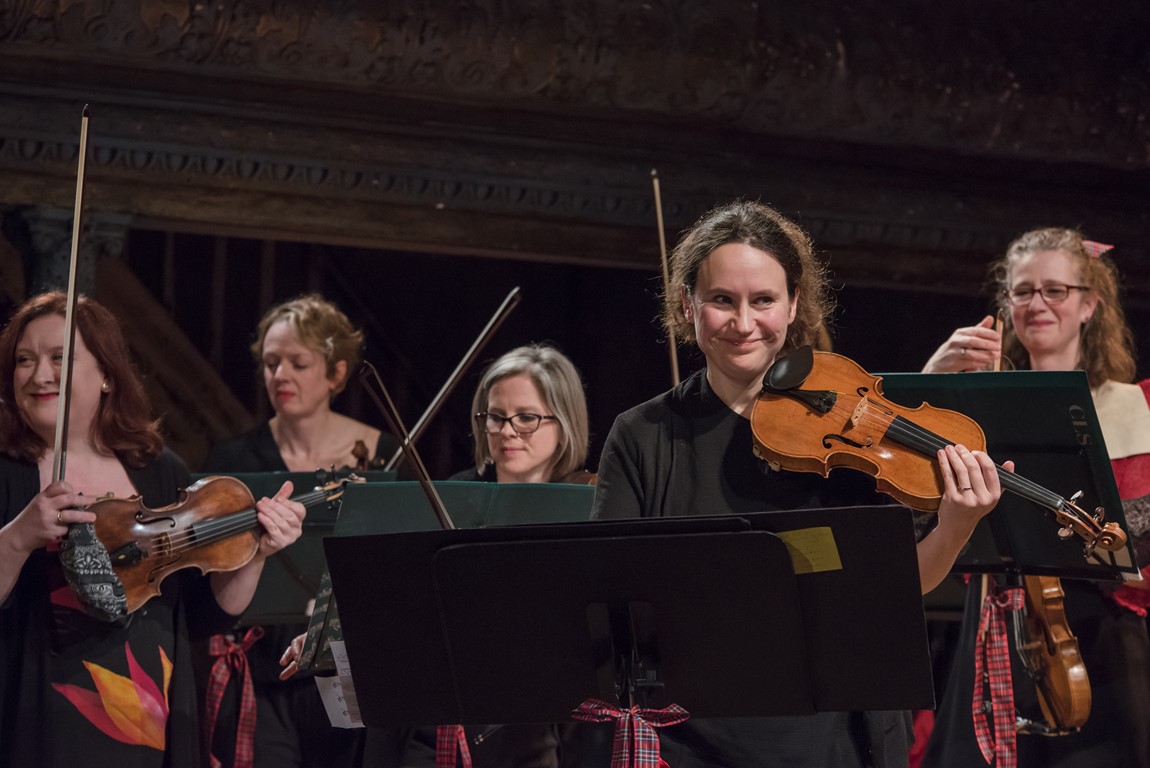 So it does with the seven Kanneh-Mason siblings, who have too strong a grounding to ever turn into performing seals. Their Barbican programme was beautifully chosen: no single work lasting more than 15 minutes, but within the variety and range of solos and ensembles, plenty of depth as well as sheer chutzpah. It was canny to start with the single-movement C minor Piano Trio of the 16-year-old Shostakovich, the style already the composer we know, love and slightly fear in its nervous tension and chromatic unease; you've also got to love the way a sentimental melody finally joins the fray. There's no doubt that Sheku will always be the top string player, a cellist in a thousand, but Braimah's more ethereal violin has a poetic personality, too (pictured below, Braimah, left, with Isata and Sheku).
That's true of every real artist here. The three pianists – Isata, Jenaba and Konya – share a crystalline beauty of articulation which was as clear in Konya's Schubert Impromptu (D899 No. 4 in A flat) as it was in Jeneba's (D935 No. 4 in F minor). Most bewitching to watch in action, with upwards glances akin to brother Sheku's, was Isata in three Gershwin Preludes, cleverly chosen as movements to follow the opening of Barber's Cello Sonata, with its typically turbulent piano writing; what a marvellously original piece. Of the full-ensemble arrangements, there was special magic in Simon Parkin's arrangement of Eric Whitacre's The Seal Lullaby, and the now-familiar family medley from a favourite film, Fiddler on the Roof, has its roots in the school klezmer band participation of four of the family members. The encore, similarly realised for the group by Sheku, Isata and Braimah on Sibelius software with other family members adding their contributions, was a mellow beauty brought to Bob Marley's Liberation Song.
Full marks to the Barbican on presentation. The light show had been mastered before lockdown; the camera angles are various and impressive. Josie D'Arby's sweet spirit shines through even if she keeps saying "Shoshtakovich"; I believe in her enthusiasm, which can't be said for the gushers we've been subjected to in some other compering recently. The audience, only dimly visible at the end, were very audible in their support throughout. And I grinned my way through the streamed post-concert addition of questions and answers with the family, lovely parents Kadiatu and Stuart included. To watch, you had to sign up before the concert and then catch it within 48 hours, but I hope the whole thing will be available to all soon. This Von Trapp Family for our time must long remain an inspiration to all.
CLS Goldberg Variations performance in Southwark Cathedral available to watch on YouTube until 30 October
The Kanneh-Mason siblings have too strong a grounding to ever turn into performing seals
rating
Explore topics
Share this article