Tasmin Little Farewell Recital, RFH review - memories, tributes and dreams |

reviews, news & interviews
Tasmin Little Farewell Recital, RFH review - memories, tributes and dreams
Tasmin Little Farewell Recital, RFH review - memories, tributes and dreams
The violinist partnered by four pianists in an event to remember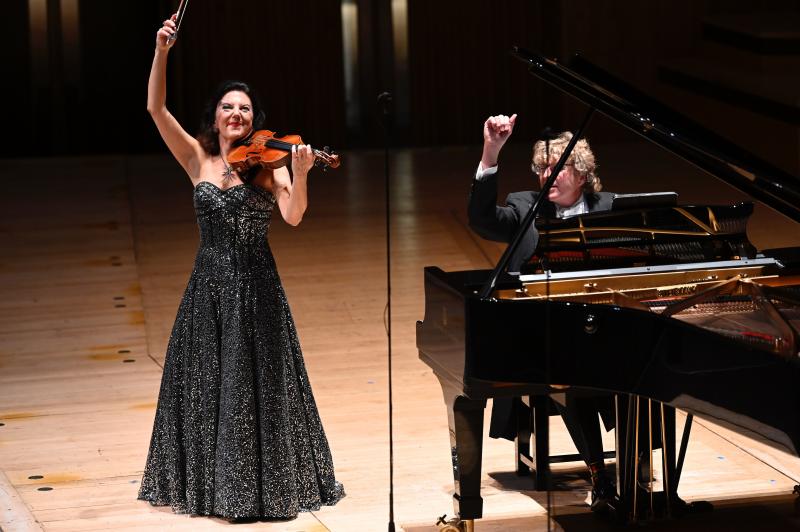 Little and Lane: magical music-making
Bidding farewell to the Royal Festival Hall, Tasmin Little was at the very peak of her powers. It's almost unthinkable that we will never see her play here again. Many have hoped that she'd be one of those musicians who announce their retirement only to be back for one last time…and another… but Little is a genuine soul who has always said what she means and meant what she says. And she says that that really is that.
This unique evening featured one violinist, two gowns, four pianists, four piano stools and plenty of disinfectant. Since its first planned date was cancelled during lockdown, circumstances have transformed it: instead of Little and three pianists at the Queen Elizabeth Hall, we met four of them in the more sizeable neighbour. Switching pianists between pieces entailed Covid-safing the Steinway each time, the keyboard cleaned repeatedly to within an inch of its life.
Over several decades Little has worked principally with just three duo partners, Piers Lane, John Lenehan and Martin Roscoe; here they were to celebrate with her, but also with the Russian rising star Andrey Gugnin (the two pictured below), winner of the Sydney International Piano Competition in 2016, where Little first encountered him in the chamber music round. This became almost the recital equivalent of the Rose Adagio - that moment in the ballet The Sleeping Beauty when Princess Aurora dances with four princes - besides a tantalising taste of what the future might have held.
The ingenious and original programme included Johannes Brahms as a "token dead white male", but the main part was devoted to the stellar if under-recognised line-up of Amy Beach, Lili Boulanger, Clara Schumann, Samuel Coleridge-Taylor and Roxanna Panufnik. Reasons for the enduring neglect of excellent composers are manifold – add to some fairly obvious sexism and racism the fickle swings of musical fashion. Here, though, was plenty of music that, had it been written by, for example, Elgar or Kreisler, would be popping up in concert three times a (normal) week.
Little took the stage first with Lane, playing the Brahms Scherzo from the "FAE" Sonata – probably one of the best concert openers in existence, even if it's in the middle of a multi-composer work. From the start, Little's charisma, strength of tone and sheer glamour in a silver gown called to mind the great female violin virtuosi of the past, the likes of Jelly d'Arányi, Maud Powell (of whom more in a moment) and Gioconda de Vito who, like Little, quit the concert stage in her fifties while her playing was still at its finest.
It was Joseph Joachim, though, for whom the Brahms was written, and likewise the Clara Schumann Three Romances, full of rhythmic flexibility and melodic flair. This time Martin Roscoe was at the piano, his clear touch glittering in the final piece to offset Little's sustained cantilena with its familiar character of rich vibrato, malleable light and shade and unfailing communicative instinct. The Nocturne by Lili Boulanger - the Parisian composer who died aged only 24 in 1918, leaving some 50 quite marvellous works - proved magical, with Lane and Little in seamless harmony, as if playing one joint instrument rather than two.
Yet while Little's ensemble with her three longstanding colleagues was as comfortable as coming home, Andrey Gugnin brought in the freshness of the unexpected. In the Brahms Sonata No. 3 in D minor, the pair seemed to improvise an extraordinary musical pas de deux, from deep meditation to virtuoso heights, with several miracles of timing and sensitivity: here was a potential Rudolf Nureyev to Little's Margot Fonteyn. We can dream.
Little, having switched her silver gown for turquoise, began the second half with Panufnik's Hora Bessarabiafor solo violin, a work written for the Yehudi Menuhin Competition in 2016 that happily is becoming a recital favourite. It's a sort of Bulgarian-style solo cousin to Ravel's Tzigane, with mesmerically swooping quarter-notes and a literally footstamping finale that seems guaranteed to bring the house down, however socially-distanced the audience. A final outing for Lane in Coleridge-Taylor's Demande et Réponsewas quite a tear-jerker (as if the whole evening wasn't). So often Little and Lane have sparkled through the joys of their recitals, leaving us with a spring in our step, but this was pure tenderness, direct from the heart - a wonderful tribute to colleagiality and friendship.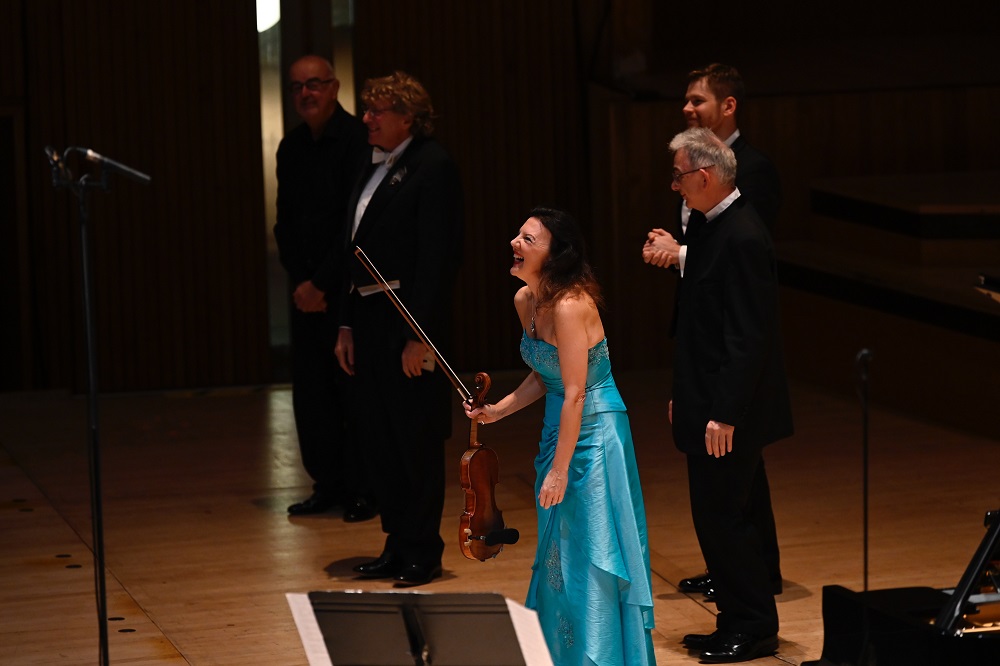 Finally, Amy Beach: the Romance, with Roscoe at the piano, another for that roster of glorious potential encores; but best of all, the Violin Sonata in A minor, Op. 34, a substantial four-movement work replete with powerful, late-romantic personality, composed for the American violinist Maud Powell, who also premiered the Coleridge-Taylor Violin Concerto. The excellent John Lenehan joined Little for an inspiring account that glowed and barnstormed with near-orchestral sonorities, expertly pacing the long-spun melodic lines in the slow movement.
As encore, rather than picking out one pianist, Little gave us another solo, her own arrangement of "Danny Boy", while her four partners hovered nearby to listen. How the few of us present longed for a full house to stamp, cheer and throw flowers. Hear it on Radio 3 while you can.
Pure tenderness, direct from the heart - a wonderful tribute to collegiality and friendship
rating
Explore topics
Share this article