GHBoy, Charing Cross Theatre review - drugs and sex but no rock 'n' roll |

reviews, news & interviews
GHBoy, Charing Cross Theatre review - drugs and sex but no rock 'n' roll
GHBoy, Charing Cross Theatre review - drugs and sex but no rock 'n' roll
Paul Harvard's ambitious debut play needs further focus
Tuesday, 08 December 2020
'Red' redux? Jimmy Essex and Devesh Kishore in 'GHBoy'
A 35-year-old gay man has to figure out which way to turn in GHBoy, the Paul Harvard play whose connection to the chemsex world is embedded in its title.
Will Robert (Jimmy Essex) settle into a
relationship
with Catalan university student Sergi (Marc Bosch) 15 years his junior, or will he succumb to the frequently unclad presence of Sylvester
Akinrolabu, who plays the various tempters he meets along the way? What about the undertow of danger that has seen numerous men in Robert's stimulant-ready East London midst murdered of late? The grim spectre of serial killer Stephen Port has been cited as an inspiration for the play.
The gathering uncertainty gives Robert plenty to talk about when he meets his therapist (a likable Devesh Kishore) for a series of sessions that is soon nearing an end: an art therapy mode of healing that allows director Jon Pashley's production to close on an image that recalls, of all unlikely comparisons, John Logan's Red: Bettina John's canvas-filled set would serve that earlier play neatly, as well. Along the (interval-less) way, Harvard's debut play goes on to explore Robert's efforts to come to terms with the death of his father via a series of conversations with his mum, that role adroitly filled at short notice at the final preview by an assistant stage manager following an injury sustained by actress Buffy Davis. (Nicola Sloane has since taken over the role.)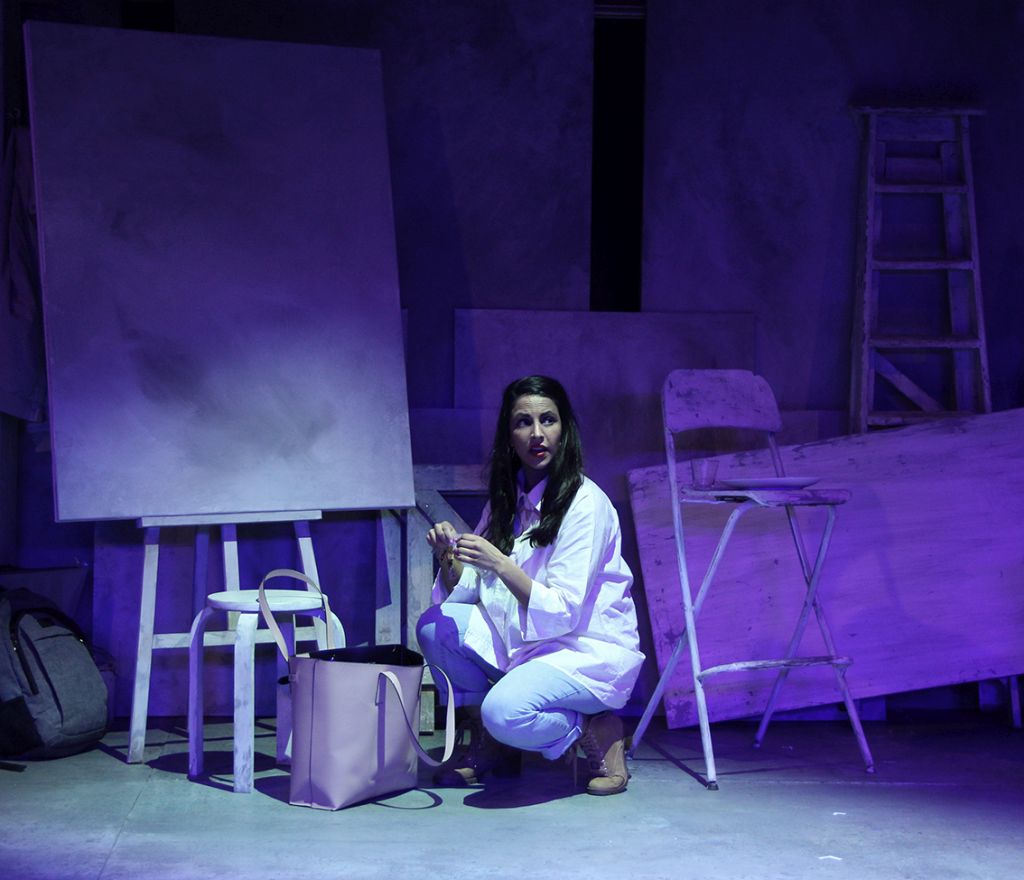 Oddly, for all that Robert's quest fuels the play, his passive-seeming occupancy of the central role put me in mind of that previous 35-year-old Robert in Sondheim's Company, marijuana in that show displaced to something more lethal a half-century on in GHBoy. Harvard's play might be more electric if one felt the allure of the illicit more fully. Instead, the story pushes the ever-sympathetic Essex into so many stage equivalents of reaction shots, as experience hits him hard whilst we await, as does he, some decision as to whether or not he will grasp the nettle and move forward: he's got a strongminded BFF onhand to add her perspective to the mix, a role taken by Aryana Ramkhalawon (pictured above).
As it is, Harvard keeps so many thematic and narrative plates spinning that you wait somewhat in vain for them to cohere. Not for the first time, less might be more in terms of allowing one or another aspect of the fertile terrain on offer to be more fully explored. Still, the play navigates disturbing territory without succumbing to the sensational and if you have to take a lot of it on faith (I didn't really buy the relationship with Sergi), the cast bring notable conviction to this modern-day "notes from underground": Essex, in particular, finds poignant shadings in the muddied canvas that is Robert's psyche. Let it also be said that this premiere kicks off a spate of back-to-back live theatre openings that continues through to next Sunday and beyond: a heady rush of theatrical adrenaline of a thankfully non-hallucinogenic kind.
Not for the first time, less might be more in terms of allowing one or another aspect of the fertile terrain on offer to be more fully explored
rating
Explore topics
Share this article