Royal Opera Christmas Concert online review – pajama party around the Nutcracker tree |

reviews, news & interviews
Royal Opera Christmas Concert online review – pajama party around the Nutcracker tree
Royal Opera Christmas Concert online review – pajama party around the Nutcracker tree
Vivacious opera and cheesy carols under the lively baton of Mark Wigglesworth
Thursday, 24 December 2020
Masabane Cecilia Rangwanasha's Sandman spreads sleep-dust over Hanna Hipp's Hansel and Sophie Bevan's Gretel
So Hansel and Gretel can't cuddle up together in the dark forest, Musetta doesn't fall into long-suffering lover Marcello's arms and there's no audience to play to (as there would have been three days earlier).
No matter: the
Christmas
-tree-grown-enormous from the stalwart production of
The Nutcracker
keeps us gaping, the singers young, established and old duly deliver and Mark Wigglesworth elicits sweep and brio from a substantial
Royal Opera
Orchestra.
Up to this point, Royal Opera film presentation in its streamed events has been impeccable. Filming and lighting are once again first rate, but that affable and collegial baritone Roderick Williams doesn't have the ideal spontaneity as presenter. Maybe he felt he had to force it to an invisible audience, but "we're super-excited" is always a turn-off, and I didn't go with it. Nor are the names of the singers given, not even in any sort of credits at the end; you have to go to the downloadable online cast sheet to find them. Followers of the house's online activity will be familiar with the brilliant proteges of the Jette Parker Young Artists Programme who feature here and the first face we see onstage, Sophie Bevan's as a Gretel wrapping presents in her pajamas, is a very welcome one.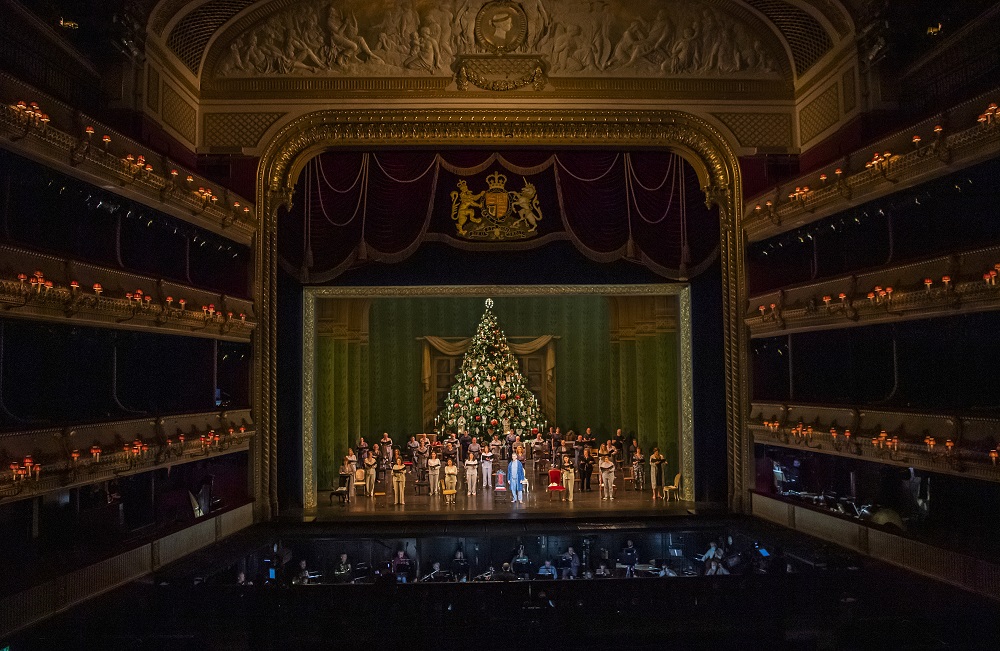 Before curtain-up, there's the Overture to Rossini's La Cenerentola, a good chance to observe how everything is at the point of Wigglesworth's elegantly-wielded baton. The crescendos are perfectly gauged, and the bittersweet solos for clarinet and later oboe and piccolo, limning Cinders' happy-sad essence, are beautifully nuanced. So, too, the wind solos punctuating the folkish simplicity of the song artlessly delivered by Humperdinck's Gretel, a perfect contrast to the demonic edge of the Witch's Ride interlude between Acts One and Two (unannounced, so a pleasant surprise). Bevan and Hanna Hipp's Hansel interplay with convincing childlike robustness; the cuckoo sings robustly from somewhere in the auditorium and forest panic is matched by perfect lighting to make the Christmas tree menacing. Balm comes from Masabane Cecilia Rangwanasha's Sandman, so bright and beautiful in the culminating lines, an unsentimental but softly glowing children's pair, and an uncloying Angel Pantomime (curtain down).
Rangwanasha reappears as Puccini's Mimi in La bohème, but at the point of the Café Momus act we've reached, she's playing second fiddle to the star turn of Musetta. Alexandra Lowe has all the panache but not quite the top-note brilliance we've heard from her in previous performances, and you can't help but miss the table-top antics of the Richard Jones production.Still, I'd rather be at Momus than singing in Vaughan Williams' Fantasia on Christmas Carols; it didn't seem any less dreary than remembered simply watching Williams and the Royal Opera Chorus do their best (and there was time to fixate on the words of "This is the truth sent from above" and, pace His Dark Materials, wonder about a religion based on the "crime" of a man and woman having sex).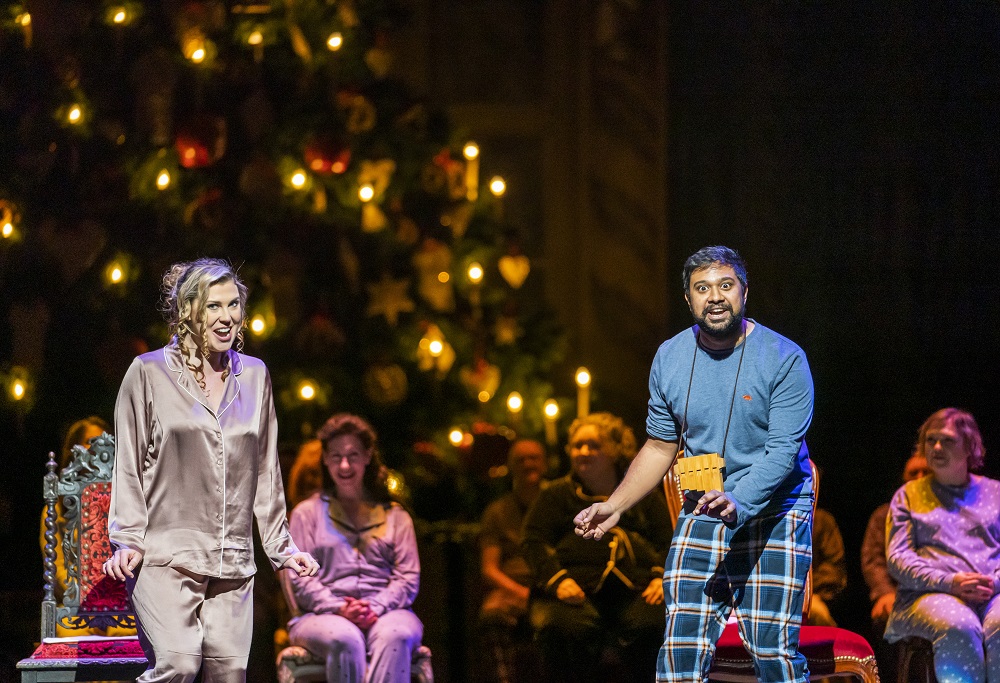 The carol arrangements at the end were OK ("The Holly and the Ivy") and, to my ears, syncopated-horrid ("Ding, Dong, Merrily on High") but perfectly well done. I'd rather have left it at the hymn of praise at the end of Mozart's The Magic Flute. A neatly dovetailed selection, this, also giving us the exquisite Pamina-Papageno duet missing from the Glyndebourne 90-minute version (here sung by Bevan and Ross Ramgobin), a rather gentle-lovely orchestral introduction to Papageno, Tamino's Portrait Aria and song with flute perfectly incarnated by handsome light lyric tenor Filipe Manu (needs work on the German, though), and the Pa-Pa-Pa duet (Lowe and Ramgobin pictured above) with most of the preceding monologue (choral ladies could have sung the Three Boys for completeness' sake).
You can never have too much Flute, Bohème or Hansel; and I appreciate that there are those who would love the carols, too, so – something for everybody, well worth the "ticket". Biggest musical wish for 2021? That Wigglesworth is announced as the successor of Royal Opera Music Director Antonio Pappano, since as far as I can see he's the only other conductor who will pay as much attention to every aspect of company work.
I'd rather be at Puccini's Cafe Momus than singing in Vaughan Williams' 'Fantasia on Christmas Carols'
rating
Explore topics
Share this article