Der Rosenkavalier, Bavarian State Opera online review - myth-making magic |

reviews, news & interviews
Der Rosenkavalier, Bavarian State Opera online review - myth-making magic
Der Rosenkavalier, Bavarian State Opera online review - myth-making magic
A superb cast brings to life Barrie Kosky's vivid Strauss/Hofmannsthal reinterpretation
A veteran Cupid/Time (Ingmar Thilo) presides over the first meeting of Octavian (Samantha Hankey) and Sophie (Katharina Konradi)
Venus, Cupid, Folly and Time stalk this haunting dream of a Rosenkavalier. The love games of teenager Octavian and his experienced mistress the Marschallin are sexy and plausible; the comedy of ridiculous Baron Ochs keeps a low profile, but stays real and turns out funny in unexpected places; a winged old gentleman (Ingmar Thilo) embodies the second and fourth manifestations.
Does he make up for all the detail in the minor and non-singing roles shed by
director
Barrie Kosky? For me, yes. Hugo von Hofmannsthal's libretto for
Richard Strauss
, firmly rooted in the detail of a mid-18th century Vienna, is unlike most of his work, which tends to the mythical and allegorical. Kosky replaces the supposed realism with the timeless in unexpected ways and places. It's not the last word on a baroque confection with depth – which production is? - but it creates anew without losing sight of the essential themes.
The context could hardly be classier. Was it for social distancing's sake that Strauss's opulent score is much reduced in the currently-ubiquitous Eberhard Kloke's reduction for 38 players? An argument is made for more transparency, better interplay with the stage. There are some annoyances – why the piano intruding in the Marschallin's remembrance of times past when the chamber ensemble is already there? Why that nasty thickening instrument the harmonium, fallback of early 20th century reductions? There are enough players not to warrant it. But with Vladimir Jurowski in command, the textures still glisten and woodwind colours emerge more vividly than usual (superb bass clarinet), while the pace has none of the sentimental slowings which too often bedevil contemporary interpretations.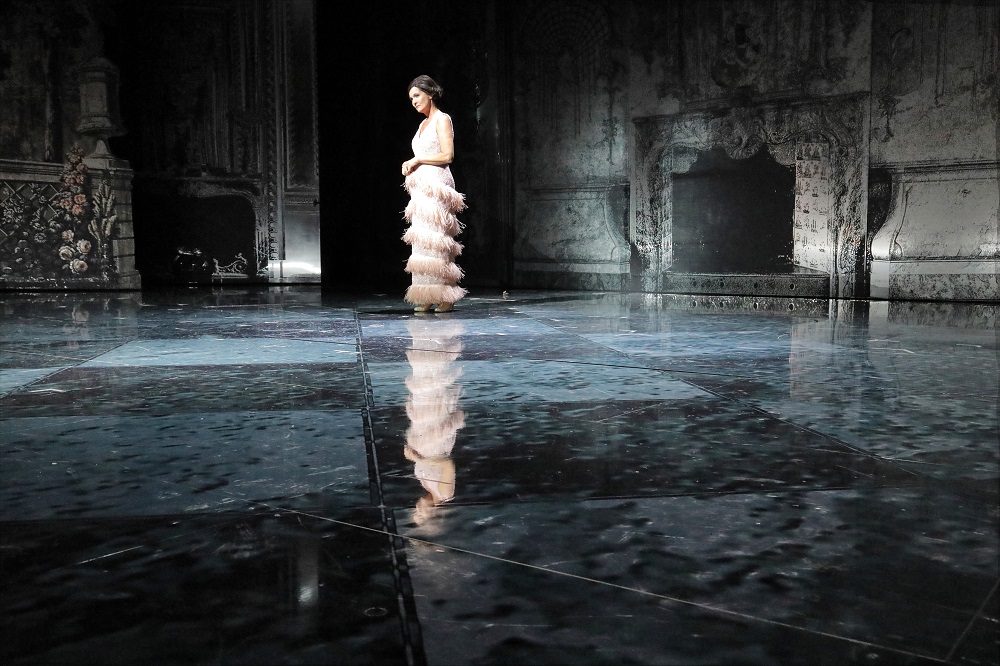 Jurowski also allows the singers, Marlis Petersen's intelligent and beautiful Marschallin especially (pictured above) to energise the text even in what we think of as the set-pieces. And what knocked me for six is that the music is absolutely complete, with none of those fussy cuts which are common to nearly every opera house in the world, and which often have the paradoxical effect of making the third act especially seem longer.
What Kosky gets his performers to do justifies each opening-up. Ochs's long monologue of his repellent amatory achievements in Act One holds up with fine articulation and a remarkable bass voice, secure at both bottom and heights of the range, in the rather handsome personage of Christof Fischesser. The early business with Octavian dressed up as a very forward chamber maid is low level, not especially funny, but not embarrassing or unreal either. The real comedy can develop in Act Three, a "Viennese masquerade" more stagey than even Strauss and Hofmannsthal would have imagined, with a full auditorium to look out on beyond the stage-within-a-stage (Kosky achieves a coup with it in Ochs's final humiliation, pictured below).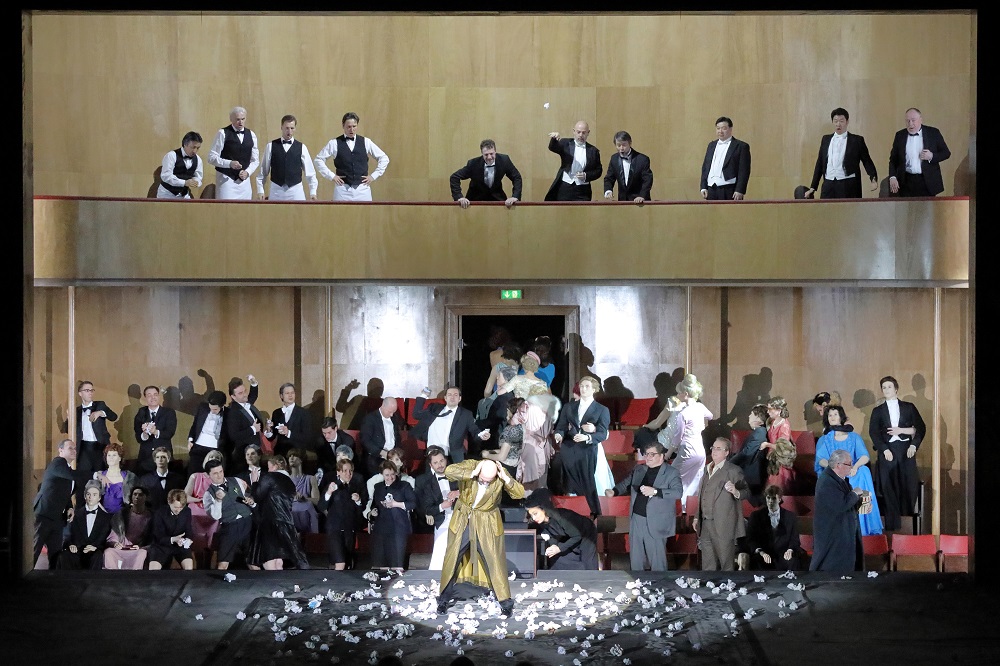 Each act has a completely different look, unforgettable in the sets of Rufus Didwiszus, Victoria Behr's costumes and Alessandro Carletti's lighting, and a different summons: grandfather clock in Act One (the face goes whizzing off during the Prelude which parodies the lovemaking of Octavian and the Marschallin); an alarm for Sophie to get out of bed and be married off to a man she hasn't met (she falls for the "rose-bearer" Octavian instead, of course); and a cuckoo clock for the more rusticated Act Three farce. The tarnished silver of Act One has various "stages" whizzed across it: a baffling magic garden when the original libretto has the Marschallin's page-boy brings in the breakfast, little Cupids on pillars, a full-colour Louis XIV panorama for the Italian tenor (Galeano Salas, superb).
Yett Kosky knows to leave well alone in the superbly staged one-to-one of Octavian dealing with the Marschallin's changed mood in the great final scene here: kneeling confidences, rejections, back to back – all charting the mood of great music theate. Samantha Hankey is as handsome and convincing an Octavian as any I've seen, providing what Kosky calls that Ovid-Metamorphoses frisson of sexy boy-girl (pictured below right as Mariandel in Act 1, with Petersen and Fischesser). Petersen is pure class from start to finish. I can hear people saying already, what about the aristocratic side? But Kosky has shed all the class issues.
So we move on not to a nouveau-riche palace with windows for all the street to gape in on Faninal's acquired wealth, but a picture gallery of Cupids and classical amatory adventures. At several points a bacchanal or Poussinesque dance to the music of time comes to life, replacing the usual pursuit of maidservants by Ochs's retinue, and besuited men sprout horns - a play on Pan-ic?). Time/Cupid drives the coach for a properly splendid Presentation of the Rose; Katharina Konradi's Sophie is both spirited and virginal, though quickly succumbing to a passionate kiss, and exquisite in the hgh-flying lines. The new scenario shouldn't work, but it does, thanks to the fine-tuned detail as well as the quirky characterisations of Johannes Martin Kränzle's Faninal, Wolfgang Ablinger-Sperrhacke's Valzacchi and Ursula Hesse von den Steinen's Annina. There's not the huge gallery of characters Richard Jones gave us in his equally inventive Glyndebourne Rosenkavalier, but it all works at the same high level of choreographed perfection.
Our ancient Cupid is still hovering around the more realistic set-up of Ochs's assignation with "Mariandel" – sitting in the stalls on the stage, in the prompt box, at one point returning against a stage freeze and a bit of usually discarded orchestral interlude music to drop Ochs's discarded and much-missed toupee on the floor (I laughed out loud at that bit), finally atop the grandfather clock. Nor does the usual magic fail to materialize in the great final scene, trio and duet: with three such radiant voices as Petersen's, Hankey's and Konradi's, how could it? You have a month to view this on Arte for free; I'll be returning at least one more time, grateful for such an amazing achievement in difficult times as Germany retrenches again.