The Tomorrow War, Amazon Prime - futuristic blockbuster outstays its welcome |

reviews, news & interviews
The Tomorrow War, Amazon Prime - futuristic blockbuster outstays its welcome
The Tomorrow War, Amazon Prime - futuristic blockbuster outstays its welcome
Chris McKay's film isn't a disaster, but could have been a lot more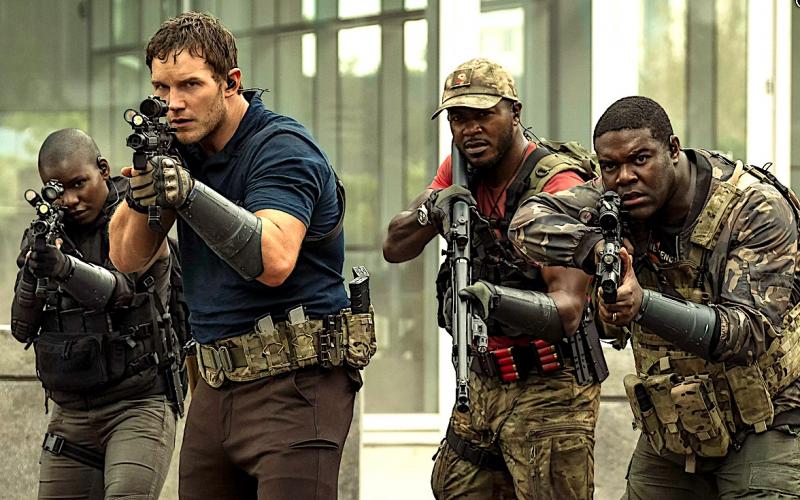 Back to the future: Dan Forester (Chris Pratt) and comrades
Originally designed as a Yuletide widescreen blockbuster, The Tomorrow War belatedly emerges on Amazon's streaming service, which at least means you can hit the pause button during its immense 140-minute running time whenever you need a leak or a refill.
Director
Chris McKay's film is a loud and spectacular story of time-travel and impending armageddon with a bit of emotional window-dressing for good measure, but lets itself down by relying on too many ideas which have been explored better elsewhere.
Nonetheless, the basic setup is quite arresting. Dan Forester (Chris Pratt), an Iraq combat veteran turned science teacher, has just been turned down for a plum new job. He's trying not to let his disappointment spoil the party at his home, where a crowd has gathered to watch the World Cup Final (Americans watching the World Cup Final? Yep, it's science fiction). However, the match is interrupted by the arrival of a menacing-looking bunch of black-uniformed soldiers who teleport onto the pitch out of a cosmic cloud. Their leader explains that they've come from 30 years in the future, where mankind is struggling against an alien enemy. Mankind is being wiped out, and they've come back in time to seek help.
This has far-reaching consequences, and lets the film float a few ideas that resonate with our recent experiences of lockdowns and social control during the pandemic. Here, the whole world is suddenly heading for martial law as thousands of unwilling citizens are conscripted and transported into the future, where they suffer 70 per cent casualty rates. Social unrest and anti-war sentiment are running rampant, especially since this war doesn't even exist in 2022, and international anarchy is becoming a distinct possibility.
When Dan gets the call-up and has his personalised "jump band" – which enables him to be beamed up and contains his personal biometric information – painfully clamped to his left forearm, he considers ducking the draft and going underground with wife Emmy (Betty Gilpin) and daughter Muri (Ryan Kiera Armstrong). His dad James (an amusingly terse and prickly JK Simmons) is some kind of survivalist rogue scientist who could fix it for Dan, but too much historical bad blood between them makes Dan scrap the plan.
Long story short, Dan ends up in 2051 trying not to be massacred by the hideous "White Spikes", a species of fanged and tentacled monsters which attack in endless fast-moving swarms and are almost impossible to stop. Dan and his comrades (including Sam Richardson as Charlie and Mary Lynn Rajskub as Norah) aren't helped by being thrown into action without even the most basic training, and (apart from Edwin Hodge's hard-bitten Dorian) don't even know what the enemy looks like – hardly a recipe for tactical success.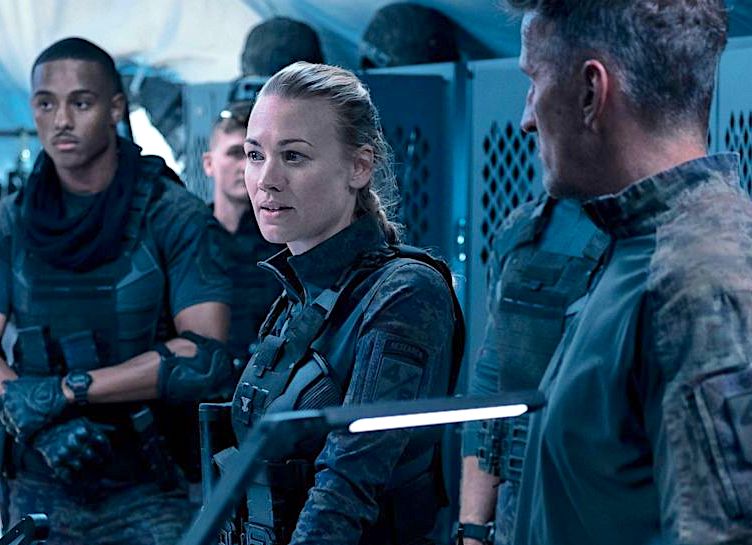 There are some impressive technical set-pieces, like the scene where Dan and his comrades suffer a transporter glitch and end up tumbling calamitously out of the sky, or the shots of a ruined, blazing Miami under a tropical sunset, but the endless shoot-'em-up scenes with the CGI hostiles become much too computer-gamey. The time-jumping theme is leveraged to best effect when Dan meets his adult daughter (who has turned into Yvonne The Handmaid's Tale Strahovski, pictured above), which lets screenwriter Zach Dean run with the idea of roads not taken and having the chance to live a re-examined life, but the imperative to make Dan a chisel-jawed American hero doesn't leave much room for subtlety.
Length-wise, less would surely have been more (though judging by a couple of sudden edits in the narrative, more was previously even more), and an extended climax lifted almost wholesale from Alien takes the viewer's already stretched patience well into extra time. Besides, we'd already had echoes of Terminator, Starship Troopers, Looper and Joe Haldeman's novel The Forever War (the clue's in the title) to contend with. The Tomorrow War isn't a disaster, but it could have been a lot more.