Summer seasons in a Covid world: five opera company movers and shakers reflect |

reviews, news & interviews
Summer seasons in a Covid world: five opera company movers and shakers reflect
Summer seasons in a Covid world: five opera company movers and shakers reflect
The admins are the heroes now: how festivals surmounted all obstacles
Tuesday, 14 September 2021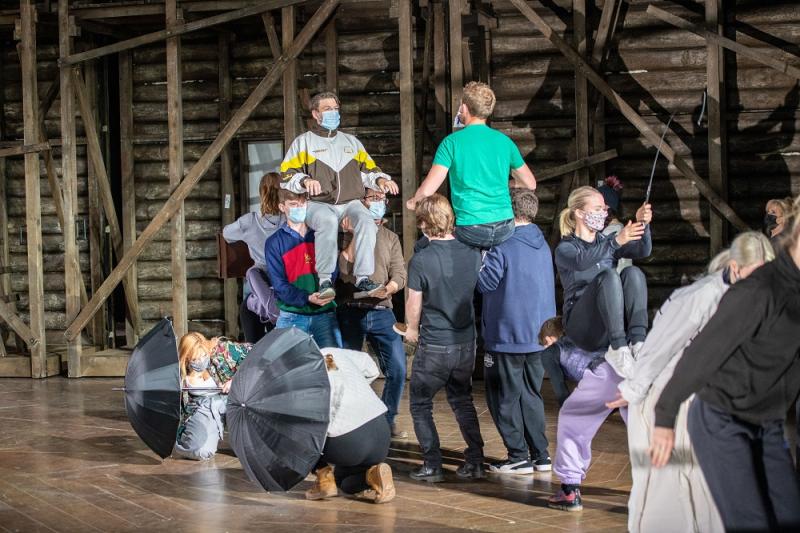 Rehearsing a scene from Tchaikovsky's 'Eugene Onegin' at Garsington
The bleakest time of all for live music during the Covid crisis came in the first four and a half months of this year.
Re-emergence came too late for many of the big national
opera
companies – though the Royal Opera threw down a sensational gauntlet with Richard Jones's new production of Mozart's
La clemenza di Tito
– but the summer houses were under pressure to start delivering, beginning with Glyndebourne in mid-May.
That their directors, CEOs, call them what you (or they) will, and their tirelessly hard-working teams managed to do so much for musicians starved of work makes them, surely, the heroes of this crucial year. We asked five of them to summarise what the challenges and payoffs had been. David Nice
Douglas Boyd, Artistic Director, Garsington Opera
Our ultimate aim was to create an ambitious and exciting festival that we would be proud to share in any year, whilst keeping our artists, backstage staff and audience safe. Garsington nevertheless had to overcome its greatest ever logistical and artistic challenges to bring four productions safely to fruition. How did we do it?
First of all, we invested time and money to increase the size of our orchestra pit, enabling us to fit as many players as possible in a socially distanced manner. When we discovered the brilliant re-orchestration of Der Rosenkavalier by Eberhard Kloke, we realised that we could open our season with the ambitious repertoire we had originally planned. We wanted to create safe conditions for the musicians without diluting the glory of our two resident orchestras, the Philharmonia and The English Concert.
We established protocols within a strict Covid-19 testing regime. By rehearsing, until the last moments on stage, in masks, distancing in well-ventilated rehearsal spaces, limiting the number of personnel in rehearsal rooms, closely monitored by a designated member of stage management, using perspex screens between performers and creative teams wherever possible along with heightened cleaning and sanitising, we came through the production period relatively unscathed, thanks to the incredible flexibility, willingness and goodwill of our artists and staff.
There were scenes which at times seemed insurmountable in a Covid world – such as the large set-piece chorus in the St Petersburg Ball scene in Eugene Onegin [pictured above by Julien Guidera] or the "three in a bed" scene in Le Comte Ory, but safe and sometimes hilarious solutions, helped by hours and hours of rehearsing, were eventually found. I think the greatest compliment that was paid to us by audience members was that they didn't notice any "Covid compromises" and that artistic standards were higher than ever.
The whole point was to perform live again to audiences – we had almost forgotten what that felt like – which was an incredibly emotional experience, and to allow our audience to be transported and forget the outside world for a while. Out of the turmoil of the last 18 months we somehow created a season which we will remember for the rest of our lives.
Michael Chance, Artistic Director and CEO, The Grange Festival
On 21 February, Boris Johnson delivered his roadmap speech. He announced the expectation that all Covid restrictions would end on 21 June 21. Running what is a relatively small summer opera festival, scheduled to open a fortnight earlier than this date, I decided to telescope our programme of 20 performances in order to open after it. The risk was clear but the potential gain substantial: for us to be able to accept any ticket sale and not turn anyone away so that we would not break the one metre+ rule in a socially spaced auditorium. The difference for our theatre was 255 as opposed to our full capacity of 610. The enormous pressure on our box office team and the prospect of irritating our audience with changes to their dates and their seats began at that moment. [Pictured below: before full or fuller houses were permitted, the "seats between" were occupied by photos of musicians and administration]
We started rehearsing five separate productions in mid-April, each with its own cast and stage management team, in five separate locations in London. Our first week of music rehearsals for A Midsummer Night's Dream, with a cast of 21, and getting on for 30 in the room for the full sing-through, was masked for entry and exit and seated at one metre+ distance. At that stage we were testing with Lateral Flow Antigen twice a week. In the following week, production rehearsals started in a different location, with the first two days being seated talk-throughs of the text of the opera. By the end of that week, our conductor and three cast members had all tested positive. We shut the production down, and hired a Covid consultant. A new protocol was established for conducting "safe" rehearsals, which involved fewer people in the room at any one time, two lateral flow tests and a PCR test for all every week, and a request that any member of the company must feel safe and report any instance of physical proximity lasting more than a few seconds to stage management. Oh, and every rehearsal for all from then on must be masked for all. These rules were subsequently more or less adhered to successfully, notwithstanding the oppressive challenge of singing while masked. The Dream rehearsals were resumed after a break of 10 days, with all company members having supplied a negative PCR test.
At this stage we faced these daily challenges with the realisation that subsequent multiple positive tests would alert the authorities, who would have no hesitation in shutting us down completely. End of festival.
On 14 June, the Prime Minister announced a delay to the unlocking. Our festival was due to open 10 days later with a weekend launching two productions: A Midsummer Night's Dream and La Cenerentola. While I was watching Johnson's speech, I sent a rather desperate e-mail to the DCMS Secretary of State, Oliver Dowden, to suggest that The Grange would be a suitable "test" site for an unrestricted audience. I certainly did not expect a response. Via another route, most surprisingly we were added to the DCMS list for test events two days later, and so began a process of trying to work out, on both sides, what this actually meant.
Many webinars and zoom meetings later, we had a plan to open our festival to full attendance from 1 July until the Events Research Programme Pilot scheme ended on 18 July. It was fun sharing zoom meetings with the management of Wimbledon, Wembley, the FA etc. By this stage we had changed the bookings of some of our audience up to four times. Some, not surprisingly, dropped out; most stayed with us, and our beleaguered box office team were tearing their hair out. DCMS wanted, indeed insisted, that every audience member had to use the NHS app. to get the necessary confirmation of two vaccinations or register negative tests. Both Wimbledon and we suggested that this technology was not appropriate for our demographics. As it turned out, we were wrong. It all went swimmingly from the first day. Indeed observers from NHS and DCMS praised our seamless entry procedure, which required a lot of our audience and staff. Who would have thought?
So we gave seven performances to half-full houses, and 13 to, mostly, pretty full houses, and on five or so nights, completely full houses. As is my wont, I give a short speech from the stage after every show, thanking the many who have supported us etc. It was more than a thrill to be able to announce to over 600 people that they were sitting in the only fully-seated opera house in the world. I was, of course, not totally sure that this was the case, but nobody has yet proved otherwise.
During the run of performances, and certainly in the early stages, each day gave us absences both on and back stage, announced at very short notice because of a positive test or a "ping". We very nearly did not open at all. Less than a week before our first night, our Bottom in the Dream announced that a member of his family had tested positive. He had to stay at home for 10 days. The same evening, we found another Bottom, Henry Waddington, already highly acclaimed in the role [pictured right with Johnny Herford as Starveling]. He was working for us already in another production. We cancelled the public dress rehearsal so that he could be rehearsed into the production. He was word- and note-perfect from the start, not having sung it for at least seven years. So all was looking good. The day before the first night, a member of his other production tested positive. Henry got up at dawn on his first night, got himself a rapid-result PCR test first thing and was able to tell us that he was negative by 10am. Bottom being the biggest role in the opera, a different result would have meant a cancellation of our opening night at a few hours' notice.
There are many other decisions we had to make, not least about having a live orchestra in The Grange. The management of our resident orchestra, the Bournemouth Symphony, told us in January that they could allow, safely, only 15 in our pit. After many weeks of laborious planning and preparation, and, I have to say, quite brilliant expertise from a designated team, including a Master's student at the Royal Academy of Music, Tom Fetherstonehaugh, who ran the whole operation, we were able to offer the full orchestral scores of our three operas pre-recorded but performed to a large degree "live" in the theatre, to the disappointment of just a handful and the delight of the very many. Cutting-edge technology was used and developed especially for this process. Indeed, quite a few keen and informed pairs of ears were happily duped.
Running opera festivals is never for the faint of heart. This unique year, triply so.
James Clutton, Director of Opera and CEO, Opera Holland Park
Transparency and open dialogue have been crucial to Opera Holland Park's relationships with artists, creatives and crew, and with members and supporters. From the first lockdown of 2020 we began to hold regular online sessions with our supporters to give them a platform to ask me and my team questions, which we would answer honestly and without sugar-coating. The feedback we received from these sessions helped us to plan the season. The maxim that our company is not defined by a building but by our people has held true. [Pictured below: orchestra and arriving audience in takis's specially designed auditorium]
Long-held plans to increase our digital output became a matter of urgency last year when we were unable to hold any live performances. We learned new skills, at speed, while focusing on returning to live performance as soon as guidelines allowed. What did we learn? A great deal. Over the last 18 months, we streamed a Christmas Concert, a performance of Pavel Haas's Fata Morgana to mark Holocaust Memorial Day, the recording of a recital by David Butt Philip and James Baillieu, music lessons for schools and family workshops, and filmed William Walton's comic opera, The Bear, for release this autumn.
As the restrictions began to lift last summer we held a handful of socially distanced events on the site where our theatre normally stands. They enabled us to get the company in front of some of our audience again and to show the resilience of the company. They were also the inspiration for a radical redesign of our stage and auditorium.
In parallel with increased digital output, we worked with the designer takis to reimagine our theatre to combine safe social-distancing for audiences, artists and backstage and front of house staff with a fresh, contemporary look to maximise the beauty of the setting in Holland Park.
We set our capacity at 400 – a 60% reduction from the old grandstand – with individual seats that were grouped according to the size of household bubbles. We took our members and supporters through the evolution of the designs, from the use of sustainable and recycled materials to the necessity of providing a safe environment for our artists and staff, many of whom were too young to have been vaccinated by the start of the season. We sourced chairs from previous productions at Opera Holland Park, the National Theatre and Welsh National Opera.
Opera Holland Park receives no public funding but a key point in our planning was to retain the percentage of free and accessible tickets for the community. We introduced four Discovery Matinees – one each of The Marriage of Figaro, La traviata, The Cunning Little Vixen and L'amico Fritz – to welcome families and first-time opera audiences to relaxed performances. We also doubled the number of Schools Matinees and Young Artists performances.
This year marked the 10th anniversary of our Young Artists scheme and the Silver Jubilee of Opera Holland Park. We intended to celebrate. Safely. To that end, we did not increase capacity after 19 July for two reasons. Firstly, we were unconvinced by the idea that Covid safety protocol could be lifted wholesale without consequence, and secondly, we had made a contract with our audience when we sold those socially distanced seats and were determined to honour that contract. The reaction to this decision was wholly supportive.
Our covered open air venue had obvious advantages this summer, and we wanted to share those advantages with other companies and artists. We opened the theatre to freelancers who wanted to produce their own concerts, from Canteloube's Chants d'Auvergne to Mahler's Das Lied von der Erde, and hosted Quick Fantastic's production of Bernstein's Wonderful Town. We collaborated with Charles Court Opera on a co-production of The Pirates of Penzance, and with Julien Van Mellaerts and Dylan Perez on a recital series, Opera in Song. The theatre proved flexible enough to suit two visiting productions by British Youth Opera, a jazz set from the 606 Club, and three nights of calypso and steelpan music from Notting Hill Carnival.
Running an extended festival during a pandemic was a challenge that we were ready to address. By "we", I don't just mean professionals, I mean our audience. People often assume that opera audiences are resistant to change, stuck in their ways, reluctant to consider attending a performance in a theatre at a time of public health concerns. But they stood by us and embraced our vision and the design of the new auditorium. The faith shown in us was demonstrated not just in record levels of individual donation and sponsorship but in the purchase of tickets, and in the support of our SOS Campaign, designed to offset the 600 missing seats at each performance.
The trauma of the last 18 months gave us an opportunity to rebalance and reimagine our work, making it stronger, brighter and a more immediate theatrical experience than ever. Now we are looking forward to 2022.
Wasfi Kani, Founder and CEO, Grange Park Opera
It was crucial not to be feeble. The programme was fixed more than three years ago – and it was expensive. We stuck with it – despite the limitation on audience numbers. The audience very much appreciated that.
Singers had to be distanced both in rehearsal (when they wore masks) and performance (when they weren't masked). At all times the company were told to distance from one another. They were regularly tested.
So we staged the promised season at the promised time, presenting a world premiere (Litvinenko), superstar Bryn Terfel [pictured above with Natalya Romaniw in rehearsal for Falstaff] and an opera (Ivan the Terrible) that was last staged here 112 years ago.
The audience loved the ambitious operas, the place itself (300-year-old gardens, a wild orchard and a new garden around the opera house), and the sense of family.
Stephen Langridge, Artistic Director, Glyndebourne
Putting on the Glyndebourne Festival this summer demanded all of our courage, determination and expertise, but there was never any question that we would do whatever it took to go ahead – it's what we do and, more importantly, culture is needed more than ever after the events of the past 18 months.
It was a really ambitious season featuring five operas, including three new socially-distanced productions from international creative teams, and a concert series that was filmed for broadcast on Marquee TV – a total of 60 performances. Bringing off such an audacious programme without having to cancel a single performance required an amazing team to go beyond the call of duty and I'm extremely proud of the company's achievement.
But it wasn't easy. In fact, it was extremely challenging for everybody – those at the sharp end of creating the productions at Glyndebourne and all the company members who kept going with heart while being asked to work at home.
We were extremely careful with the health of everyone involved – artists and audience, of course, but also the backstage teams who often work in close proximity and at high tempo. Social distancing for technical teams and a reduction in the number of productions rehearsing simultaneously made it impossible to perform opera on as many nights as we would normally, so we slimmed down the schedule but then used some of the space this created to present an exciting series of concerts, programmed by our Music Director, Robin Ticciati.
Other adaptations saw a reduction in performer numbers to allow for social distancing on stage, in the pit and in rehearsals [pictured above by James Bellorini: director Mariame Clément working on Il Turco in Italia] – every opera had a reduced orchestra, except our semi-staging of Wagner's Tristan und Isolde. The Glyndebourne Chorus performed onstage in reduced numbers in Il turco in Italia, but for most of the festival, they sang from a rehearsal room via a live relay – a very strange Festival for this group of committed stage creatures.
All our performing companies had to work in bubbles while at Glyndebourne, so we installed large video screens in rehearsal rooms to allow for remote participation and to enable people outside of the performing company bubble to "visit" rehearsals. With the bubbles and complexity around the use of rehearsal rooms there was no space to rehearse understudies in the usual rigorous way this year. Instead we had terrific singers ready to step in, who could sing their roles from the score, but wouldn't be ready to go onstage and act and sing from memory, meaning some creative solutions were needed in the event of illness.
This year we experienced conductors, singers, language coaches, directors and designers rehearsing with us via video link, because they were in quarantine or self-isolating. We had performances where there were up to two singers at the side, with actors playing the roles on stage – no production was left untouched by these surprises. Throughout, the audiences engaged imaginatively and cheered on our efforts.
We had to adapt our front of house experience with temperature checks and track and trace forms for all visitors, as well as staggered entry and exit from the auditorium. We erected extra tents in the gardens to create more undercover space [pictured above: the new covered picnic area with tables on the croquet lawn] and had one-way systems for navigating around the site. We employ lots of seasonal workers during the Festival and like many businesses, we grappled with under-staffing at times due to people self-isolating after being pinged by the NHS App.
That's a snapshot of the challenges we faced, but constant throughout was the unwavering support of our audience, which was limited for most of the summer to 50% of our usual capacity. I think the ovations we saw were, of course, in response to great performances, but also a celebration of the return to live opera with all its togetherness, its riskiness, sheer musical theatrical athletics, and our refusal to give up, ever.
It was more than a thrill to be able to announce to over 600 people that they were sitting in the only fully-seated opera house in the world
Explore topics
Share this article