Shining City, Theatre Royal Stratford East review - occasional sluggishness alongside a true star turn |

reviews, news & interviews
Shining City, Theatre Royal Stratford East review - occasional sluggishness alongside a true star turn
Shining City, Theatre Royal Stratford East review - occasional sluggishness alongside a true star turn
Conor McPherson play from 2004 fumbles at the finish line
Monday, 27 September 2021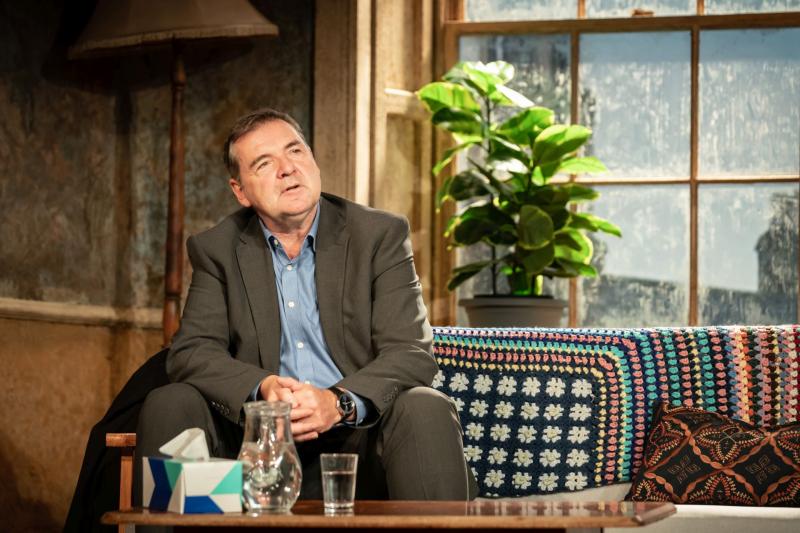 In therapy: Brendan Coyle in 'Shining City'
When Brendan Coyle, playing a modestly magnetic widower and sales rep called John in this revival of Conor McPherson's 2004 play Shining City, first appears on stage, he looks thoroughly bewildered. His eyes dart back and forth as he initially struggles to find his bearings.
He has arrived at the office of the therapist Ian (Rory Keenan) whom he has sought out in an attempt to understand why he keeps seeing the ghost of his dead wife.
Such confusion seems apt. The intimate, understated Theatre Royal Stratford East, has served up some gems over the years – most recently its 2018 London premiere of Sarah DeLappe's The Wolves – but it can't often claim to have an Olivier-winning alum of Downton Abbey gracing its stage.
Coyle's John soon gets over his bafflement and tells Ian of the guilt and sense of loss fuelled by his wife's death in a road accident, one heightened by a brush with infidelity and his sense of alienation with the world around him.
You can see why Coyle, last on the London stage in Jonathan Church's West End revival of Arthur Miller's The Price, was drawn to E15. He is brilliant as John, taking maximum advantage of the potent weaponry McPherson grants his actors in the form of poignant monologues and ingeniously placed revelations about their characters' destinies. At times, Coyle resembles the ultimate late-night TV chat show guest, replete with exaggerated hand gestures and a gift for the compelling anecdote.
Given Coyle's charisma, it's easy to forget that Ian is the one who appears in every scene of Shining City. Keenan (pictured right), to his credit, expertly channels the pensiveness and passivity of a former Catholic priest now struggling with his sexuality and new fatherhood. Rounding off a fine quartet of performances, Michelle Fox is feisty as his estranged girlfriend Neasa and Curtis-Lee Ashqar affecting as male prostitute Laurence. But it is the dynamic between Coyle and Keenan that supplies this revival with its spark. Director Nadia Fall makes the most of two men finding common ground in loneliness and uncertainty at the same time as one is trying to build a new life while the other is struggling to move on from the death of the life he once knew.
Nearly two decades after its Royal Court premiere, Shining City certainly holds up. It's more about social connection than social distance but John's plea "to have a transaction where some normal rules apply again" certainly rings true post-pandemic, even if it applies to a botched visit to a brothel rather than more commonplace retail behaviour. McPherson is one of the most successful living playwrights, most recently enjoying huge success writing the book for the Bob Dylan musical Girl from the North Country. How many other living playwrights can claim to have had a gastropub named after one of their plays, as McPherson did in the case of The Weir on Manhattan's Upper East Side? (That establishment, sadly, did not survive Covid-19)
Yet McPherson is hardly a household name and one explanation for this might be that his obsession with ghosts seems to be more driven by the inner pain they cause the living than the frightful vengeance that is enacted by the dead. Fall, as director, is right to take her time with Shining City. But does she take too much time? The pace starts to drag, not helped by extended scene breaks lingering on a street map of Dublin or extended airings of Alexandra Faye Braithwaite's piano score.
This seemingly deliberate inertia makes it all the more surprising that Shining City's memorable climatic supernatural twist is rushed and fumbled, a production literally giving up the ghost. The final moments undercut a star turn from Coyle that by rights should leave Shining City burning brightly.
Conor McPherson's 2004 play is more about social connection than social distance
rating
Share this article