Jenůfa, Royal Opera review - Janáček scours the soul again in a compelling new take |

reviews, news & interviews
Jenůfa, Royal Opera review - Janáček scours the soul again in a compelling new take
Jenůfa, Royal Opera review - Janáček scours the soul again in a compelling new take
Equality of greatness from Asmik Grigorian and Karita Mattila in a striking context
Wednesday, 29 September 2021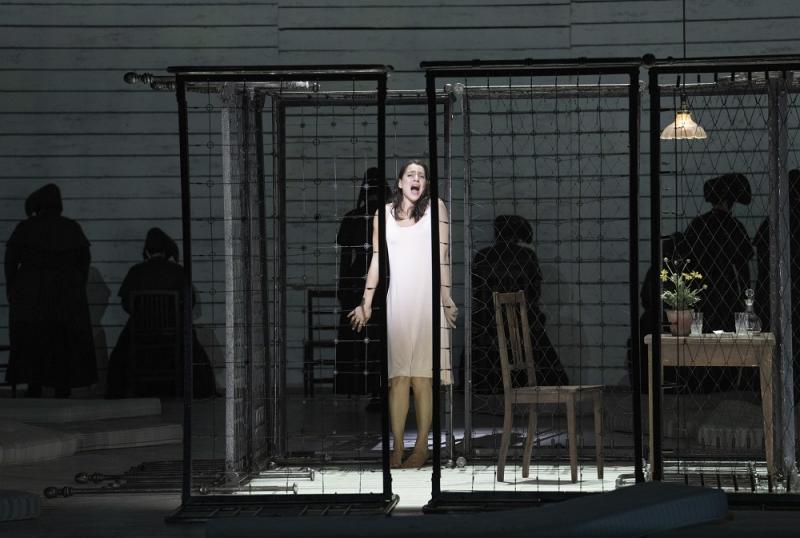 Asmik Grigorian in Act Two of 'Jenůfa'
At the heart of Janáček's searing music-drama, and the pioneering play by another remarkable Czech, Gabriela Preissová, on which it is based, are two strong women trapped in a conventional community whose intelligence goes to waste and whose lives take tragic turns.
These are roles for great singing actors, who need space and nurturing from an insightful director and conductor. In Asmik Grigorian as the clever, serious, truthful girl and Karita Mattila, once a leading interpreter of the eponymous heroine, as her stepmother, the village sacristan or Kostelnička who makes an indefensible decision in order to give Jenůfa a better life as she sees it, that equality of greatness shines out for the first time, in my experience, since Roberta Alexander and Anja Silja sang the roles in Nikolaus Lehnhoff's Glyndebourne production over 30 years ago.
Lehnhoff went for realism – a mill in wooded country, claustrophobic interiors, rowdy villagers. Claus Guth's semi-abstraction starts problematically: where are we? A soldier's barracks seems to double as a maternity ward, both big and impersonal, and crowd scenes are stylized. Is this going to go the way of Damiano Michieletto's over-symbolical Káťa Kabanová at Glyndebourne? Fortunately not. The prison walls of convention, the remaking of iron beds and mattresses into the great central act where the Kostelnička watches over Jenůfa, her newborn illegitimate baby and her future, with catastrophic consequences, makes for unforgettable stage pictures, given art-installation references and quality from Michael Levine's sets and James Farncombe's lighting. The village watchers are never far away here, and though a giant ravenhead seems to have stolen in from the fantastical world of Guth's Strauss Die Frau ohne Schatten at the Royal Opera - another success-story in his uneven trajectory - it works in the semi-delirious context (pictured below by Tristram Kenton: Saimir Pirgu and Karita Mattila in Act Two).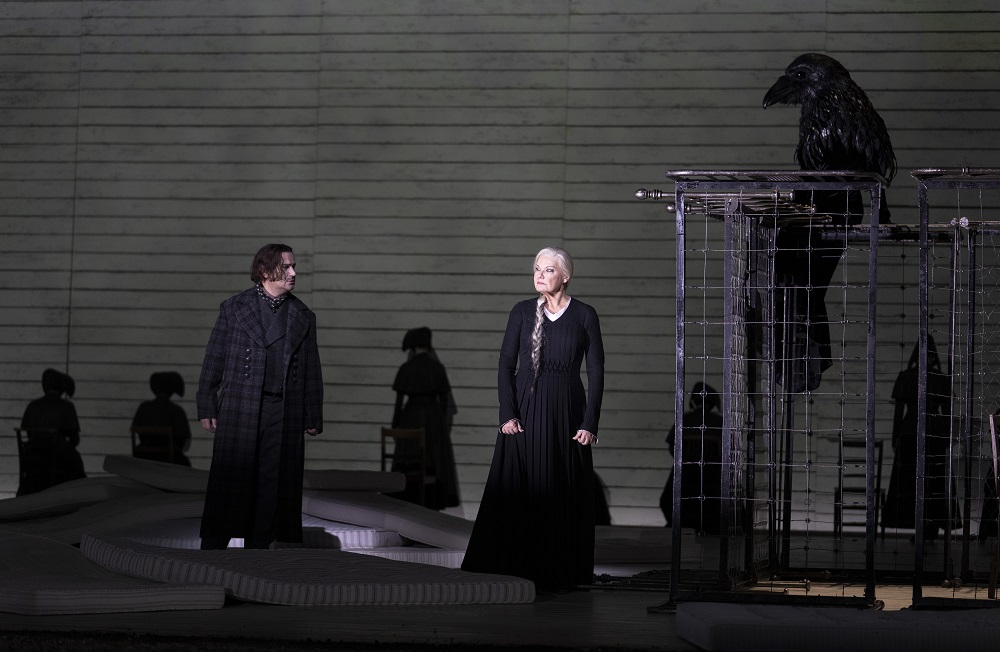 There's also much-needed colour at the Act Three wedding where Gesine Völlm's costumes come into their own. The overwhelmingly final scene, where Laca, the once-jealous outsider who slashed Jenůfa's face with a knife, stands by her and they walk beyond the slatted fore-curtain to a new life, is a stunner.
Most importantly, Guth doesn't constrict the humanity of his main characters, for all the elements of stylisation; and the partnership of natural stage animals with conductor Henrik Nánási's revelatory handling of a difficult score – Janáček's first operatic masterpiece is not without its textural problems – is often startling. Nánási isn't afraid of ungainly sounds like the louring tuba; the collective strings bite and skirl in their more difficult passages; and solo violinist Vasko Vassilev works perfectly with Grigorian as Jenůfa searches for her lost child and prays to the Virgin for his protection, never more beautiful or more painful. Two well-contrasted tenors bring the necessary intensity to their roles: Saimir Pirgu's Italianate sound rings out as attractive but callow adventurer and scion of privilege Števa, while Nicky Spence – who sang Števa at English National Opera under another great conductor, Mark Wigglesworth, and is currently rehearsing Wagner's Siegmund there, which may be putting his clarion voice under unusual strain – inflects the text like a native Czech and brings shades of the late Philip Langridge to Laca's part in the crucial resolution of the drama.
There's exceptional casting among the smaller role: Elena Zilio, a Puccini stalwart in the Royal Opera Trittico, as Grandmother Buryjovka; David Stout as an energetic Mill Foreman; Yaritza Véliz easily justfying shepherd boy Jano's transformation into a young girl: former Jetter Parker Young Artists Angela Simkin as a saucy prancer at the wedding; and Jacquelyn Stucker shining out as Mayor's daughter Karolka, who seems to have won the formerly fickle Števa's heart.
But it's the luminous tones, desperate outcries and riveting stage movements of Grigorian and Mattila in Act Two that are most fixed in the memory. It's not usual for the Kostelnička's role to be so beautifully sung, while Grigorian is in full technical control of every phrase even as her Jenůfa tears at our heartstrings. The reversal of roles towards the end is unforgettable, too, in another tableau where Guth clears the stage for the main confrontation (pictured above by Ivor Kerslake: Jeremy White as the Mayor, Mattila, Nicky Spence as Laca and Grigorian). Wounding, ultimately exultant; I can't wait to see the faces in the closeup of broadcast, which very happily for the Royal Opera can be seen for free by thousands on the wondrous OperaVision channel.
The luminous tones, desperate outcries and riveting stage movements of Grigorian and Mattila in Act Two are most fixed in the memory
rating
Explore topics
Share this article