Imperial Wax, Dead Wax, Birmingham review - ex-Fall guys whip up a storm |

reviews, news & interviews
Imperial Wax, Dead Wax, Birmingham review - ex-Fall guys whip up a storm
Imperial Wax, Dead Wax, Birmingham review - ex-Fall guys whip up a storm
Sam Curran and the ex-Fall gang leave ears screaming in a stormy autumn night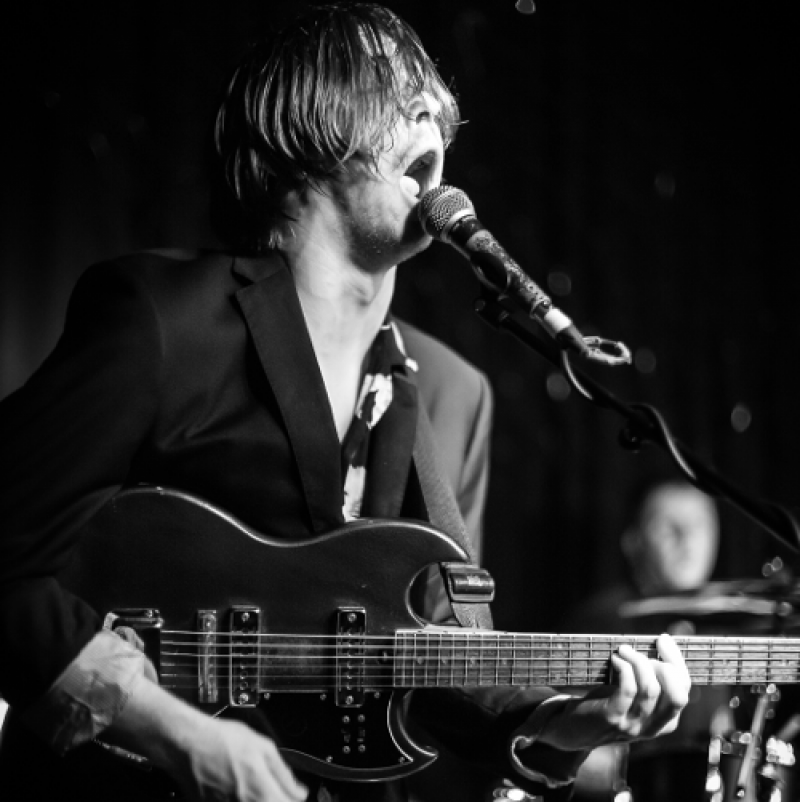 Imperial Wax: like standing in front of a jet engine
As Sam Curran leant into his microphone for the first time this evening, he announced "If you want any ear plugs, there's some free on our merch desk". Most of us were way too cool for that though and stayed where we were. It was a decision that some will have later regretted as we spent the rest of the evening with screaming ear drums.
Imperial Wax's return to live performance for the first time since late 2019 was like coming up against an unexpected howling storm. While the tunes from their debut Gastwerk Saboteurs album are a collection of gritty garage rock, rockabilly and hefty indie flavours, their new music felt more like standing in front of a wind tunnel containing a jet engine and it was thrilling stuff.
Tonight's gig kicked off with "The Art of Projection" and its "Your routine's not up to scratch" repeated refrain. This got the 60-or so strong crowd of 30 and 40-somethings bobbing gently and nodding heads, as Pete Greenway let loose a wall of sound from his guitar and Keiron Melling beat seven bells out of his drum kit. From there though, there are plenty of newly recorded, but yet to be released, tunes like "Yes I Do" (which to be honest could quite easily be called "Less Sardines", such was the muddy garage rock sound quality in the small room above a pub that is Dead Wax), which had something of a Sham 69 belligerence about it but without the meat head connotations of Jimmy Pursey's punk clowns, and "Fucking Slow" (again, a bit of a guessed title) which had a primitive thump with something of the Birthday Party about it.
Potential new single (assuming the bottlenecks in Europe's vinyl pressing plants get sorted out sooner rather than later), "Tranquiliser" saw the introduction of new bass player, Shane (his surname was never revealed) and was a muscular driving groove with howling vocals and screeching feedback. However, there were also plenty of tunes that were recorded and released before Lockdown on the setlist. "Barely Getting By" – with the very 2021 line of "I'm running out of ways to spend money I don't have" – had shards of metallic guitar slicing through the air and got some bodies moving in the audience. "Bromidic Thrills" came on like a collapsing building, while the magnificent "No Man's Land" had a primitive groove with raucous surf guitar and drums that felt like bombs going off and stirred even more people in the room to move around.
As another new song that had parallels with the Sex Pistols' take on "Roadrunner" came to an end, a shout from the back of the room announced, "Last orders at half past ten". This led to Sam Curran to declare "This is our last tune" as the band threw themselves into a monumental "Rammy Taxi Illuminati". This had the last remaining non-dancers in the venue throwing themselves around with wild abandon to a motorik groove that sounded like it was being played by a Viking raiding party. It all ended with Curran beating Keiron Melling's cymbals with his bare knuckles as howling feedback brought things to a close and was a fine reminder of what a live rock'n'roll show can be.
It all ended with Curran beating Keiron Melling's cymbals with his bare knuckles
rating
Share this article