HMS Pinafore, English National Opera review - shipshape classic comedy craft |

reviews, news & interviews
HMS Pinafore, English National Opera review - shipshape classic comedy craft
HMS Pinafore, English National Opera review - shipshape classic comedy craft
More hits than misses from Cal McCrystal's gagbook and a mostly musical line-up
Saturday, 30 October 2021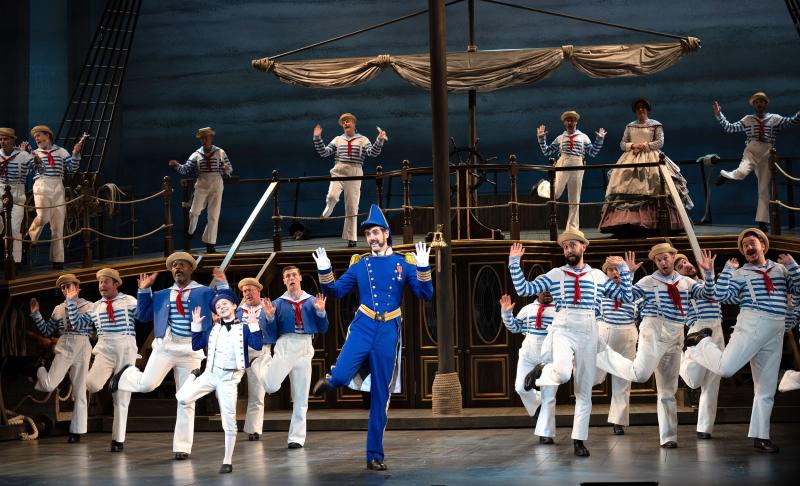 Showstopping routines from John Savournin's Captain Corcoran, 'Midshipmite' Rufus (whose surname we may not reproduce in picture captions for some bizarre reason) and sailors
Yes, it was bound to be HMS Laugh-a-minute, given Cal "One Man, Two Guvnors" McCrystal's ENO comedy riffs on an already funny early G&S classic, but what does this tight little craft have to say to Little England today?
That a British sailor's "energetic fist should be ready to resist/A dictatorial word" (violence for equality). That love should level all ranks but doesn't (so much for levelling up). And that "if you want to rise to the top of the tree…Stick close to your desks and never go to sea/And you all may be rulers of the Queen's na-vee" (words which my 10-year-old performing self didn't quite grasp, but which, now that I'm older, sadder and wiser, I see can be applied to just about every cabinet minister unfit for the sphere he or she dominates). Anything else that needs to be said is wickedly stitched in by McCrystal's extra dialogue and visual japes (yes, not-so-great-Britain's Horror Clown makes an appearance).
When I was lucky enough to share a pre-performance talk with the great Mike Leigh, he declared that Pinafore wasn't a patch on its successor, The Pirates of Penzance, which he was then staging for ENO. But it's even more classically compact, rolls along beautifully under conductor Chris Hopkins' more-than-able steering from a sentimental-brisk Overture to the final happy chorus (the late Charles Mackerras would have approved), and hits all its marks deftly.
Unlike his all-fizzing ENO Iolanthe, though, McCrystal's Pinafore doesn't always work. First step: remove that bent-over, tottering Porter aunt; she's an ageist embarrassment, and not worth the final gag that despatches her. Stop the incidental business when a main character is singing; as when our captain's daughter bewails her sorry lot while dad fails to help plump and pleasing bumboat woman Little Buttercup adroitly off the ship. I don't object to the towelled beefcake coming up from down below, but not sure there's a reason, unless it be to keep Ossian Huskinson behind for eye-candy during the wonderful glee that follows (pictured above with Marcus Farnsworth and Elgan Llŷr Thomas). Learn where you don't get the laughs and pare down.
But it's worth it for the delights which do work. In Iolanthe, the Lord Chancellor's man got all the laughs in wild physical theatre; his equivalent here is tap-dancing nine-year-old "Midshipmite" Rufus Bateman (13-year-old Johnny Jackson will go through the routines in four performances). His pint-sized insolence to ever-brilliant John Savournin's tall, very Victorian-gent Captain Corcoran is funny from the start; his lockdown video viral sensation may have prompted the Act 2 hornpipe before we get down to more plot-unfurling, and it's the expected showstopper; Lizzie Gee, Rufus' mum, who's also worked on Sasha Regan's delicious all-male G&S productions, is a choreographic genius throughout, and not just in the set pieces.
I love it that when Sir Joseph's sisters, cousins and aunts materialize – the ball-entry roll call is also funny – very tall Hebe (Bethan Langford, who doesn't have much opportunity to show off her splendid mezzo in this show) can't quite loosen up like her other relatives (Langford pictured above with Alexandra Oomens' Josephine and Elgan Llŷr Thomas's Ralph Rackstraw). The Act Two trio may not have you crying with laughter as its counterpart in the ENO Iolanthe did, but the midshipmite's wordplay with the ship's lettering is a treat.
Proper operatic casting makes you treasure the beauty in so much of Sullivan's writing, especially for his young lovers. The Mendelssohnian reverie of beauteous tar Ralph Rackstraw's entrance sequence is richly served both by the orchestra and by Elgan Llŷr Thomas, with an Italianate throb in the voice and top notes to die for; ditto Alexandra Oomaes as Josephine, getting to deliver her big Act Two scena brilliantly with only one interruption (cut the old lady out of it!) Savournin we know as a consummate performer and wittiest of directors; he carries the front-of-curtain business at the start with aplomb, and it also sets us up for the relative disappointment of Les Dennis's appearance in the show. What were they thinking of? Showbiz pulling power? Who remembers Family Fortunes, anyway?
Dennis can be passing funny as an old sot with a roving eye for a handsome sailor, but his musical timing ain't good in his self-important proclamation, and the big number is remarkable only for the chorus routines around it. The rasping feels a big desperate, like Anthony Sher's in his unfunny Falstaff for the RSC. Dennis doesn't even do the amazement-in-the-eyes bit for his Act Two dudgeon. Stick to the likes of Richard Suart or Simon Butteriss in revivals.
Henry Waddington's allegedly very smelly Dick Deadeye should just be left to sing the part; again, there's too much rasping. Hilary Summers, for once not the tallest lady on the stage, is an absolutely charming Buttercup (pictured below with Savourin), while there's de luxe casting for Rackstraw's mates, above all in Marcus Farnsworth's Bill Bobstay. It's good that ENO is using so much recently-graduated talent, too; Huskinson is a bass-baritone to watch, and I can't wait to see what Oomens does next.
The chorus has disciplined fun with the ensembles, and there's a good gag which keeps the patriotism of "He is an Englishman" from oozing smugness; I can't reveal it other than to use the word "zipwire", though I loved it that the Union Jack got stuck in the unfurling - a metaphor for the hapless nationalism currently foisted upon us, perhaps a deliberate piece of sabotage from the stage crew?
Everyone looks good in takis's parody Victoriana designs, and while the look of it all can't hope to match the gorgeous Iolanthe, the stage revolve and various reveals are well employed. ENO now have three useful G&S treasures in their repertoire, all of them ripe for revival in the coming seasons. And given his delightful way with cod-medievalisms in the Garsington production of Rossini's Le Comte Ory, could McCrystal perhaps be persuaded to salvage the reputation of Princess Ida, butchered by Ken Russell's haphazard ENO shot at it but not dead yet?
It rolls along beautifully under conductor Chris Hopkins' more-than-able steering
rating
Share this article