LPO, Canellakis, Royal Festival Hall review - ecstatic sonorities at full pelt |

reviews, news & interviews
LPO, Canellakis, Royal Festival Hall review - ecstatic sonorities at full pelt
LPO, Canellakis, Royal Festival Hall review - ecstatic sonorities at full pelt
Ideal chemistry of orchestra and conductor in a truncated but glorious concert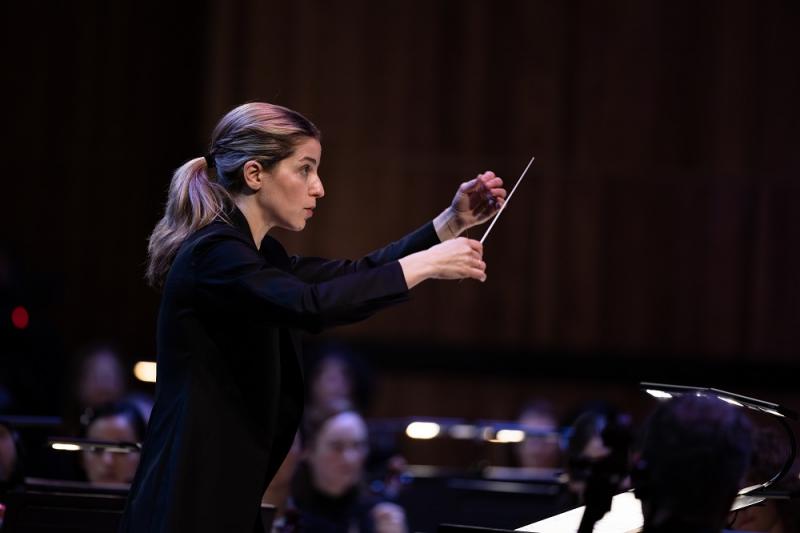 Wow factor: Karina Canellakis and the LPO
This remarkable evening should really have been more remarkable still. The unfortunate pianist Cédric Tiberghien took an official pre-travel Covid test that obliged him to drop out at 5pm – even though, as he tweeted in frustration, three subsequent lateral flow tests came out negative. Such is concert life in the Covid era.
Nobody could be expected to find a replacement to perform
Ravel
's Piano Concerto for the Left Hand at two hours' notice, so the work was dropped. Still, what remained made up in sheer wow-factor what it lacked in duration.
Entitled "Poems of Ecstasy", the programme seemed laid on with a trowel: Lili Boulanger's D'un soir triste, the Prelude and Liebestod from Wagner's Tristan und Isolde and Scriabin's Symphony No 4, known as The Poem of Ecstasy. With their principal guest conductor Karina Canellakis at the helm, the London Philharmonic gave this heady mix the works. The chemistry of conductor and orchestra seemed well-nigh perfect: often Canellakis encompassed the sound, rounding her elbows and opening her arms, and the music flung itself into them.
The Ravel-less concert opened with the bleakest of the remaining works, Boulanger's D'un soir triste. A Parisian child prodigy dandled on the knee of Gabriel Fauré and later the first woman to win the Prix de Rome composition prize, Lili Boulanger brought a rare, pitch-dark quality to early 20th-century music in the City of Light.
Unlike Scriabin's somewhat calculated apocalyptic spiritual ecstasy, and Wagner, whose death-and-love scenario in Tristan was a fantasy world, Boulanger would have found death an imminent reality. Suffering from what was probably Crohn's Disease, she knew her days were numbered; she set out to create as much music as she could in what time she had; and she assisted the charity efforts in World War One despite her failing health. D'un soir triste was the last piece she wrote with her own hand before her strength gave out and her sister Nadia assisted as scribe. She died in March 1918 aged 24.
This music's restoration to concert programmes is not before time: it is vivid, heartfelt, existentially terrifying. Canellakis subtly let the colours of new sections transform as they grew out of one another, shifting focus and balance between groups of instruments and pacing the intensity wisely as it worked up to devastating peaks.
Her take on the Wagner was spacious and long-breathed, with silence becoming as eloquent as the sound. A gorgeously rich, dug-in tone with glistening flecks of harp rendered any absent soprano irrelevant to music that can say everything without any words at all.
Finally The Poem of Ecstasy itself, one long, sprawling movement full of musical ideas that Scriabin pinched from Wagner and Liszt, not knowing (this was 1905-8) that Stravinsky would soon pinch a welter of his ideas in turn for The Firebird. It is probably best not to consider too deeply the grandiose, Theosophy-laden texts that Scriabin approved for the world premiere. Instead, wallow in the glorious noise of an enormous orchestra going full pelt in a way we thought, only a few months ago, might be lost forever.
Canellakis achieved exactly the right balance between controlling the constellations in this luminous night sky of sound and maintaining a collegial presence, her players responding to her with gusto that was suitably ecstatic; special mentions for first clarinet Benjamin Mellefont, all-giving principal cellist Kristina Blaumane and the indefatigable leader Pieter Schoemann, whose forensic precision and Zukermanesque tone lit up his solos.
Towards the end, just when you think it can go no further, the sound just keeps on growing. A moment of silence as if for breath – and it's back for still more. This is Russian music for 1908 metalheads. We couldn't get enough of it.
Above all, the LPO has a real treasure in Canellakis. Let's hope they cherish her.
This is Russian music for 1908 metalheads. We couldn't get enough of it
rating
Share this article