Music Reissues Weekly: Theatre Of Hate - Omens |

reviews, news & interviews
Music Reissues Weekly: Theatre Of Hate - Omens
Music Reissues Weekly: Theatre Of Hate - Omens
How much pessimism is too much?
The final Theatre Of Hate line up: with Kirk Brandon (third from left) and future Cult man Billy Duffy (right)
During the first week of February 1982, Theatre Of Hate got as close to the mainstream as they'd ever get. They opened that week's edition of Top of the Pops with a run through of "Do You Believe in the Westworld?" which was then at 40 in the Top 40 – the highest position they'd reach in the single's chart.
Though the band mimed, frontman Kirk Brandon sang live. So intense, he looked close to exploding. Musically, the song's spaghetti western guitars voguishly echoed the "Stand and Deliver" Adam and the Ants of the previous year. The lyrics went "The cowboy turned the gun on himself as he sang 'No-one's alive,' Do you believe in the Westworld?" Just before taking his own life, said cowboy shot a circus bear. Presumably, the song is a metaphor for America-Russia relations and mutually assured destruction. What on earth did OMD and XTC, also on that TOTP, make of it?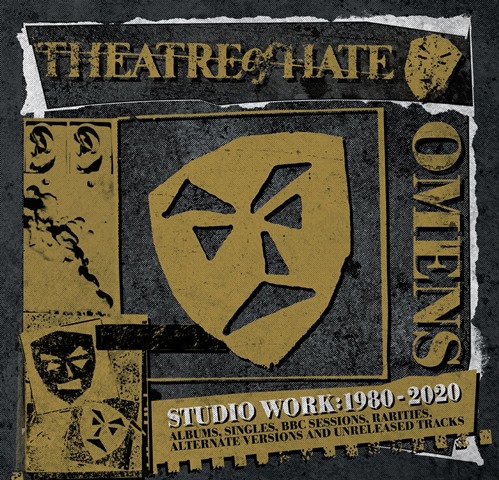 Theatre Of Hate's label was named Burning Rome. Appropriately, their third single was titled "Nero." Other entries in their discography included "Assegai," "Conquistador," "Legion," "Original Sin," and "Propaganda." Album tracks were called "The Klan" and "Judgement Hymn." Whatever Theatre Of Hate were saying, it wasn't optimistic.
The band had roots in London punk, formed in autumn 1979 and split in late summer 1982. "Do You Believe In The Westworld?" was Theatre Of Hate's fourth single of six. Their first studio album, Westworld, was issued that same February and went Top 20. Overall, their discography was unusual – there were also three live albums issued over 1981 and 1982. In the booklet with the 6-CD clamshell set Omens: Studio Work (1980-2020), Brandon says of the period "it went up like a rocket – we'd toured with The Clash, we'd toured with Ian Dury, we'd toured with The Ruts. We had a hit with 'Do You Believe in the Westworld?', were on Top of the Pops. Then it fell straight down."
Before the fall, there was support. In 1978, Brandon's previous band The Pack had been praised by John Lydon. The Westworld album, recorded in August 1981, was produced by Mick Jones of The Clash at Wessex Studios, where London Calling was completed in 1979. John Peel regularly played them: he'd spun TOH's debut single "Original Sin" (the only one issued on their curiously named SS label: which the Pack had been on) at least four times on his Radio One show. They recorded sessions for him. He hosted the TOTP they were on. Theatre of Hate's manager Terry Razor ran their labels (SS and Burning Rome) from the same address as Stiff Records. But Theatre Of Hate were unstable, split and Brandon and bassist Stan Stammers went on to form Spear of Destiny.
Omens collects a ton of Theatre Of Hate. The singles and the Westworld album are on Discs One and Two, which both have bonus tracks. A shelved second studio album from 1982, Aria Of The Devil, is included on Disc Three along with more bonuses. Disc Four incudes their BBC sessions along with the audio of the TOTP slot. Discs Five and Six are more peripheral: the first includes an album recorded in 1994 by post-Spear of Destiny band Kirk Brandon's 10:51, which was variously titled Stone in the Rain and Retribution, and cheekily released in the US as by Theatre Of Hate; the second is remixes from (seemingly – details are not given) 2018 to 2020. Overall, there are 49 tracks.
Although there have been many previous Theatre Of Hate archive releases, fans will want Omens as it's – setting aside the superfluous remixes and Disc Four's 10:51 album – a handy one-stop collection. From when the band were originally active – multiple reunions have taken place – the most interesting previously unreleased material is five instrumental backing tracks from the Aria Of The Devil sessions. The only other previously unheard (possibly) original-era track is a remix of "Do You Believe In The Westworld?" on Disc One, for which no date is given. (pictured left, Kirk Brandon on Top of the Pops, February 1982)
Listening to the four meat-and-potatoes discs is exhausting for the less committed. Even when song arrangements are more sparse, the atmosphere is suffocatingly heavy. There's barely any light and shade. The band dwelt in the shadows, where conflict and impending doom seemed to close hand. They are also hard to read. The extraordinarily intense "The Klan" was obviously provocatively titled and its lyrics paint a picture of a horse-borne grouping: "Who is this klan that rides without their masks? Who is this klan that rides, each of a different race? Who is this klan? Who are they, and why these munitions?" Generally, there's a passing thematic similarity to the also-apocalyptically inclined Killing Joke but Theatre of Hate are more oblique.
A quote from Brandon dated to February 1981 appears in Omens' booklet. He said "we are a challenge to the people who bother listening. The subject matter is disturbing, the playing aggressive. It's not enough to lend us your ears, we need to use your brain, not to manipulate but to inform." And if they were informing, it is now as it was then: there were bad times in the past, and bad times in the present.
Next week: All Turned On! Motown Instrumentals 1960–1972

Whatever Theatre Of Hate were saying, it wasn't optimistic
Explore topics
Share this article