Oscars 2022 - the smack heard around the world |

reviews, news & interviews
Oscars 2022 - the smack heard around the world
Oscars 2022 - the smack heard around the world
Increasingly irrelevant institution plumbs new depths
'A fierce defender of his family': Will Smith wins Best Actor for 'King Richard'
What the [expletive deleted]?
That's a viewer's only logical response to the 94th Academy Awards, which was trudging along predictably and fairly aimlessly until such time as Chris Rock took to the stage in the closing hour and events took a dramatic turn. Forget the envelope mix-up of 2017, the streaker of 1974, or Sacheen Littlefeather subbing for Marlon Brando in 1973. None of those unscripted moments can match the shock that ensued when Will Smith responded to a GI Jane joke Rock had made in reference to Smith's wife's shorn hair by stepping up to the stage and striking the presenter in the face.
"Keep my wife's name out [of] your fucking mouth," roared an enraged Smith not once but twice, the slurs coming once he had sat back down and we realised that, no, this wasn't some planned stunt. (Rock had previously lobbed a joke Jada Pinkett Smith's way at the 2016 Oscars.) "That was the greatest night in the history of television," said a clearly rattled Rock following the smack. Even those of us overseas who heard the comments in full – that's to say without interference from American censors – watched as live coverage went down briefly, also twice. The networks needed a moment to recover and so, it seemed, did we.
I mean, wasn't this the same man who was predicted to win Best Actor within minutes for his performance as, um, a volatile husband and father in King Richard? (In the movie, Smith's character takes a gun to his detractors, so I guess Rock can count himself lucky.) What in heaven's name might happen then? As if on cue, Smith was indeed soon awarded his first-ever Oscar and took to the stage to deliver a lengthy speech in which he spoke of art imitating life, though I assume he meant it the other way round.
"Richard Williams was a fierce defender of his family," said Smith of the real-life man he had played onscreen, and so, by implication, on this occasion was the actor himself. A weepy Smith folded an apology to the Academy and to his fellow nominees into his remarks with no mention whatsoever made of Rock, whom he had just assaulted on live television worldwide. Smith spoke instead of being "a vessel for love" – one which presumably on this occasion had sprung a rather sizable leak.
Especially odd is that Smith was seen first to be enjoying the very joke that seconds later sent him storming into action. It's fair to say that cultural historians will be scrutinising this moment for years searching for clues, perhaps, to an increasingly thuggish zeitgeist: if the citizenry can mount an attack on the Capitol Building one year, where then does that leave an Oscar night bust-up between two superstars the next? (Rebel Wilson, for what it's worth, got off a separate Smith family joke during her ghastly hosting of this year's BAFTAs and survived the evening unharmed.)
Elsewhere, it seemed almost anti-climactic to point out that the sweetly sentimental CODA (pictured above) made history as the first streaming movie to win the Best Picture Oscar, while also winning all three of the trophies for which it was nominated, including Supporting Actor for Troy Kotsur, the first deaf male actor ever to win an Oscar and a man who gives off such preternatural kindness that the Academy might want to turn next year's hosting chores over to him. Its clean mini-sweep dented the 12-times-nominated (and far darker and more dense) The Power of the Dog, which walked away with only one award: Best Director for Jane Campion, who had faced difficulties of her own in recent weeks when a previous comment she made about Serena and Venus Williams – the daughters of Smith's onscreen character – later prompted her to apologise for being "thoughtless". Golly: For a film nominally steeped in familial devotion and togetherness, King Richard has certainly emerged during this awards season as a lightning rod for controversy.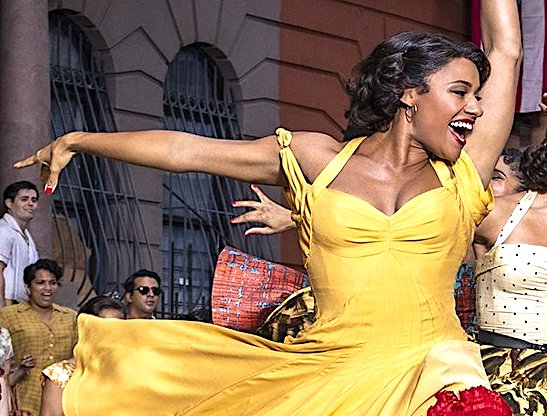 Unlike last year, when both main acting prizes were a surprise, the recipients this year went according to plan, from Smith and Kotsur in the male acting categories – my personal preference for Best Actor, the wondrous Andrew Garfield, will have his day soon, I am sure – to gongs on the distaff front for Jessica Chastain (The Eyes of Tammy Faye) for Best Actress and Ariana DeBose (West Side Story, pictured above) for Supporting Actress. You had to hand it to Chastain for charging ahead with a speech that paid elaborate tribute to the LGBTQ community and for healing divisiveness, delivered unfortunately (or maybe not) in the immediate wake of a violent incident on that same stage. Small wonder that Amy Schumer, one of the evening's three rather hapless hosts, spoke post-Smith of a different vibe having taken over the room, which was one way of putting it.
Schumer did manage to shoehorn in an 11th-hour reference to the war in Ukraine, which by that point seemed too little too late, though one does wonder if double Oscar-winner Sean Penn will make good on his pre-ceremony promise to "smelt" his trophies if Ukrainian president Volodymyr Zelenskyy were left out of proceedings, as indeed he was. (Thank heavens, too: this entirely heroic man surely has rather more pressing matters on his mind.) A far-reaching flavour extended to Japan's Drive My Car winning the International Feature prize against stiff competition, and it seems only a shame that Kenneth Branagh's well-deserved Best Original Screenplay Oscar for Belfast meant there was nothing for Norway's The Worst Person in the World – easily the film title of the year (Branagh pictured below).
Schumer's colleagues, Regina Hall and Wanda Sykes, constituted agreeable if fleeting and largely expendable presences who made one wonder why such fuss is made every year about a host given how little they actually do – especially by comparison with such legendary comperes of old as Billy Crystal and Johnny Carson who in turn imparted a comfort with the sheer fact of the Oscars that I suspect is gone forever. We live in such self-conscious, terminally self-aware times that it's impossible to imagine this event ever again being all things to all people or even much of anything to anyone in sufficient numbers: not for years, as has been commented upon at length elsewhere, has Academy taste tallied with that of the public at large.
Oscar did take a celluloid glance back via a series of onstage reunions that saw shared presentations by the principal cast members of White Men Can't Jump, Juno, and Pulp Fiction, amongst others, and the poignant sight of an enfeebled Liza Minnelli, appearing in a wheelchair alongside Lady Gaga to present Best Picture – 50 years after Minnelli won her Oscar for Cabaret. As for Oscar's future, one had to wonder what does lie in store when Will Smith, of all people, must tearfully resort to hoping that "the Academy invites me back". After what went down on the Dolby stage this year, Oscar itself may be asking the same question. This was an era-defining show, to be sure, but not in any of the ways that anyone could want.
This was an era-defining show but not in any of the ways anyone could want
Explore topics
Share this article