Music Reissues Weekly: The Swinging Blue Jeans - Feelin' Better Anthology 1963-1969 |

reviews, news & interviews
Music Reissues Weekly: The Swinging Blue Jeans - Feelin' Better Anthology 1963-1969
Music Reissues Weekly: The Swinging Blue Jeans - Feelin' Better Anthology 1963-1969
There's more to the Merseybeat go-getters than 'Hippy Hippy Shake'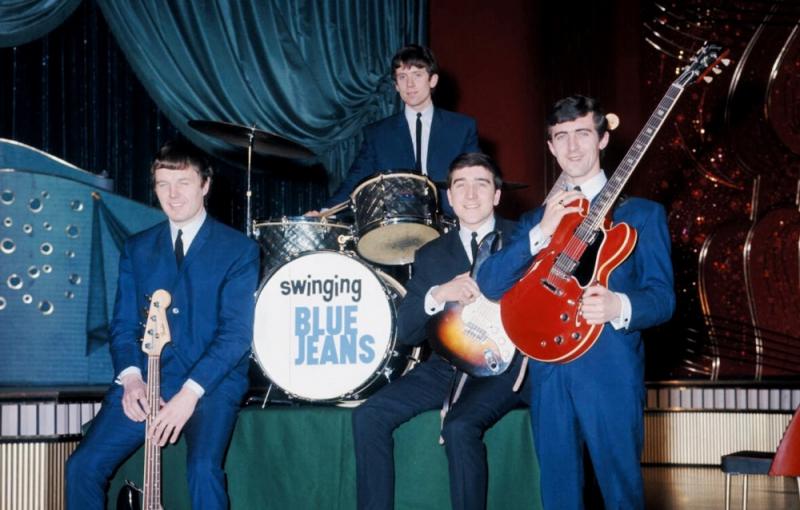 The Swinging Blue Jeans look unprepared for what they'd experience on the May 1964 Chuck Berry tour
In late August 1962, Liverpool's Swinging Blue Genes were booked to play Hamburg's Star-Club for the first time. At the opening show of their season, they were booed and the curtain was pulled across them. The audience took against their mix of skiffle and trad jazz. A musical rethink was needed.
In mid-May 1964, The Swinging Blue Jeans, as they now were, were booed while touring the UK on a bill with Chuck Berry, Carl Perkins, The Animals, King Size Taylor & The Dominoes, The Other Two and The Nashville Teens. They were pulled from the dates. The R&B and rock 'n roll fans in the audience were vocal in their dislike of the Liverpool band's cheery, beaty pop. For this crowd, The Swinging Blue Jeans were passé.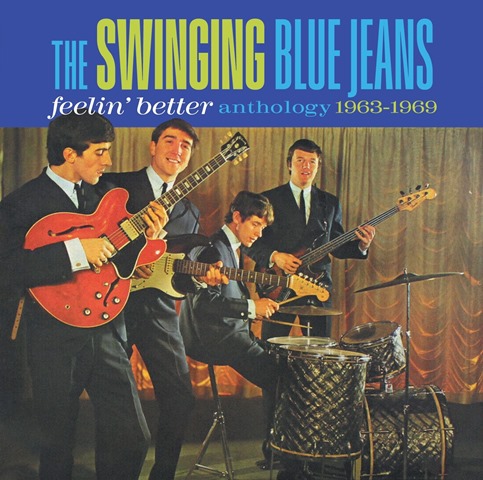 Between these two fiascos, they charted high in late 1963 with their third single "Hippy Hippy Shake." It peaked at number two in January 1964, sitting between The Dave Clark Five's "Glad All Over" in the top spot and The Beatles's recent number one "I Want to Hold Your Hand" at three. Prime company. Gerry and the Pacemakers were also in the charts then, as were The Fourmost, The Hollies, Billy J Kramer and the Dakotas, Manfred Mann, The Merseybeats, The Searchers and an on-the-rise newer band named The Rolling Stones. Britain was beat crazy. But as Manfred Mann and the Stones showed, beat was developing – different flavours were emerging which would leave some of the Merseybeat innovators behind.
The Swinging Blue Jeans had instantly embraced the beat after that Hamburg wake-up call. Later that night, they learnt an entire new repertoire from fellow Liverpool outfit The Undertakers, who were just finishing a Hamburg season. The SBJ's Paul Moss set his banjo aside in favour of an organ, and stand-up bassist Les Braid took over Undertaker Jackie Lomax's electric bass. Rarely has a shift in style been so sudden. The band had been recommended to Star-Club owner Manfred Weissleder by Paul McCartney who – presumably – did not mention their skiffle and trad repertoire.
What came next fills up the triple CD set Feelin' Better - Anthology 1963-1969. It's a lot of Swinging Blue Jeans. Included are a 1965 single that was only issued in Finland and Norway, stereo and mono versions of their sole studio album, tracks recorded as by Ray Ennis & The Blue Jeans, and under the truncated handle The Bluejeans (sic). German-language material too. Disc One's first three tracks include two samples of their jazzy days taped as a recording test for EMI, first issued a few decades ago. The 1965 German/Danish live album Hey-Hey-Hey-Hey aka Live Aus Dem "Cascade Beat Club" In Köln is not included. A July 1962 audition for Joe Meek has not surfaced. Back in 2008, the four-CD set Good Golly, Miss Molly! The EMI Years 1963-1969 was probably more than enough for the uncommitted. The same applies to Feelin' Better, which doesn't plug any gaps.
Despite their failings with being in step with fast-changing musical fashions, there is a lot which has to be heard. "Hippy Hippy Shake" is still an extraordinarily energetic blast. Their version of "Dizzy Miss Lizzy" is a bit rinky dink but has a great "Shakin' All Over" feel. And, lo, their re-tread of "Shakin' All Over" is great too. The unreleased-at-the-time (from c 1964) "It's True" is a fine Hollies-ish swinger. An October 1965 single version of "Good Lovin'" drives.
Ultimately, as they were not writers, The Swinging Blue Jeans were hobbled in a period when bands moved forward by asserting their identity through self-generated material. Few of their counterparts survived commercially without their own songs – after mid 1965, the chart run was over. Even so, they still came up with the goods. A November 1966 proto-bubblegum "Rumours Gossip Words Untrue" (better known from the version by America's Knickerbockers) engages. "One Woman Man" (an August 1967 B-side) is interestingly Bee Gees-ish. "What Have They Done to Hazel" (a June 1968 A-side, as by Ray Ennis & The Blue Jeans) is winningly like Honeybus.
None of these were enough. The energy and the of-the-momentness which has been captured in 1963 dissipated. Newer bands came along; ones which grasped new styles as they cropped up and didn't seem to be stuck in an earlier era of what were fast-moving times. Unless an outfit was constantly pushing forwards and had a strong identity too, it was difficult hitching a ride on emerging trends.
Nevertheless, even though much of The Swinging Blue Jeans's post-1964 releases fell between the commercial cracks Feelin' Better - Anthology 1963-1969 confirms they're worth digging into. "Hippy Hippy Shake" is not the beginning and end of the story.
Next week: Ultravox! - Live At The Rainbow 1977. Amazing high-energy document of the early days of John Foxx and Co.
Despite The Swinging Blue Jeans failings with being in step with fast-moving musical fashions, there is a lot which has to be heard
Share this article