Duet for One, Orange Tree Theatre review - poignant two-hander gets an updated reprise |

reviews, news & interviews
Duet for One, Orange Tree Theatre review - poignant two-hander gets an updated reprise
Duet for One, Orange Tree Theatre review - poignant two-hander gets an updated reprise
Affecting revival of Tom Kempinski play about an ailing musician and her therapist
Fighting talk: Maureen Beattie and Tara Fitzgerald in 'Duet for One'
This 1981 two-hander was opened out for a film in 1986, starring Julie Andrews no less, with all its offstage characters given screen life. Thankfully it has been shrunk back to its original dimensions, with added modern ornamentation for this latest revival of it at the Orange Tree Theatre.
Therapist Dr Feldmann has become a woman (Maureen Beattie), who emails her clients when appointments are missed and uses an iPad at one of the sessions; her patient, Stephanie Abrahams (Tara Fitzgerald), though, is the same devastated soul as in the original, a concert violinist who is six years into symptoms that have been diagnosed as MS. Her left hand is already out of commission.
On the shrink's-office set are the traditional two easy chairs, separated by a low table with the standard-issue box of tissues. But this set slowly revolves, so the audience on all four sides of it can get an adequate grasp of the actors' faces. On the balcony above, a violinist (Kath Roberts at the performance I saw) plays lyrical, echoing music (composed by Oliver Vibrans) whenever Stephanie arrives for a session with Feldmann: we see her checking herself when she hears the music and stopping to listen intently before she enters.
The arc of this plot has a fixed endpoint, in that there is, even in the updated present of this new version, no cure for Stephanie's condition. Any remedy is going to be an internal, psychological one. Stephanie, though, is resistant to digging into the subterranean feelings Feldmann is sure are there, turning her anger outwards and giving her therapist a fortissimo blast of it. She is from the outset a spiky patient, only there, she claims, to please her husband David, a successful composer and conductor.
Luckily, the dialogue between the two women is not all tension and outbursts: Stephanie is also very droll, in a bittersweet sort for way, and actually makes Feldmann laugh with a joke about the meaning of life. Her doctor is otherwise a sphinx-like creature, keeping her counsel and staring at her shoes, as Stephanie notices in a stinging outburst where she offers a cod-analysis of Feldmann, her contempt for therapy very clear. When Feldmann finally drops her calm professional mask, the impact is shocking.
The interest of the piece, a star-making vehicle for Frances de la Tour back in the day, lies in watching the feints and parrying of this sparring relationship and pondering where it will end up. Will Feldmann help Stephanie unlock her deep-buried feelings, or is the violinist so steeped in self-pity and despair that she can't find a way out other than suicide? Is her now-sexless relationship with David a life-raft, or a dead weight?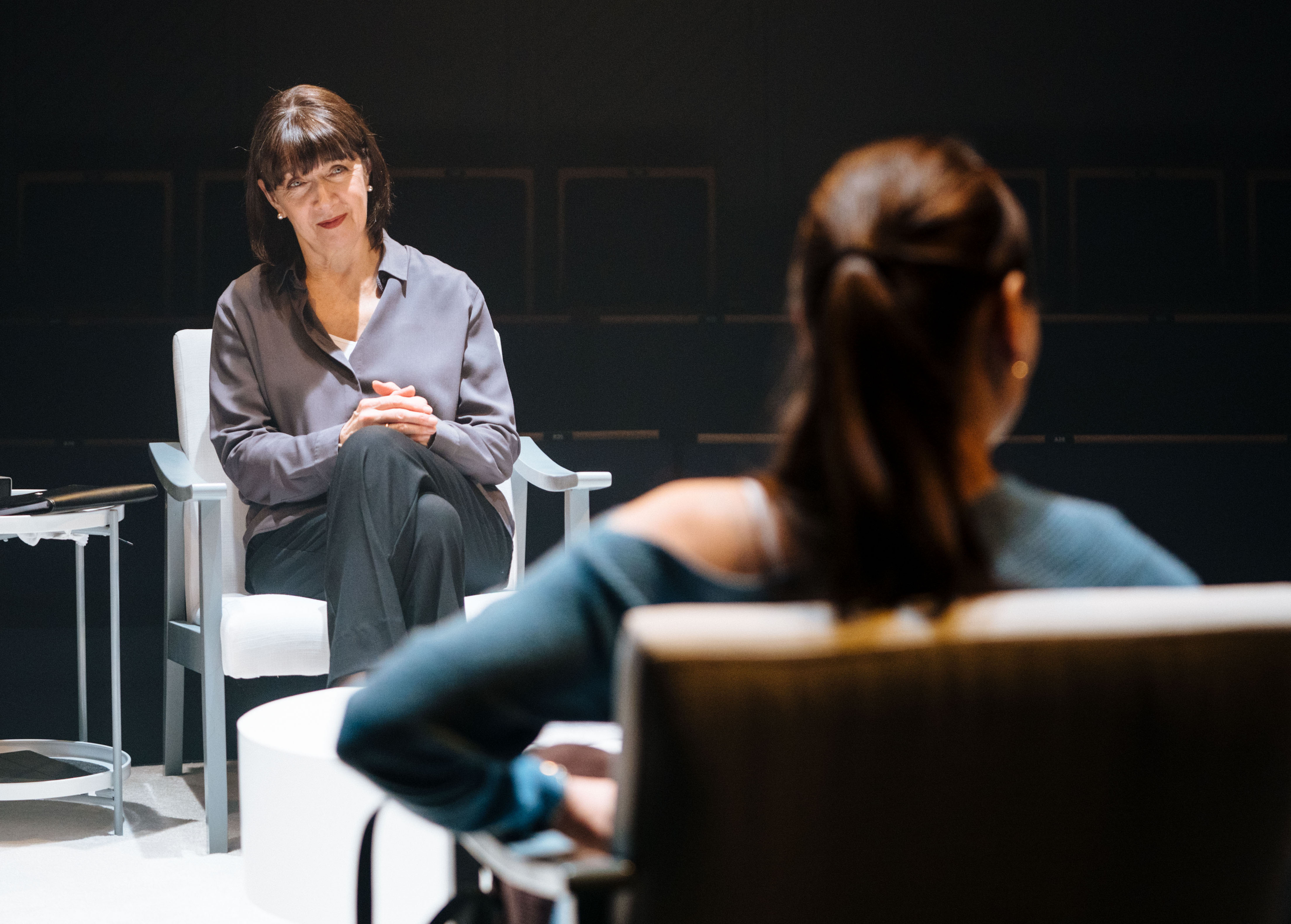 To make the material sing requires two exceptional but very different performers. The distance between the women becomes clear in their voices. Beattie has a soft Scottish burr that injects a soothing neutrality into the dialogue until she chooses not to hold back. She is often irritatingly calm, and deliberately so, she admits. Fitzgerald's voice, on the other hand, is more obviously an instrument, with a deep fruity tone that can veer from imperious grande-dame to earthily crude.
She must also physically change before us – from a formally dressed woman with a stick, to a slouching near-slob in Birkenstocks and thick socks, a baggy cardigan and a leopard skin eyepatch, who hopes to shock Feldmann by admitting she is wearing the same knickers as at their last session, without benefit of laundering.
The first half is almost too sedate, and the silence/question/angry response structure of Stephanie's visits can seem overly scripted at times. But the scene that starts the second half is a humdinger, gloves off, both women coming out of their corners with flailing fists as each pit her views of what makes life worth living against the other. Stephanie cannot win: her fate is fixed, she will go out fighting. But is that her only choice? The play's poignancy has been revived intact.
When Dr Feldmann finally drops her calm professional mask, the impact is shocking
rating
Explore topics
Share this article