Music Reissues Weekly: Heavenly - Le Jardin de Heavenly |

reviews, news & interviews
Music Reissues Weekly: Heavenly - Le Jardin de Heavenly
Music Reissues Weekly: Heavenly - Le Jardin de Heavenly
UK indie band's 1992 album outshines the period's vitriolic detractors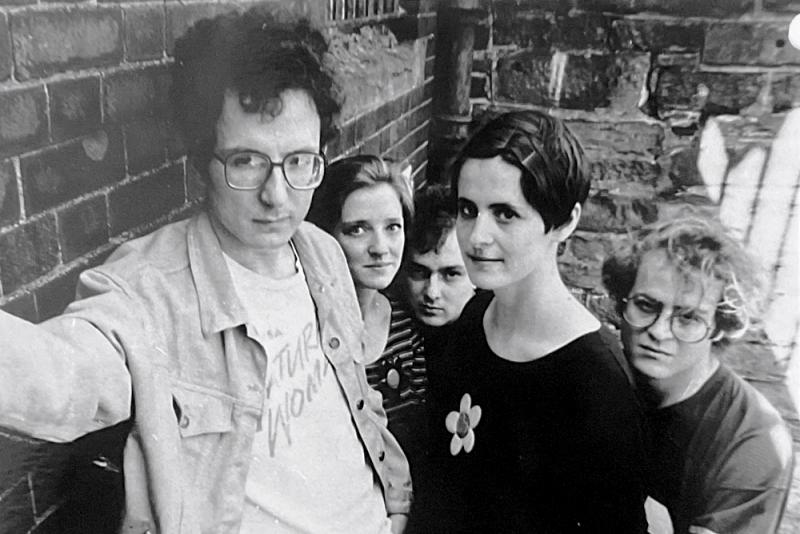 Heavenly: subject to the weekly music press equivalent of bullying
"It takes a real effort to sound this small, this timid; to resist the effort to rock out and kick pedal. Singer 'Amelia' (oh yeah, I bet that's her name) has spent her entire adult life pretending she doesn't menstruate. The rest of her band, too, look like the sort of fanzine autistics who still wear dungarees at 30".
In his Melody Maker review of Heavenly's June 1992 second album Le Jardin de Heavenly (its predecessor was a mini LP), Simon Price went on to say it "recreates only the most stylised clichés of childhood. The lyrics are emotionally retarded in the extreme, and the music veers from tight-arsed (as in anal retentive) Buzzcocks through St Etienne without the dancebeats to Cocteaus without the weirdness".
Over in competitor music weekly NME, Carrie Askew and Jacqui Blake of the pop duo Shampoo pronounced on Le Jardin de Heavenly thus: "The inside cover presents a picture of the band sitting in a café, they look like five old students sharing the same flat, same bath, same bar of soap. The album is a horrid mess of jingly guitars, dreary girl voices and sludgy songs that merge into each other without reaching any climax or peak. We find it hard to believe anybody could be excited by such rubbish. Whoever signed these must have been deaf, dumb and blind".
Both reviews failed to note that on side two of the album, the lyrics of "I'm Not Scared of You" are about standing up to the impact of a male bully. And here were Heavenly themselves, subject to the weekly music press equivalent of bullying.
That June, Melody Maker's front covers featured Soundgarden, Verve, Pearl Jam and a trail for Glastonbury Festival. Amongst others, that month's issues bigged-up Buffalo Tom, Curve, Fatima Mansions, The Levellers, Manic Street Preachers, Saint Etienne, Silverfish and The Shaman.
The same month in 1992, NME's cover stars were Disposable Heroes of Hipopricy, U2, Faith No More and Carter The Unstoppable Sex Machine (in a trail for Glastonbury). Amongst others, that month's issues bigged-up Cud, Eat, The Family Cat, Kingmaker, The Levellers, The Mission and Silverfish.
At the time, grunge was doing its thing, Britpop hadn't yet arrived and UK indie was a hydra-headed rag-bag resistant to easy definition.
Irrespective of any context, none of this explains the unvarnished hatred directed towards Heavenly. Not being macho and striving for an innocence deserved it?
Now, Le Jardin de Heavenly is reissued on a label run by former band members who, in their liner notes, look back on the period fondly. Four bonus tracks are taken from non-album singles. The album was originally issued by Sarah Records in the UK, Calvin Johnson's K Records in the US (he is heard on an album track as one half of a duet) and Quattro in Japan. They played there, and K's home-base Washington State too. UK live dates in June and July 1992 promoted the album, as did the accompanying carrier bag available with copies at specific record shops. Three members of Heavenly had been in Talulah Gosh, who were active over 1986 to 1988. Heavenly's first single was issued in February 1990.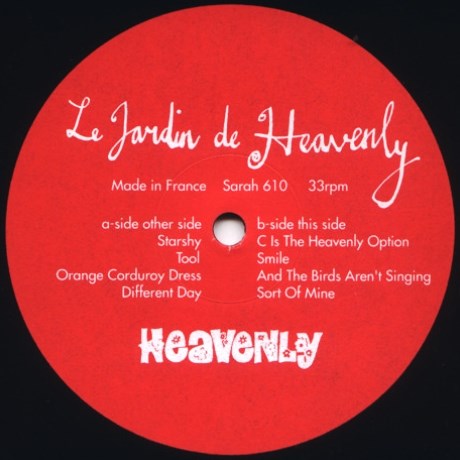 Heard now – and then too: the musical references were as clear in 1992 as they are today – Le Jardin de Heavenly sounds just great. Opener "Starshy" has a vague shoegazey rhythm guitar along the Ride lines, a third-album Buzzcocks feel and dreamy melody. Next, "Tool" is stop-start punk-pop with cool interweaving vocal lines. "C is the Heavenly Option", with Calvin Johnson guesting, has a Sixties girl-group vibe along evoking "My Boyfriend's Back". The slyly Beatles-referencing "And the Birds Aren't Singing" has a Cocteau Twins shimmer and, like "Starshy", the shoegazing undertone. There's a bit of Smiths in bonus track "So Little Deserve". A first-rate LP.
While the contemporaneous consideration of Le Jardin de Heavenly was vitriolic, Heavenly's original home would be the subject of Popkiss: The Life and Afterlife of Sarah Records, a book published in late 2015 which looked at the label, its ethos and its bands. In it, Heavenly are tied with Riot Grrrl. The final chapter is titled The Afterlife of Sarah.
Back in 1992, the Melody Maker and NME reviewers of Le Jardin de Heavenly wished there was no contemporary present for Heavenly – an afterlife would have been inconceivable. Nonetheless, Le Jardin de Heavenly is once again in the shops.
Next week: The three CDs of Let's Stomp! Merseybeat And Beyond 1962–1969
Of Heavenly, 'NME' said 'Whoever signed these must have been deaf, dumb and blind'
Explore topics
Share this article