Reissue CDs Weekly: Scared to Get Happy |

reviews, news & interviews
Reissue CDs Weekly: Scared to Get Happy
Reissue CDs Weekly: Scared to Get Happy
Great music, but box set of UK indie of the Eighties is compromised by ambivalence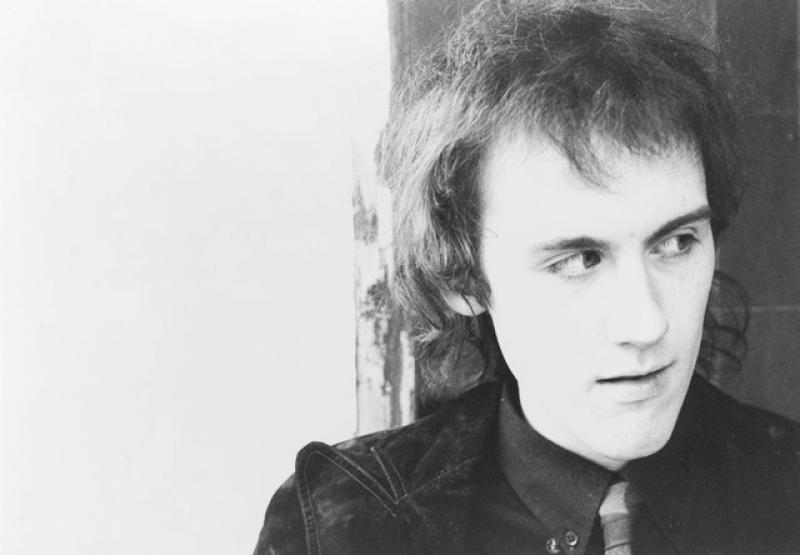 The TV Personalities's Dan Treacy: looming large over 'Scared to Get Happy'
Various Artists: Scared to Get Happy – A Story of Indie-pop 1980-1989
It's a good thing this box set has the hedge-betting sub-title A Story of Indie-pop. Making the definitive statement on a whole decade of pop's undergrowth is probably impossible, but being so equivocal from the off sets up Scared to Get Happy as not bold enough to nail its colours to the mast.
Compiling and licensing the material on Scared to Get Happy must have been a nightmare. Spread across the five CDs of this first large-scale collection of the era are 134 tracks, beginning with The Wild Swans's 1982 single "Revolutionary Spirit" and finishing up with The Boo Radleys's 1990 EP track "Catweazle". The slight slippage with dates doesn't matter, but beginning and ending the journey in Merseyside is significant. Much here either isn't from or wasn't based in London. Neither were many of the labels originally releasing these records.
Up to a point in time, the musical styles covered by Scared to Get Happy are similarly diffuse. The discs are arranged loosely chronologically: 1980 to 1983 on Disc One; 1982 to 1985 on Disc Two; 1985 to 1986 on Disc Three; 1986 to 1987 on Disc Four; 1988 to 1990 (the Boo Radleys's track is the sole entrant from 1990) on Disc Five. The critical mass achieved around 1986 is also significant – it's the year the NME issued the era-defining C86 cassette. The weekly music mag was behind the C81 cassette in 1981, but that celebrated the fifth anniversary of the independent labels spawned by punk, and partially drew from the past. It also included Scritti Politti's "The 'Sweetest Girl'", soon a real-world hit and the marker which propelled the Rough Trade label into the mainstream. C86 was different. It compiled new bands, many unknown, and was an instant state-of-the-nation address and catalyst. Nothing on it aspired to be a hit.
The first two discs stray all over in terms of influences, inspirations and aspirations. "Revolutionary Spirit" is grand and yearning, the sound of a sigh. The Monochrome Set's "Jet Set Junta" is whimsy at its finest. The Higsons's "The Lost and the Lonely" filters Talking Heads through UK post-punk. Grab Grab The Haddock's "I'm Used Now" is spectral fragility. Aztec Camera's "Oblivious" is built for a world beyond independence. The most powerful heads-up towards what would be integral to C86 is the TV Personalities's "A Picture of Dorian Gray" from 1982. The aesthetic of their leader Dan Treacy would inform Creation Records, other labels and countless bands. His influence was about more than his own musical influences.
As time moves on and Scared... goes over the top alongside C86, various uniformities take hold: of look, sound and sanctioned influences. Partly due to Creation, but more specifically as a result of the impact of The Jesus & Mary Chain – Ramones guitars, fuzz, ba-ba-ba surf vocals, thumpity-thump drums, girl group dynamics, bowl-head haircuts and anoraks were remixed and recycled to varying degrees, the fuel for Another Sunny Day's incisive commentary "Anorak City" (whose "I'm in Love With a Girl Who Doesn't Know I Exist" is included instead). Frequently, these later records are magnificent. A heart of coal would be necessary not to be charmed by Razorcuts's "Big Pink Cake" or The Hangman's Beautiful Daughters's (pictured left) beautiful "Love is Blue" (listen to it on the next page). Leicester's Yeah Yeah Noh were deeply and compellingly odd, but some band's sights were set higher than others: if not the toppermost of the poppermost, then certainly the seductive mainstream. Viz: The House of Love's "Shine On". Telegraphing what came next with shoegazing and Madchester is deftly handled with The Stone Roses and Inspiral Carpets representing the latter, and The Telescopes and early Boo Radleys the former on Disc Five.
Prime movers The Pastels and Felt are absent. Both deficiencies are sad. "Licensing issues" are given as the reason for their non-appearance. Their absence might be assuaged for some by the inclusion of pre-Ocean Colour Scene outfit The Fanatics. The Smiths are not heard either, but who could care as rib-tickling Morrissey sanctioned sound-a-likes Bradford are here. Amongst the few revelations is Black's debut single, 1981's "Human Features", which spookily sets the template for The Smiths sound.
Scared to Get Happy's timidity is about more than its branding. Nowhere in the accompanying book is there a definition of indie or independent. The handle meant music issued by independent labels without ties to majors or corporates. In time, indie became a genre. This semiological trajectory is most pithily and trenchantly addressed in the opening and closing chapters of Alex Ogg's book, Independence Days. Curiously, this is published by Cherry Red, the label who have issued this box.
Obviously, the nature of indie is partly in the eye of the beholder but it's a fair bet a quorum would agree that tattooed rockers The Seers have no place here. The same goes for dark post-punkers The Lines (no matter how fabulous they are). Equally, discussions about other bands or songs not included (Wot? No Field Mice?) could be endless. Why isn't "Nothing of You", The Corn Dollies's finest moment present, instead of "Be Small Again"? Aren't The Monochrome Set representative of an earlier era? Wedding Present, but no Three Johns? The Bodines's "Creation classic" "Therese" is mentioned in the introductory essay but their "God Bless" is included instead.
The earlier collections CD86 and Rough Trade Shops Indiepop Vol 1 are namechecked in the book, and there seems to be an attempt to avoid duplicating tracks from these. Beyond Primal Scream's "Velocity Girl", a few more repeats wouldn't have mattered (especially Another Sunny Day's "Anorak City" or that Bodines cut) and could have helped make Scared to Get Happy a definitive round-up of essentials. (pictured above right, Another Sunny Day aka singer-songwriter Harvey Williams).
More crucial than any debate about what is or isn't here musically is what's not addressed by the accompanying book. It would have been nice for the catalogue numbers of the original releases to be noted (standard for reissues, but not this one), but there's no attempt to draw conclusions and set wider context. A note that previously beyond the pale influences like Bacharach and David, jazz and Bossa Nova flourished in the early Eighties should have been made. So should the fact that this period reined-in the testosterone of post-punk – the dark music which came after punk was overwhelmingly male and had a masculine forward-thrust (even Gang Of Four). An analysis of the deadening effect of Creation and The Jesus & Mary Chain would have been useful. And so on. What does all this mean?
Weirdest is the contention that "in terms of influence two labels ruled supreme, Manchester's Factory…and Rough Trade." In this period Rough Trade was about chasing and emulating mainstream gold, which is why The Smiths signed with them. And the inclusion of Factory era James notwithstanding, it's unlikely anyone heard here would have wanted to be on Factory (this would demand a separate essay).
Despite including a raft of fantastic music – really fantastic music – Scared to Get Happy is a missed opportunity.
Listen to The Hangman's Beautiful Daughters's "Love is Blue"
The Smiths are not heard, but who could care as rib-tickling Morrissey sanctioned sound-a-likes Bradford are here
Share this article