Prom 27: Wang, Hampson, BBC Symphony Orchestra, Mäkelä review - glittering night with music's golden couple |

reviews, news & interviews
Prom 27: Wang, Hampson, BBC Symphony Orchestra, Mäkelä review - glittering night with music's golden couple
Prom 27: Wang, Hampson, BBC Symphony Orchestra, Mäkelä review - glittering night with music's golden couple
Characterful Rachmaninov, Technicolor Walton and a sparkling Peruvian showpiece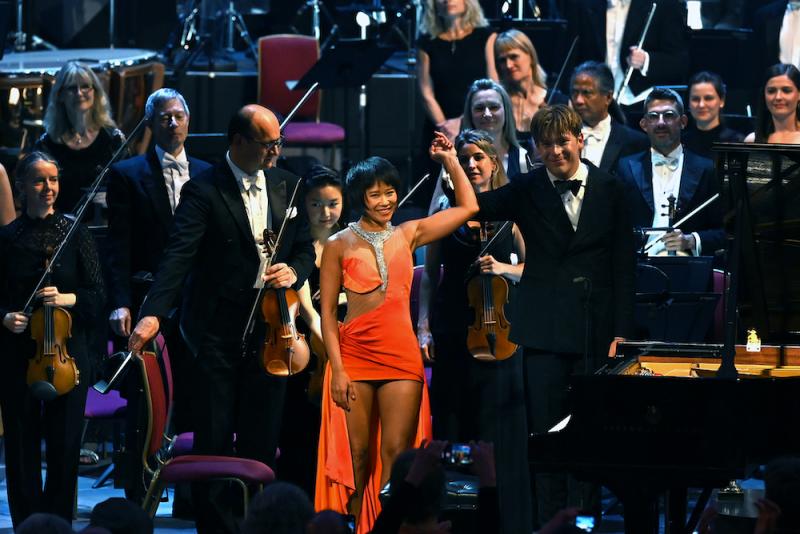 Yuja Wang and Klaus Mäkelä take a bow at the RAH
Yuja Wang and Klaus Mäkelä, two of the classical world's biggest hitters, have recently united to make that even more powerful item, the "power couple". But much as they are both photogenic and charismatic, their reputations are also based on musical excellence, as was on display at last night's sizzling Prom.
But far from wallowing in romantic excess, they gave a reading of Rachmaninov's Rhapsody on a Theme of Paganini that was refreshingly no-nonsense in its approach, nimble, mercurial and the opposite of self-indulgent.
Wang's playing had momentum from its very opening, which never sat back, and then burst into life in a barrage of double octaves. She found the frequent changes of character, with Mäkelä (pictured below by Chris Christodoulou) keeping the orchestra – with its restrained scoring – firmly in a supporting role. Coming through the spare orchestration were some lovely wind solos, including bassoonist Andrea de Flamimineis – and the ensemble did get its big moment in variation 18, when the big tune gets its Hollywood treatment. But even here, in potentially the most soupy moment, Wang kept things under control, with less rubato than you often hear, playing the melody straight and letting it speak for itself.
The only disappointment was in the encores. Wang, knowing her popularity, kept the delighted audience waiting a teasingly long time for her curtain call but then offered us two slightly silly numbers, a Rachmaninov polka and "Tea for Two", flurries of notes rippling effortlessly, but with the effect and minimal appeal of a palm court pianist whiling away a tea-time.
Before the concerto we had heard Jimmy López Bellido's tribute to his homeland, Perú Negro. This is something of a Mäkelä calling card – a piece he has loved since playing it as a teenager. It's an entertaining 16-minute jeu d'esprit, with oodles of Latin percussion that place the music firmly in its homeland. The piece is artfully paced and the orchestration glittering, conducted with relish and vigour by Mäkelä. As a showpiece it was perfect for the occasion, extrovert and full of sound and fury, but signifying just about enough.
After the interval the BBC Symphony Chorus stepped up for Belshazzar's Feast, with baritone Thomas Hampson (pictured above). This is the second choral blockbuster I've heard in two weeks at the Proms, after a recent Carmina Burana, and this is very much the type of music that suits the Proms and the Albert Hall: big-boned, Technicolor and, if not exactly subtle, packing a proper punch when all the forces really go at it.
The subtle moments that there are are in the baritone's solo moments, and Thomas Hampson found an Old Testament gravity in Walton's recitative-like lines. He had a scholarly air, of a schoolteacher leading bible class. Elsewhere the opulence of the language – "Bring ye the cornet, flute, sackbut, psaltery and all kinds of music" – was matched by the wow-factor of the performances. Belshazzar is an odd combination of traditions, the British choral society and the Hollywood film score, that shouldn't work, but does. The BBC Symphony Chorus were in tip-top form, especially the men, following the text's instruction to "make a joyful noise", and the orchestra revelled in the furious abandon of the last few minutes, Mäkelä driving them to the finish. I can safely say of all involved that they were weighed in the balance and not found wanting.
Even in potentially the most soupy moments Wang kept things under control, with less rubato that you often hear
rating
Explore topics
Share this article