Brahms Piano Sonatas, Elisabeth Leonskaja, Wigmore Hall review - when giants meet |

reviews, news & interviews
Brahms Piano Sonatas, Elisabeth Leonskaja, Wigmore Hall review - when giants meet
Brahms Piano Sonatas, Elisabeth Leonskaja, Wigmore Hall review - when giants meet
The young composer's epic-lyric genius revealed and clarified
Monday, 18 September 2023
Elisabeth Leonskaja - a mind containing multitudes
To master even one of Brahms's three early sonatas is a colossal task for any pianist. To play them all with towering authority in a single concert takes a phenomenon. Elisabeth Leonskaja seems just that more than ever in her late 70s; not only is there no loss of the epic stops she can pull out in the most tumultuous music, but for all her poise, she's also still willing to embrace the craziness and iconoclasm of the 20-year-old composer as if the works were written yesterday.
All this, too, from memory, like another septuagenarian pianist, Idil Biret, when I last saw her. Leonskaja's first act after entering was to remove the music rack - a practical gesture, nothing ostentatious about it (and presumably its absence allows for greater resonance, which Leonskaja forges to a remarkable degree). These women's minds contain multitudes.
So do the three piano sonatas in question. They make complete nonsense of the artificial opposition stoked by 19th century pundits between Brahms the supposed conservative and Liszt the progressive, placed alongside the much greater Wagner by association. In the F sharp minor Sonata, officially No. 2 Op. 2 but composed before No. 1 Op. 1, Brahms even outdoes Liszt in tempestuous double octaves, but doesn't outstay his welcome in the first movement (a distinguished pianist present told me in the interval how when Liszt played through his B minor Sonata, also composed in 1853, Brahms fell asleep).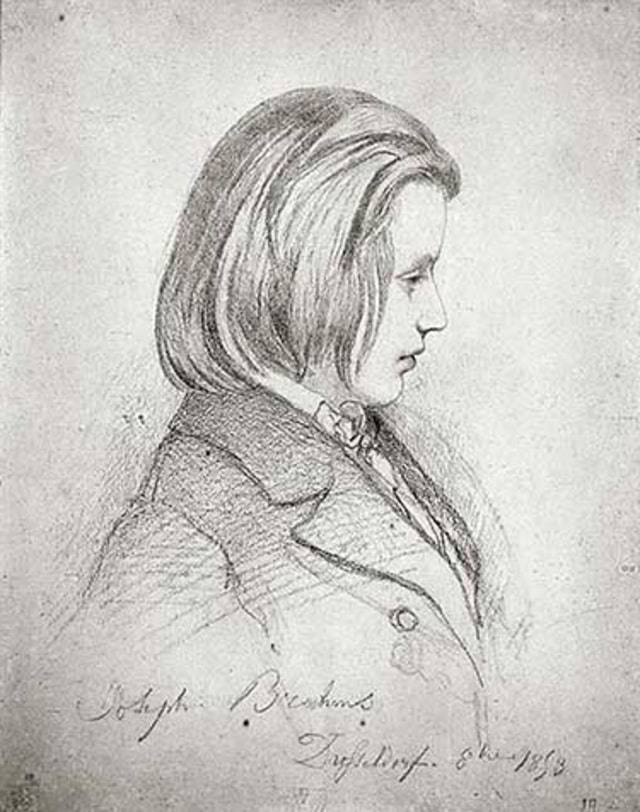 Leonskaja's unique gift is to stress (and stress is the word) the tumultuousness while cutting away to silvery tone in the moments of secret rapture; the extremes were never more pronounced than in the left-hand thunder to which the main scherzo portions here tumble as against the trio, in which Brahms makes Schubertian lilt his own (pictured left: the 20-year-old in 1853, drawing by Laurens commissioned by Schumann)..
He is so much himself, though, right at the start of Op. 1. Prokofiev quoted Gorky's "a human being – that has a noble ring about it" at the head of his late Cello Sonata, another C major wonder – and the epigraph could be backdated to this huge reveal of a multifaceted personality. Having never heard the first two sonatas in concert before – they feature so rarely in recitals – it was treasurable to hear Leonskaja repeat the cornucopia of ideas in the first-movement exposition. There are passages which you might attribute to the old Brahms: the style is already the man.
Leonskaja included the much more familiar F minor Sonata, Op. 5, in a 2013 Queen Elizabeth Hall recital after Ravel, Enescu and Debussy. Here it came as a crowning glory of Brahms's early genius, running an even greater gamut of character – the composer's and Leonskaja's – than the C major work. There is no more tender or surprising slow movement, surely, than the Andante espressivo, starting with the smiling-through-tears lilt Brahms inherited from Schumann and made his own above all in the late works for solo piano, transfiguring unexpectedly into a new and noble melody towards the end; no wonder Wagner seems to quote it as Hans Sachs rounds off his reflection on Walter's fresh inspiration in Act 2 of Die Meistersinger.
The pianist's sterner side refused to make the so-called Intermezzo that comes between Scherzo and Finale anything of the sort: this was a solemn funeral march (for whom or what? Another Brahms enigma). And the colossal, rollicking waltz at the centre of this masterpiece found a gentler response in the encore, Chopin's famous E flat major Nocturne, Op. 9 No. 2, freshly minted with Leonskaja's trademark space and soul – sheer perfection.
Leonskaja's unique gift is to stress the tumultuousness while cutting away to silvery sound in the moments of secret rapture
rating
Explore topics
Share this article