Eavesdropping on Rattle, the LSO and Bartók's Bluebeard |

reviews, news & interviews
Eavesdropping on Rattle, the LSO and Bartók's Bluebeard
Eavesdropping on Rattle, the LSO and Bartók's Bluebeard
Ahead of the London Symphony Orchestra's streaming next month, a privileged preview
Wednesday, 16 September 2020
Simon Rattle conducting the LSO in St Luke's
One source of advance information told us to expect a reduced version of Bartók's one-act Bluebeard's Castle, among the 20th century's most original and profound operatic masterpieces.
Joining 19 other lucky invitees and some of the
LSO
brass upstairs at St Luke's, I realized immediately that the sea of comfortably distanced musicians covering the entire floor space, from violins at the east end in front of a conferring Simon Rattle, Karen Cargill and Gerald Finley, to percussion below us at the west, could only mean the real, full thing: the largest gathering of players I'd seen in London since 15 March (also an LSO concert, coincidentally, in a very appropriate stunner of a concert, apocalyptic Vaughan Williams and Britten under Antonio Pappano).
Coincidentally a famous Bluebeard, bass John Tomlinson, guested that same afternoon to talk about Wagner's Wotan/Wanderer on my Zoom Siegfried course, and when I mentioned that I was shortly heading up to Old Street, he sang a snatch of Bartok's Hungarian setting and commented "oh yes, that's one of Simon's favourite pieces". It's easy to understand why. Famously, the opening of the fifth castle door when new wife Judith turns the key reluctantly granted by her sombre spouse Bluebeard has often been cited as a "tingle quotient" moment: a blaze of C major for full orchestra and organ as the blinding splendour of Bluebeard's kingdom reveals itself. It's indebted to the sunrise opening of Richard Strauss's Also sprach Zarathustra (think Kubrick's 2001: A Space Odyssey), the work which made the young Bartok determined to pursue a career as a composer in 1902, nine years before he penned the opera.
The twist is that Judith, shrivelled by the glory though not incinerated like Semele in the presence of Zeus/Jupiter's godhead, can only squeeze out a wan response, unaccompanied, in an alien key. It's the kind of thing that makes Bartók's take utterly original, like so much else in the score. Of course there is no organ in the converted Hawksmoor church now - an electronic keyboard had to serve - but nor is there in the Barbican where the performance would have taken place had the pandemic crisis not happened. Imagine our amazement at the sound, six months on from anything like it.
St Luke's acoustic can verge on the dry, but the LSO's superlative warmth carried the evening: those silky, aching violins, the prominent Magyar twists of the many crucial clarinet solos, the luminous-eerie first horn. And though Cargill (pictured above) and Finley (pictured below) were at the furthest point in the venue from the centrally-seated spectators, and could be overpowered by the orchestra from that perspective in a way that they won't be in the film, no-one unfamiliar with the work would have been in any doubt of the dramatic dynamic: troubled man so wanting to reach out but trapped in his own misery, curious woman pushing to know more about her husband, to the point of violence and hysteria before the last, devastating reveal of the seventh door.
Cargill isn't just a British/Scottish great, she's one of the world's most impressive artists, fully inhabiting everything she sings with a wealth of colour in every part of the stunning mezzo voice. Finley's equally splendid bass-baritone managed to win the sympathy you think you're never going to feel for this lost soul before irredeemable darkness falls.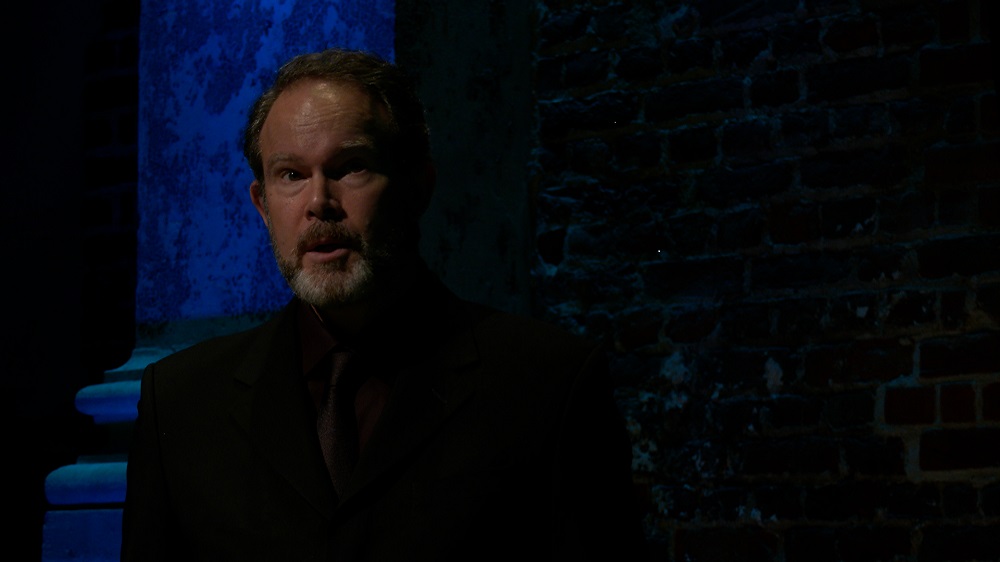 It's often said that a concert performance with sufficiently sensitive lighting can leave the imagination more room to manoeuvre than an over-specific production. A couple of video projections, the ubiquitous door and appropriate lighting changes in a superb setting with the original pilasters doubling as castle architecture – Hawksmoor would lugubriously approve – as well as a few moves, not least Cargill's up a spiral staircase for high noon, did the trick. I have no doubt it will work on screen, if you have one big enough, and a good sound system. And don't forget that, Covid-19 rules still permitting, you can be back in the Barbican for Rattle conducting Stravinsky and Beethoven – the five piano concertos with Krystian Zimerman, no less – from the end of November. The LSO is one orchestra which has played its cards, and its funding, right so far; may the other London teams be able to follow suit soonest.