The Excursions of Mr Brouček, Grange Park Opera review - biting satire from bouncing Czechs |

reviews, news & interviews
The Excursions of Mr Brouček, Grange Park Opera review - biting satire from bouncing Czechs
The Excursions of Mr Brouček, Grange Park Opera review - biting satire from bouncing Czechs
David Pountney brings zany fantasy to a rare staging of Janáček's weirdest work
Colour and whimsy in an imaginary Prague
Now for something completely different. The Excursions of Mr Brouček is Leos Janáček's least typical opera and is rarely performed. Among his tragic tales such as Jenufa and Kat'a Kabanova, the charm of The Cunning Little Vixen and the strangely heart-twisting The Makropoulos Case, the Czech composer's biting satire – in which the time-travelling anti-hero is chiefly "blotto" – faces an uphill struggle for a look-in.
Back in the English National Opera "powerhouse" days in the distant 1990s, the director David Pountney gave it a comparatively poetic staging, full of ballet and balloons (if I remember right), and its appearance as the season opener for Grange Park Opera, again in Pountney's hands, seemed a cause for some excitement.
Time has passed, however, and perspectives shifted. The work is a game of two halves: in the first, the sozzled Brouček thinks life on the moon will beat existence as an exploitative landlord in Prague. He travels there, only to find that the moon is full of, er, lunatics. In the second half he is plummeted back to 1420, where he finds out how someone of his character would fare during a patriotic war. The libretto, inspired by the novels of Svatopluk Čech, was cobbled together by Janáček with three different writers, but Grange Park performs it in Pountney's own English translation, distinctly up to the minute (yes, "lockdown parties" and "Boris balls-ups" are in there), but cleverly fitting to the speech-rhythms of Janáček's score.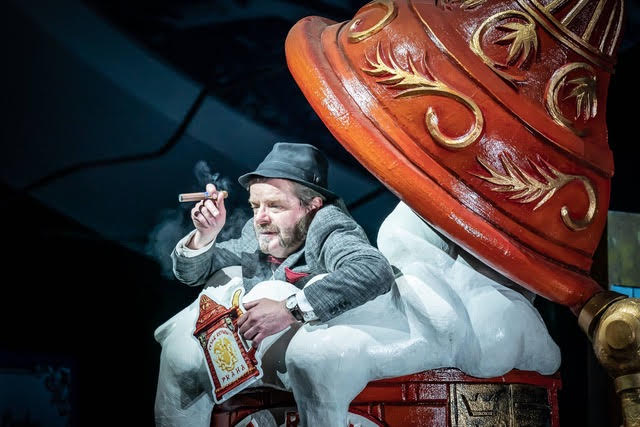 Pountney's take on Act I is part Monty Python, part Hellzapoppin and part Breitbartian anti-woke lampoonsville. The moon is populated by fay, woke, pretentious, artistic types who sniff flowers instead of eating and nearly faint with horror at the sight of a sausage, but Brouček cares only for eating, drinking and sex, not necessarily in that order. He meets individuals named things like Bounzinček, Postdatedček and Spotček, transvestite artists wearing "Bacofoil" and a feminist rock band whose singer abandons her principles upon getting the hots for the Earthian visitor. Even the surtitles rebel, though the only apology they carry is to the mercilessly lampooned sponsors (the word "tarnished" handily rhymes with "varnished"). Faced with an anti-snowflake, anti-feminist rant from a hundred years ago, the production makes up in zaniness for the drama's lack of subtlety, which otherwise runs unčeked.
After a long break to get our breath, Act II ensues with Brouček time-travelling in the loo, back to 1420 – but not without a section helpfully marked "1989" in which a short role for the Author briefly becomes the imprisoned Vaclav Havel, incandescently seeking words that are "fervent and lyrical, not just satirical, like all this". Now Janáček stops bouncing and dives head first into patriotic choruses and dignified laments. The unfortunate Brouček is mistaken for a German spy, then turned into a jester; finally he is imprisoned in a barrel after refusing to fight for his country. Then he returns to earth and lives happily ever after.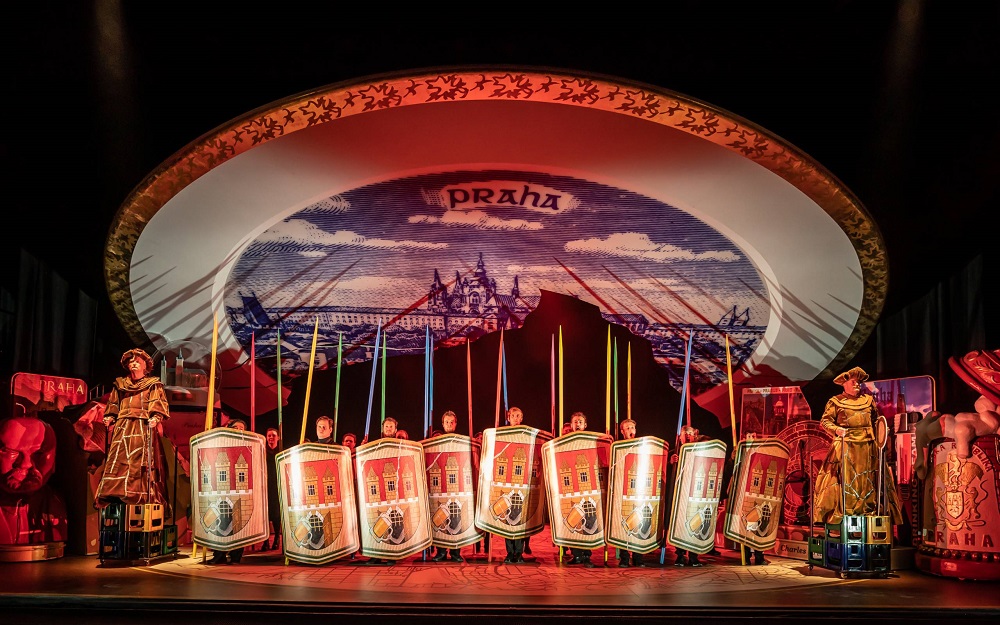 "We must each fight our inner Brouček," Janáček wrote. Our anti-hero represents a populist Everyman, poking fun at pretension but discovering his own hopelessness when required to step up to the mark. But do we ever care about this drunken, bumbling oaf? Hmm.
Grange Park's staging is slick and snazzy, its intricate gags seemingly timed to the millisecond. The design team has done it proud, with designer Leslie Travers, costume designer Marie-Jean Lecca and lighting designer Tim Mitchell clothing it in the colour and whimsy of Monty Python cartoons (minus the big pink foot). There's a dancing delivery person with a string of Frankfurters and a brief starring role for a hoover; Act II's towering dignitaries are wheeled about on piles of delivery crates and Brouček makes his moon journey on an outsize beer can with wings.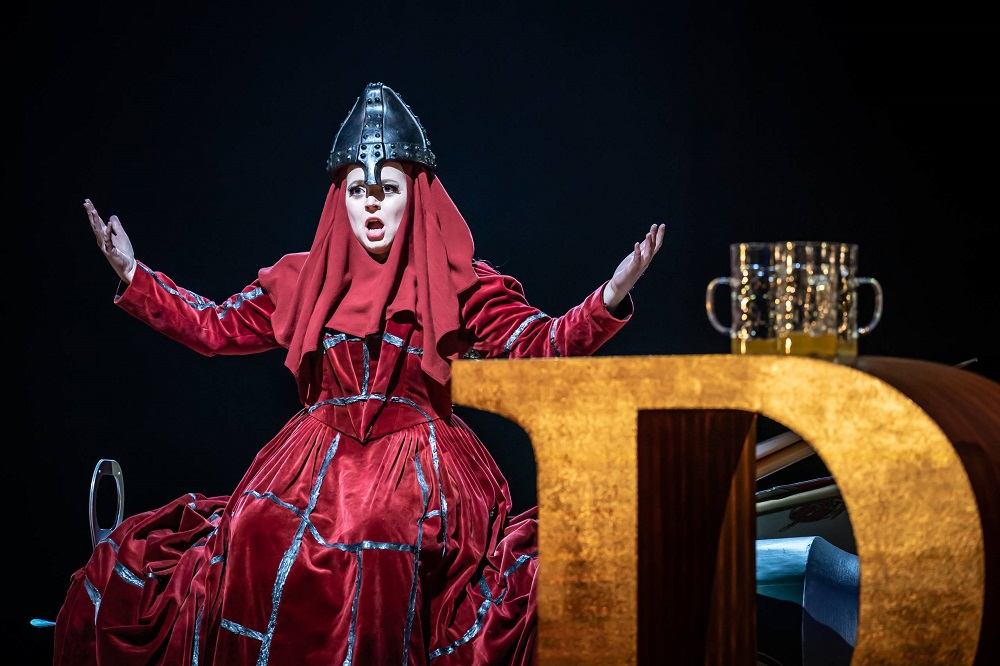 The cast, too, shine bright. There can't be many operas that offer so much fun for so many character-tenors at once. With Peter Hoare seemingly having a high old time in the title role, his colleagues include Mark Le Brocq, Andrew Shore and Adrian Thompson, multi-tasking to the manner born, as does the inimitable baritone Clive Bayley. The soprano Fflur Wyn is charismatic and bright-toned as the Sakristán's daughter Málinka, the man-hungry feminist Etherea and the proud, political Kunka of the 15th century (pictured above); Anne-Marie Owens makes the most of her role as Kedruta, and the small team of dancers splendidly inject extra sparkle.
Occasionally the players of the BBC Concert Orchestra sounded a tad uncomfortable with the unpredictable details of Janáček's whimsical and often very beautiful score (and his orchestral writing is notoriously difficult). Nevertheless, the award-winning young conductor George Jackson exerts formidable control over the shape and pace of the action, no easy ask in such a bizarre creation.
One question remains. Just because Janáček's other operas are better than this one, does that mean we shouldn't occasionally have a chance to hear it? We might not love it like Vixen and Kat'a, but it shows a whole other facet of this unique composer. Try and see it, because it probably won't become standard repertoire anytime soon.