Faust, Royal Opera review - fusty Gounod still dances |

reviews, news & interviews
Faust, Royal Opera review - fusty Gounod still dances
Faust, Royal Opera review - fusty Gounod still dances
Lively conducting and a last-minute replacement keep this hellish cabaret on its toes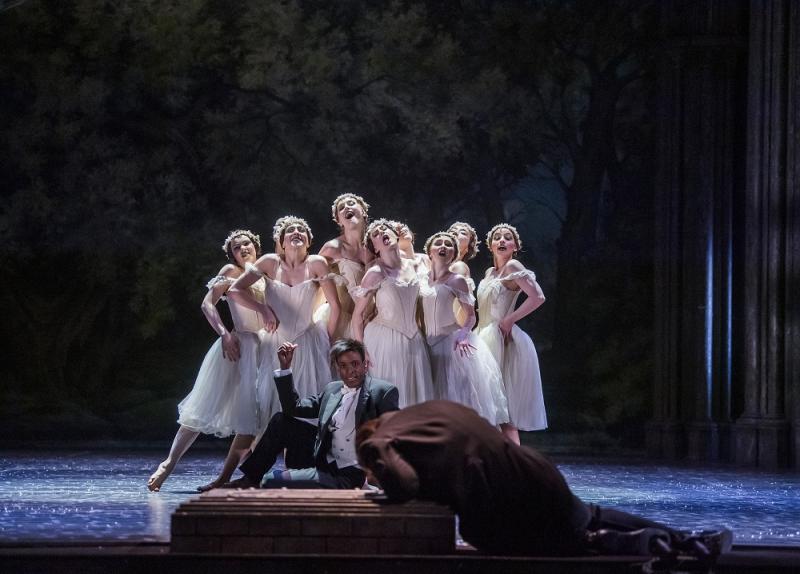 Walpurgis nightmare with sylphs (and virtuoso male principal dancer Yasset Roldan) for the drugged-up Faust (Michael Fabiano)
Goethe's cosmic Faust becomes Gounod's operatic fust in what, somewhat surprisingly, remains a repertoire staple. You go for the tunes, hoping for the world-class voices to do them justice and prepared for a pallid quarter-of-an-hour or two.
David McVicar's 15-year-old production as revived by Bruno Ravella is beginning to date,
Royal Opera
trad with a few scandalous add-ons and wacky
choreography
by Michael Keegan-Dolan. Two things are startling this time round: the conducting of Dan Ettinger, which makes the score sound much more interesting than I remember, and a phenomenon, unique to opera, of a performer stepping in for a sick colleague at the very last minute with no preparation.
Replacing an afflicted Irina Lungu - who in turn had replaced, at longer notice, Diana Damrau - German soprano Mandy Fredrich stepped off a plane at 4.45pm, we were told - see her whizz through airport security like that after Brexit - and arrived at the Royal Opera House at 6 to be taken through her places on set, with no time to rehearse before the 7pm start. That's a feat unknown, I think, in the theatre, but in this mostly stand-and-deliver show for international singers - as a member of the Stuttgart Opera company she's previously appeared in a far more radical 2016 production by Franz Castorf - Fredrich seemed mostly at home as the traduced Marguerite (the French Gretchen), if just a touch cautious - understandably - in the raptures of the "Jewel Song".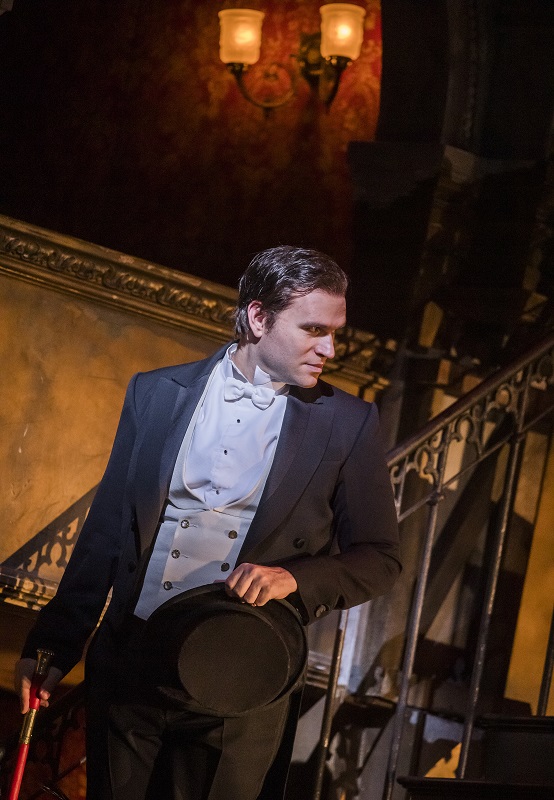 The voice is fine for the role, lightish lyric with all the top notes, and Fredrich's musical professionalism found her in synch with her colleagues at all times: a phenomenon even more remarkable than it must have seemed to many in the audience (though she got her roar of approval at the curtain call). She duly capped the thrill of the final trio, worth waiting for.
Michael Fabiano (pictured right) may no longer quite be the dream tenor he seemed at the start of his career; no-one wants to hear the top C towards the end of his pretty aria "Salut! Demeure chaste et pure" sung in head voice (nor does the score ask for it). But he cuts a dash and the sound remains bright for a classic French lyric role (even if the language needs a touch more coaching). Erwin Schrott (pictured below) commands the stage as a theatre-manager Méphisto, not quite as disciplined as the creator of the role for McVicar, Bryn Terfel, but vocally more true-bass; he was apparently afflicted by the throat infection that's doing the rounds of the cast rehearsing for the forthcoming Royal Opera Billy Budd, but it didn't show beyond an adenoidal hint.
Stéphane Degout as Marguerite's chauvinist-pig brother and Marta Fontanals-Simmons as wet boy Siébel bring tonal lustre to their one-dimensional roles; Carole Wilson has to portray the second female, Marguerite's neighbour Martha, in the caricatural way McVicar prefers; women in this opera are young angels all too easily seduced by pearls or old bags randy for devil. There are broad brushstrokes for the horrors of war - Franco-Prussian, just around the corner when Gounod's opera was premiered - but the chorus do excellent vocal work, and the efficient scene-changes within Charles Edwards' grand designs also keep tedium at bay.
We even get three and a half of the ballet numbers probably supplied by Gounod's underrated fellow-composer Delibes - chorus-master at the Théâtre-Lyrique, where the 1859 premiere took place - for the Walpurgis Night. Balancing a lively if daft, anachronistic "Cabaret [de] l'Enfer" sequence, it at least thrusts the horror of what Faust's so casually done before his drug-stupefied eyes. Ettinger points up the dances' superior quality, but he also finds subtleties in Gounod's more chamber-like moments, with splendid work from the Royal Opera first clarinet especially, works wonders on the ghost-reminiscences of Marguerite in the final scene and allows no slack in the bulky drama, while never going into overdrive. Like Fredrich's, his achievement was perhaps taken just a little for granted by the first-night audience, but it's what saves Gounod from sinking into his Second Empire coffin.
Dan Ettinger's conducting saves Gounod from sinking into his Second Empire coffin
rating
Explore topics
Share this article